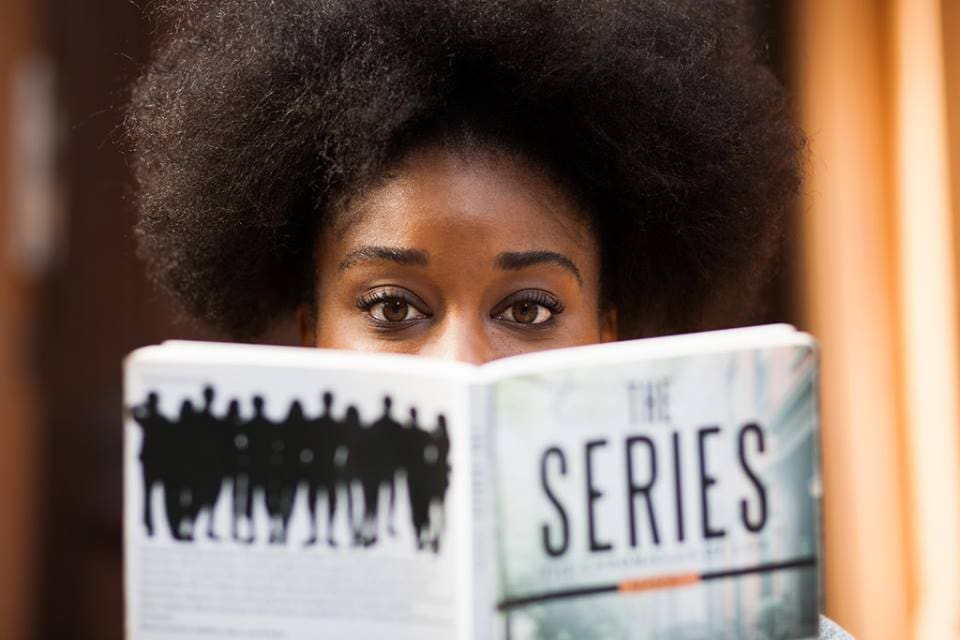 Brooklyn Love Series: Author Ms. Phils talks love and relationships
Valentine's Day is fast approaching and Brooklyn Love is in the air. Valentine's Day is the time when ladies anticipate that special gift from their babe: chocolates, flowers, dinner by candlelight, which leads to that intimate connection. To add a pinch of excitement to that special day, check out the Brooklyn Love Series, a special event presented by Brooklyn author Ms. Phils and BrooklynButtah.com.
This special Pre-Valentine's event will have all of the answers for the hard-hitting issues millennials are facing when it comes to love and relationships. This young author turned her passion of storytelling into a career when she penned her first book, The Series: The Chronicles of Life. Ms. Phils has found her niche speaking about love from a youthful perspective. The Brooklyn Love Series allows her to be open, candid and free with everyday people and influencers.
Rolling out caught up with Brooklyn-born, Jamaican-raised author Ms. Phils. She talked about her dreams, vision and what it takes to be a millennial female success factor.
Who is Ms. Phils?
Ms. Phils is a focused, passionate and ambitious creator with the indubitable belief that women are born to be an influence. Ms. Phils is paving her own way, writing her own rules and designing a life she loves. She is a writer, aspiring actress, and motivation. She is unafraid of change and emboldened through adversity.
Define your personal brand.
My brand is all about promoting healthy relationships. Always going after your passion, making sure your path is positive and remembering to always love yourself first.
What separates you from others in your field? What is unique to the experience that you create?
I believe that the love you give is a reflection from the love you have received in all of your prior relationships. Not just with your partners but your family and friends play an important role in the way you perceive and give love. I believe my book, and perspective on loving your life completely; creates a unique experience as my stories are never one sided. A lot of books on relationships have one stereotype especially when it comes to the African American community.
As a writer, describe how your book The Series: The Chronicles of Life reflects a sustained level of top performance. How does your work impact the community?
My book reflects a sustained level of top performance because of the level of diversity. Everyone can relate to at least one of the characters. I believe it impacts family, career, love and finding your genuine purpose.
Are you working on a sequel to The Series: The Chronicles of Life Season 1?
Yes, I am! In addition to transferring book 1 into a script for web content. I am actively working on book two, The Series: The Chronicles of Love, to be released by the end of 2017.
How do you define love? In your opinion, is love 50/50.  What does it take to develop a healthy love relationship?
I believe that everyone would love to have a 50/50 relationship but I believe someone always loves more but that also is what makes the relationship work. You have to be willing to communicate and put your pride aside, Love is not prideful. You should never feel embarrassed or afraid to express what your feeling or going through to who you love. I also know from experience that when you are in a relationship for a while you begin to take your partner for granted or become comfortable. After quality time, endless nights and knowing the INS and OUTS of one another, you begin to not do the same things you did in the beginning.  Love is an effort it's not always smiles and butterflies you have to be willing to work on it.  It's simple for me Love and Life go hand in hand, in order to have a great life you must have love.
You have a pre-Valentine's Day event slated in New York – The Brooklyn Love Series. What can attendees anticipate? Do you plan on taking the series on the road?
The Brooklyn Love Series is an event for singles and the committed duo. Millennials have a lot to say when it comes to dating and relationships. My attendees can expect to have real conversations with our panel members. All six panel members (3 males and 3 females) have a different perspective on love and are true New Yorkers. Attendees will also meet the cast from the YouTube Web series MakeupXBreakup, receive giveaways, brunch and love swag bags with products from young Black entrepreneurs.
Yes. I will take it on the road! Charlotte, N.C. being the next stop following up with ATL and C.A. before the ending of 2017.
Are you currently in a relationship?
Yes, I am.
Name five things that ignite the fire in your relationship.
-Playing together. Whether it's a board game, video game or just being silly with one another. You have to continue to have fun. Life alone is stressful your partner shouldn't be!
-Surprises! –Food, gifts, memes, jokes, flowers, cards keep your partner on their toes and always guessing.
-Going on dates regularly.
-Not being afraid to try new things. Be interested in what your partner
wants to do.
– Giving each other healthy space. In my opinion, you cannot miss someone if they are always in your face.
What advice can you give the sister who has given up on love?
Firstly focus on loving yourself. When you exude happiness from within it shows and then the guys will come flocking. You will not have to go looking for him. Also get out of your head the idea of a perfect man is very hard to find. Sister, do not let your past dictate your future. You may have to kiss a couple of frogs before you get to your prince but trust me your match is out there.
Name two of your top role models: one from your industry and one from outside of it.
–Shonda Rhimes – She has definitely paved the way for African-American women in television and my goal is to bring my book from paper to screen.
-My grandmothers! – Being from Jamaican descent my grandmothers paved the way for my family to be here. Always, instilling discipline, drive, prayer and resilience while pushing me to achieve my goals. They have molded me into the woman I am today.
Are you a spiritual person? If so, how do you reaffirm your faith and belief? How does writing help?
I am a spiritual person. I believe that my creativity and writing are the gifts that God has given me. Every morning I make it a point to be still, pray, give thanks, and remember that he is always in control.  When I need an extra boost of Faith I attend church when my schedule permits. Writing scriptures from the sermon in my planner to read daily for encouragement.
What affirmations do you repeat to yourself that contribute to your success?
-"It's ok to make a mistake but know that you know better you have to do better."
-"What is for you will be for you and you won't have to beg or compromise yourself for it."
-"Hold fast to your dreams for if dreams die, life is a broken-winged bird that cannot fly."
What cool software, app or other technological innovation has made the biggest difference in your life and/or career?
-TUT messages from the universe – These are positive emails that are sent Monday through Friday. On those trying mornings it is very motivating; each message is tailored to your dreams and aspirations. Reminding me daily that the world is your oyster and every day is a new one to get closer to accomplishing my goals
-Sprinkle of Jesus – Faith in an alert! These alerts come through randomly. However, it is always popping up at the right time. This app also has a daily scriptures and motivation groups. -Instagram – Has helped grow my audience and connect with so many Queens that are willing to collaborate and promote one another.
What does it take to be iconic? In your estimation, who has achieved that status?
To be iconic you have be determined and driven. It's not just about popularity for me. It's more on using your platform and making a difference for the greater good. Lauryn Hill is definitely iconic. As a creative individual music plays a big part in my writing process. The Miseducation of Lauryn Hill will always be one of my favorite albums. She used her music to tell her story but also to let you hear love.
How has affecting change and taking calculated risks contributed to your success?
I have never been afraid of taking risks. I would rather have an "Oh no than a what if" any day. I work a 9-5 which pays the bills and I also work a 7-midnight working on my goals and dreams, Writing, building a brand attending acting classes, submitting myself for roles..doing this interview (lol) But it's a part of the grind. Work hard now so you can relax later is my motto.  The more energy I have put into my passion has contributed to my success because I believe people love relatable. A lot of my peers are doing the same working for the check until your dream or passion become your check and full-time focus
You're obviously passionate about what you do. Finish this sentence: Without passion…
Without passion there's no purpose.
The Brooklyn Love Series – Saturday, Feb. 11, 2017, 11:30 am – 3:00 pm, EST, 333 Lounge, 333 Flatbush Avenue, Brooklyn, NY 11217