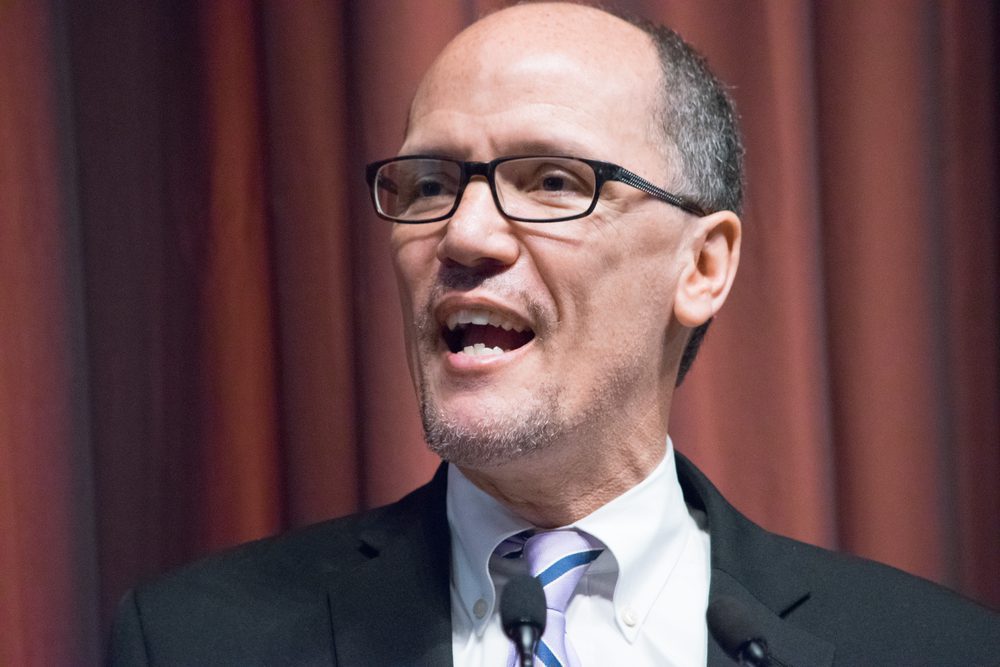 Details about new DNC chair Tom Perez; appoints Keith Ellison deputy
Former labor secretary Tom Perez has been elected chair of the Democratic National Committee. He makes history as the first Latino leader of the Democratic party. In a Twitter post, former presidential candidate, Senator Bernie Sanders congratulated him saying, "I congratulate Tom Perez on his election as chairman of the Democratic National Committee and look forward to working with him."
Perez narrowly beat frontrunner Keith Ellison in a 235-200 vote in a second round of voting. Ellison would have made history as the first Muslim. Ellison, co-chairman of the Congressional Progressive Caucus, reportedly reacted by storming out of the room chanting "no big money. Party for the people."
Perez, a former Department of Justice civil rights lawyer, announced he would make Ellison a deputy chair.
Ellison and Perez embraced and Ellison shared, "If we waste even a moment going at it over who supported whom we are not going to be standing up for those people."
During a news conference at the Treasury Department in Washington on June 22, 2016 Perez stated, "I believe I'm the best equipped to lead that team because I've spent my whole career taking on and winning the toughest progressive fights. As a local organizer, I helped turn CASA de Maryland into one of the largest immigrant advocacy organizations in the mid-Atlantic. In 2009, I took over a Department of Justice Civil Rights Division that had been decimated under President George W. Bush, and we brought it roaring back to life — taking on police misconduct, anti-immigrant laws and voter suppression. And for the past three years, I served as secretary of labor, fighting to expand economic opportunity and taking an often ignored agency to the center of President Barack Obama's policy agenda.
By getting back to basics, we can turn the Democratic Party around, take the fight to Donald Trump and win elections from school board to the Senate. If I have the privilege of leading our team, that's exactly what we'll do together," he closes.