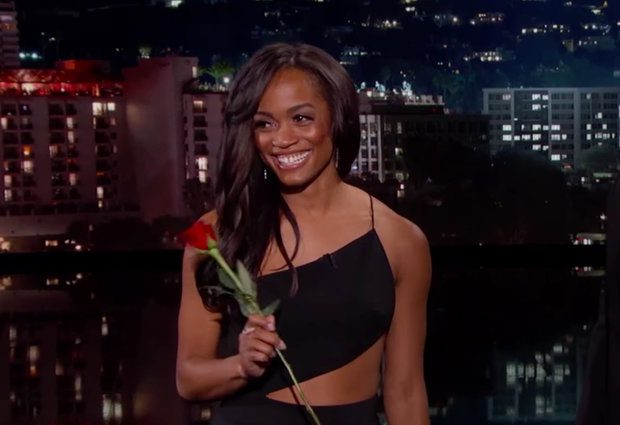 'Bachlorette' Rachel Lindsay offers up shocking spoilers
Spoiler alert! "Bachlorette" Rachel Lindsay reveals how her relationship ended with "The Bachelor" Nick Vaill.
On Friday's episode of "The Ellen DeGeneres Show," the 31-year-old practicing attorney revealed that it wasn't her decision to leave the show. "He let me go. I was shocked, too," Lindsay said. "I really thought that Nick and I had a really strong connection — and I was pretty heartbroken when it happened — but I've moved on since then."
While DeGeneres joked about her ability to move on so quickly, Lindsay revealed that the breakup happened "three months ago." Adding that "I was kind of skeptical that it would happen that fast, but it did. It didn't work out — I guess he was looking for something else. His loss!" As for competing with so many women for the affection of one man, the Texas native confessed, "It's different. It's not the typical way that I like to date a man. It was something different for me to try."
She also hinted that she "maybe" knows who ends up with the final rose. Upon her departure, Vaill was left to choose between three beauties, Corrine, a 24-year-old business owner from Miami, a feisty fashion boutique owner, Raven, 25, and special education teacher Vanessa, 29.
The reality star then came to the defense of "crazy" Corinne Olympios, season 21's resident bad girl. "I love Corinne," she said, setting the record straight. "You only get to see some sides of Corinne. I saw all sides."
As previously reported, ABC made history earlier this month when they announced that Lindsay would be their first-ever Black "Bachlorette."
"I'm happy to represent myself as a Black woman in front of America and I'm happy for America to rally behind me and see what it's like for me to be on this journey to find love," Lindsay told People at the time. "Honestly, it's not going to be that different from any other season of 'The Bachelorette.' " She added, "I'm obviously nervous and excited to take on this opportunity but I don't feel added pressure being the first Black 'Bachelorette' because to me I'm just a Black woman trying to find love. Yes, I'm doing on this huge stage, but again my journey of love isn't any different just because my skin color is."
When it comes to what she's looking for in a man, Lindsay, who will begin filming "The Bachelorette" in March, tells Ellen, "I don't have a physical type except [for] a great smile. I'm really just looking for a guy who's secure, confident and knows exactly what it is that he wants."
Will you be watching? Sound off in the comment section below.