Donating bone marrow can cure someone with a life-threatening blood cancer or sickle cell anemia—someone like Shaunise Robinson. Robinson is a 27-year-old mother, third grade teacher and doctoral degree candidate at Texas A&M who was diagnosed with aplastic anemia in the fall of 2016. Her only hope for a cure is a marrow transplant, but like 70 percent of patients, she does not have a fully matched marrow donor in her family. She also has not been able to find a match on the national Be The Match Registry®, the world's largest and most diverse listing of potential marrow donors, to find a matching donor.
Part of the challenge of finding a match for Robinson is her African American heritage. Patients are most likely to match someone who shares their ancestry, and African Americans have historically had the lowest odds of finding a match compared to other populations. This is because African Americans have the most diverse genetic tissue types compared to other ethnicities, and not enough have become volunteer marrow donors on the registry.
African American business executive CJ Logan was a match for a 33-year-old mother with leukemia in need of a life-saving treatment. Young people, age 18 to 35, are the ideal donors.
During Black History Month, Robinson, Logan and Be The Match are urging more African Americans to join the registry as committed volunteer marrow donors to help save others suffering from sickle cell anemia and life-threatening blood cancers. This is particularly critical for sickle cell patients. About one out of every 365 African Americans are diagnosed with sickle cell disease each year, and a marrow transplant is the only known cure for sickle cell disease.
These are there stories.
C.J. Logan, marrow donor
C.J. Logan was called as a match for patient in need of a transplant. Logan joined the registry when he was on the Villanova University football team where he played cornerback on defense. Soon after, he learned he was a match for a young woman who needed a marrow transplant. Without a second thought, he made a life-saving donation.
Please give us the backstory on how you became a bone marrow donor. 
It all started when I was a freshman at Villanova. Then coach, Coach [Andy] Talley, who coached for 18 years founded The Andy Talley Bone Marrow Foundation and "Get in the Game, Save a Life" initiative. He essentially has the players to recruit family, friends, students, of course, the fraternities and sororities, we have them to come in to do the cheek swab. As a player, you have to join the registry yourself.  I did the cheek swab during my freshman year in spring 2013.
Three years later, I got a call from Be The Match. At first, I thought it was my team mates playing a joke and teasing. As an African American, it's a slim to none chance to match with someone.
How was the procedure?
I had the blood drawn. A week later, I got another call that I was a definite match and they wanted to move forward with me. I had more tests done. Then there was a waiting game to do the surgery to extract my bone marrow for the patient in need. It was December 2015. It was right after my senior year of football. The surgery went pretty smooth. It lasted two hours and it was my first time having surgery. I had been playing contact sports year round since I was six years old and never had an injury.
My recovery period was two weeks.
Did you have any side effects?
My back was a little stiff. I was sore for a couple of weeks. Nothing was too crazy. I was more sore after a football game against Delaware than after the surgery.
What did you do after graduation?
I work as a financial adviser for New York Life Insurance Company Boston General Office.
Thinking back on the experience with Be The Match. Would you do this again?
Absolutely. It's always a possibility that I will have to donate bone marrow again to that particular patient. When I found out the patient was a 33-year-old international woman, I thought to myself, what if that was my mom, aunt or my younger sister? I'd hope that someone would had a chance to make a difference or save their life that they'd do it, with no questions asked.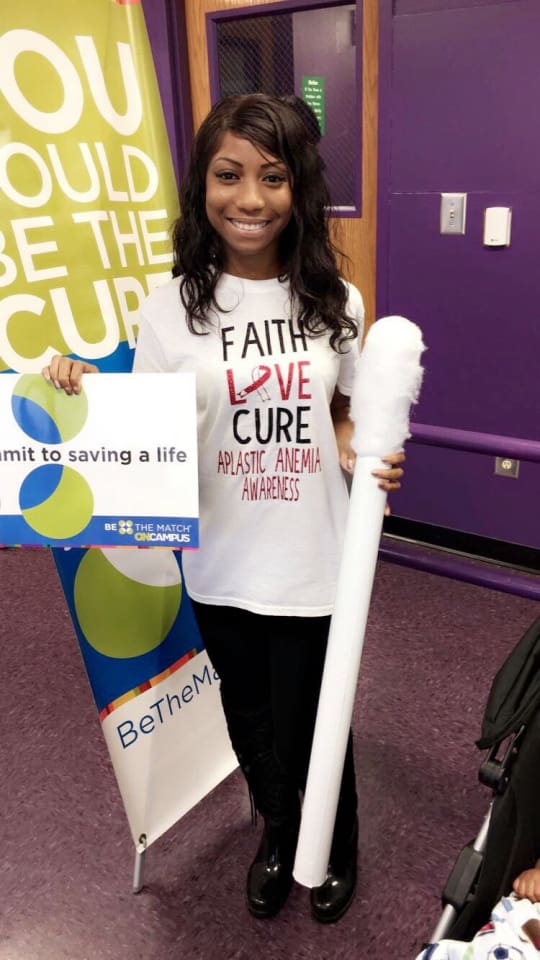 Shaunise Robinson, mother, educator and student
Can you explain your diagnosis, and how you initially learned of the condition?
I am a third grade teacher, mother to a four-year-old and doctoral student pursuing my degree in education. I was diagnosed with Aplastic Anemia on November 9, 2016. Before my diagnosis, I went to my doctor for a routine check up and she ordered labs to determine my complete blood count. She received the results the following day told me I needed to go to the nearest ER because my blood counts were severely low. I drove myself to the nearest ER and spoke with many doctors (maybe 10 or so) who were puzzled at how I was able to function so normally with such low blood counts. They worked as a team to determine the cause of my abnormally low blood counts. An oncologist ordered a bone marrow biopsy because he thought it may be cancer. I waited about a couple of days for results and he confirmed it was Aplastic Anemia, which I had never heard of. Basically, when you have Aplastic Anemia your bone marrow is empty with little to no white blood cells (fight infection; keeps you from getting sick), red blood cells (carries oxygen through your body; causes fatigue & shortness of breath when low), and platelets (clots blood; continued bleeding when low). I was told I needed a stem cell transplant from a willing and matching donor to save my life.
What advice would you give to someone in your position to help them stay motivated while awaiting a match?
I would tell anyone is this position to stay strong and have faith. Everything happens for a reason, even sickness, and God has an ultimate purpose for what you are going through. This has allowed me to help raise awareness about blood disorders like Aplastic Anemia, Leukemia, Sickle Cell, and Lymphoma and tell others about the many ways they can help support the cause. Stay positive and use your voice to help save the lives of others.
How would you describe this experience to friends or someone else faced with needing a marrow donor?
This experience completely changed my life in so many ways. I am unable to teach right now because of the risk of getting sick from my students, but I am not going to let that stop me from helping kids in another way. I've met and heard stories of children and teens going through this and I see how strong they are. I want to turn my experience into a positive one by helping young people who don't always have a platform to speak about what they're going through. I want to help the parents of those children find strength in knowing that more people are learning about how they can help by joining Be The Match National Bone Marrow Registry.
In what ways do you educate others about the importance of becoming a marrow donor?
Patients are most likely to match someone who shares their ancestry, and African American patients have the lowest odds of finding a match compared to all other populations. African
Americans need to be overrepresented on the registry given the genetic diversity of tissue types. The important thing to remember is that the search for a match is for an individual. Within every race or ethnicity, there are individuals with rare tissue types, which is why we continually strive to increase the size and the diversity of the Be The Match Registry® . More African American donors are urgently needed to save more lives.
Overall, more awareness is needed about the opportunity to save a life. Some people don't join the Be The Match Registry because they have a misunderstanding about how painful the process is. There are actually two ways to donate marrow. One is collected from the back of your hip and the other is collected from blood from your arm. When you donate marrow, you are under general anesthesia and feel no pain during the procedure. Most donors say they would do it again to save a life.
To sign up as a committed registry member, people need to meet age and health guidelines and be ready, willing and available to donate to any patient in need. Registration involves completing a health history form and giving a swab of cheek cells.
The most important thing you can do as a registry member is to stay informed and committed so that if you're selected as the best donor, you're ready to move forward.
Patients like Robinson rely heavily on donors like Logan who share their ancestry and joining the registry can be done easily by visiting join.BeTheMatch.org/BlackHistory.