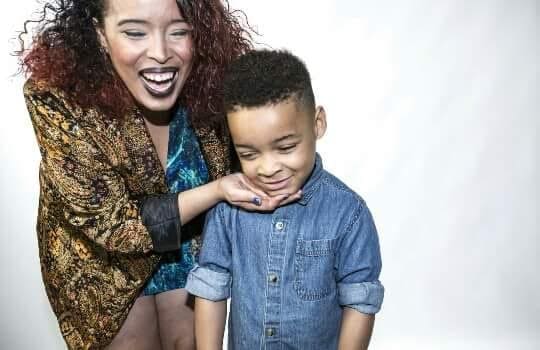 Celebrity stylist Pilar Scratch shares her fashion journey
Pilar Scratch is an accomplished celebrity wardrobe stylist who has created her own style platform and fashion magazine. She got her start in the industry while interning with Patricia Fields. Scratch gained notoriety while working with a vast clientele ranging from her aunt Rah Digga, Musiq Soulchild, DJ Enuff, former NBA player Eric Williams, Lil Mendeecees and many other public figures.
Her new digital fashion magazine, Gxd, features emerging artists and gives them the opportunity to work with celebrities.
We caught up with Scratch to discuss her journey in the fashion industry, favorite fashion trends, and advice for up-and-coming fashion stylists.
Name the top three things in your styling kit that are must-haves.
The top three items I must have in my styling kit is a needle, thread and a pair of flats. You never know when you're going to have a wardrobe malfunction. As a working mom, I just might leave an event to a karate practice so flats are always essential.
What do you do to prepare yourself for an upcoming shoot?
To prepare myself for an upcoming photo shoot I have to meditate. If anyone has ever been on set you understand how chaotic it can become. Merely, dealing with diverse energies leading up to the shoot is overwhelming. So I do meditate to find that equilibrium.
How do you stay updated on the current trends?
Honestly, to stay up to date with trends I follow social media style pages and celebrities. It's a quick way to be certain your outfit is updated. I have my own eccentric fashion style so normally I just purchase what my heart desires.
How did you prepare for a career in styling?
I don't think I was prepared for a career in styling. I was just the eccentric girl in high school that wore neons and patterns on a good day. I was in college studying to be a teacher when I found out I was pregnant. I decided at that moment that I would live my passion because I wouldn't want my child to give up on their dreams: so why should I? I commenced my fashion career as a designer when I was pregnant with my son, River. Wardrobe consulting honestly fell in my lap because it was less time consuming than to create an entire line while caring for an infant. It's amazing how the universe aligns while your walking in your purpose. Now, I dress just about every celebrity you could imagine.
How would you describe your signature look?
My signature look is vintage. I like classic pieces. I like controversial garments that a normal person wouldn't dare to wear. I like a challenge in fashion.
What are your favorite trends this season?
My favorite trend this season is always a fur coat or throws. It's a timeless piece.
Describe your "I made it moment."
My "I made it moment " would have to been when Rihanna's security team escorted me out of a line and into VIP for her listening session for "Unapologetic." The entire time they were yelling, "Make way, Pilar coming through." I was looking around just in awe. That definitely was a highlight for me.
If you could choose any celebrity to give a style makeover to, who would you choose and why?
I would love to give a style makeover to Keke Palmer. In my personal opinion, she hasn't found her lane in fashion. I feel the stylist she has now isn't dressing Keke in her likeliness but in their own style. I'd love to give her a makeover.
What advice would you give the up-and-coming fashion stylist looking to enter the business?
Network, network, network. Build organic relationships with people and be blunt about your intentions. Relationships are immensely vital in the fashion and entertainment industry. Your network can make you or break you.
What song would you say sums up your life at this moment in time?
The song that sums up my life right now is "Masterpiece" by Jessie J; I swear I listen to it about ten times a day just to get motivated.
Who was your all-time favorite celebrity to work with?
My favorite celebrity to work with would have to be Musiq Soulchild. He's immensely humble. I was humbled by how amazing and relaxed he is. To be able to take creative direction with an R&B icon was amazing.
Stay connected with Pilar through her social media sites: Instagram | Twitter | Facebook: @pilarscratch