"Celebrating the [Roc-A-Fella] brand we built twenty years ago has been great but a little different. Now it's time to tell my point of view."
Kareem 'Biggs' Burke says this assuredly as he thinks back to the Reasonable Doubt anniversary pop-up shop he hosted in October 2016. Surrounded by friends, family and co-founder Jay Z, Biggs presented Roc 96, an apparel line that celebrates the label and Jay Z's debut studio album. You may often see him rock shirts like the Roc-A-Fella's family tree (which is pretty incredible). Through this high-demanding merchandise, Biggs proudly created his own time capsule of the journey. It wasn't just a business; it was a lifestyle. And he was on a mission to bring that feeling back with a fresh perspective.
Biggs recently reemerged with a mission that he would not only give the culture what it needed, but shout it in a way we never noticed before. Just over two decades ago, he had quietly come onto the hip hop scene to create an empire with friends Dame Dash and Jay Z. Present but not always in the spotlight, Biggs used his passion for music and the business to silently build a rock solid model others could follow.
Maybe it was his cool and collected demeanor or ability to analyze a room that allowed him to make power moves like scouting Kanye West. But through it all, his drive has continued to push him to create what matters — something familiar and monumental.
Although busy building apparel lines, Roc96 and denim brand Fourth of November, Biggs sat down with Rolling out to dish on his legacy, the importance of relationships and building a business people will love.
When you started Roc-A-Fella with Dame Dash and Jay Z, did you ever foresee it growing into what it is today? What kept you guys motivated?
When we first got in the business we talked about it being this huge billion-dollar company. It's definitely a different feeling when you're rising. But when I look back on it now, we accomplished almost everything we put our mind and our heart into. Our drive came from the situations we experienced. I guess it was God's plan that us three came together to build something so monumental. In addition, iron sharpens iron and we are three super competitive guys. We constantly wanted to outdo ourselves and this mindset created a great dynamic between us.
It seemed like everyone came out to support the pop-up shop in New York. How did the launch of Roc96 and the Reasonable Doubt anniversary feel?
It was really great to bring my perspective. Dame always talked about and Jay made songs about it but this allowed me to give people my own piece of history. I decided to take the songs and bring them to life through graphics. We were recognized as the top two or three online merchandise lines for 2016. That was great, especially beating out Kanye [laughs] who is a big force in the merch industry right now. Even though he comes from the Roc camp, to beat him out and have people recognize the brand was like an award for me.
What's the biggest lesson you learned in those 20 years?
Treat people as equals. Think about the relationship more than the transaction. A lot of times coming up in this business (it's a cutthroat business) it's all about what you can get from a person versus what you can give. Now I look at it like a relationship and I don't do anything unless it's out of love. Getting to genuinely know someone is the best way to build a relationship. Roc-A-Fella was a family business and taking the time to help our employees personally in addition to the business went a long way.
So you were heavily involved in the success of Rocawear. What made you get back into apparel with Roc96 and Fourth of November?
1996 was such a significant year because that was when we released our first album. So we wanted to name the brand Roc96 to show its authenticity and what we've done over the twenty years. Now Fourth of November was an opportunity that came from a friend of mine and I really loved the story. I loved the vision of the brand which is about love, art and design. Fourth of November is actually an address in Ecuador. It's a street where a couple met and later realized their dream was to get their kids out of Ecuador and into art and design. It's a love story and the brand pays homage to that.
Who comes up with the designs?
An in-house design team creates the look and are currently revamping the look. Right now it's a lot of rumble because so many people are wearing the brand. Our collaboration with the Knicks with the team's 70th anniversary throwback jackets sold out in 90 minutes. You see celebs like Fabolous, Jadakiss and Spike Lee who are supporting it and people from all walks are wanting to be apart of the brand. Even Puff called down (that's his birthday), he wanted to do some things as well. It feels good that people are reaching out. They aren't just buying a piece of clothing but they are buying a movement. It's going to be authentic, crafted and innovative.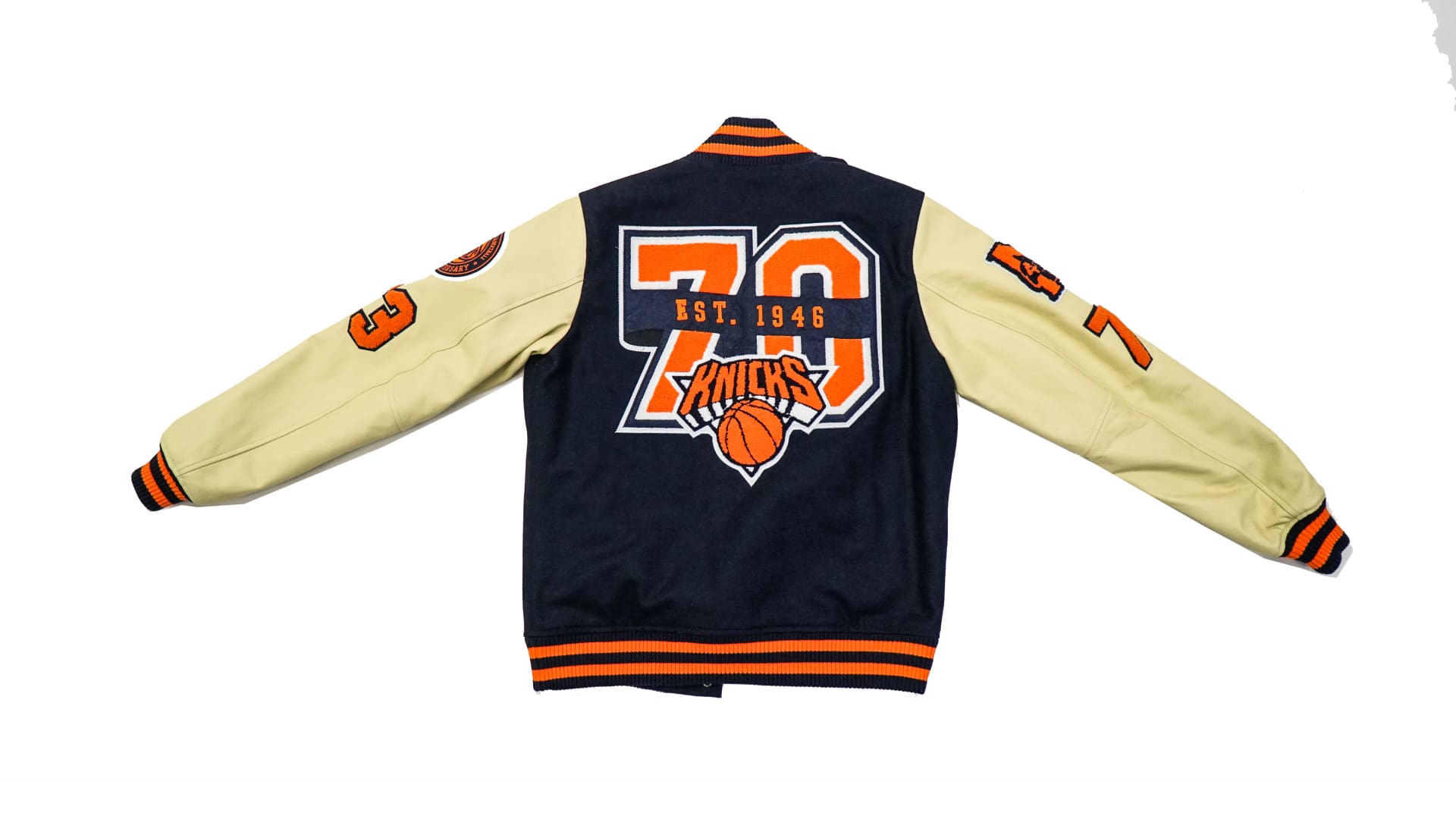 I feel like it's bringing a lot of unity to the culture that has been missing for awhile. Do you feel like the brand is filling in the gap in hip-hop apparel?
A lot of people have clothing lines but not a brand. It's not something that they are really attracted to. We've always done things that pushed the envelope like events,music and films. It's a mash culture, and we like these collisions. It is time for a new brand to have a lifestyle and movement with it and I thing there is a white space that's been missing. That's another reason why I saw an opportunity to take advantage to bring a new spirit to the market.
How do people maintain a brand and keep people interested?
Well, one, it's dealing with the quality and knowing exactly who your consumer is. A lot of times people pay others to be seen with their garment. We aren't paying anybody to do anything and they are now calling us to get involved for jeans, hats and everything else. We make sure it's quality clothing like American premium denim and we are even getting into Japanese denim. Regardless, the people aren't going to wear anything they don't like. A lot of people are rooting for us and it feels good.
With new partnerships on the horizon and additional high-end merchandise in the works, this hustle train won't stop for Biggs. He often reflects on how the people around him keep him grounded, while playing the field for others to follow. Well we think he hit it out the ballpark. You can follow Biggs on social media at Twitter @1996biggs and Instagram @theroc96, @fourthofnovember.