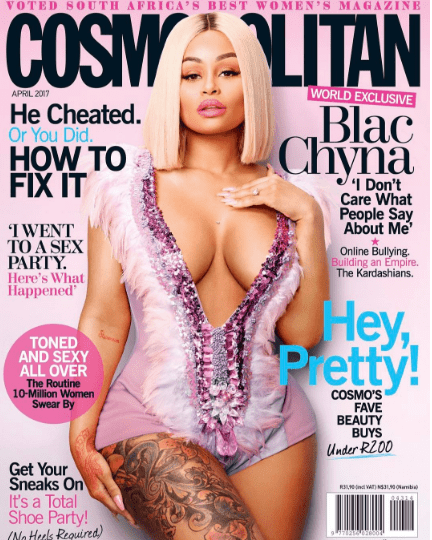 Blac Chyna is opening up about her roller-coaster relationship with Rob Kardashian.
In the pages of Cosmopolitan South Africa's April issue, the "Rob & Chyna" star revealed how she and the father of her infant daughter Dream went from being friends to lovers. "It was a shock," she said. "I guess when you get to know somebody and you're around them, you see things in them — and you want to be more than just friends. I think that's what ended up happening."
As fans know, the dynamic duo aired out their dirty laundry on the first season of their hit reality show; but, according to the former video vixen, she's still "in it for the long haul" with Rob.
"I feel like every person who's in a long-term relationship, or who is committed to their person, goes through ups and downs," she told the magazine. "Everything isn't always going to be peaches and cream. If it is, then it's fake. I'm in it for the long haul, so I feel like my advice [for anyone in a similar situation] is therapy, know each other's family, calling each other's moms."
On looking at the bigger picture she said: "And we also have Dream. So we're looking at the bigger picture. We have a whole other human being that looks up to us, so we have to make sure she's taken care of.
"Once we made the decision to get engaged and have a baby, we became family. It's a beautiful moment and it's something I'll always have, you know? We all welcomed Dream into this world: how cool is that?"
Meanwhile, Chyna revealed she thinks the world of Rob, as a father. "He's a wonderful dad. I think it's because he had such a great father." she said.
Of course, the road to romance has been chock full of drama. Before taking their friendship to the next level, Chyna was in a relationship with rapper Tyga, who is currently linked to Kardashian's sister, Kylie Jenner. The exes share a 4-year-old son, King Cairo. Still, all egos were put to the side following news of Chyna's pregnancy. "It's important to me and Tyga not to have negative energy," Chyna tells the magazine. "Kids breathe energy."
That's not to say Chyna regrets her past with Tyga. "I really feel people are in your life for seasons or reasons, and the reason I was with Tyga was to have King. Tyga and I dated and we found something in each other, there was love there, and the outcome of that was King. I feel happy and blessed that we can co-parent: we have a healthy relationship to be better for King."
As for 2017, the entrepreneur is looking forward — with her head held high — expecting nothing but good vibes. "I think it's going to be a wonderful year," she said.
Cosmopolitan South Africa is on sale now.