Actor Keith Robinson is soaring. He's in a new television series, has a new album out today and will be featured in the Tupac Shakur biopic this summer.
Robinson who starred alongside Beyoncé Knowles, Jennifer Hudson, Jamie Foxx and Eddie Murphy, playing the role of "CC White" in Dream Girls, even performed his Oscar-nominated solo, "Patience," live at the Academy Awards.
Starring on Bounce TV's television musical drama "Saint & Sinners," where he plays the role of Miles Calloway, Robinson is also starring in the new Tupac biopic "All Eyez On Me" scheduled for release on June 16,  2017, and to top it off, he released his first album, Love Episodic, on Friday, March 31, 2017.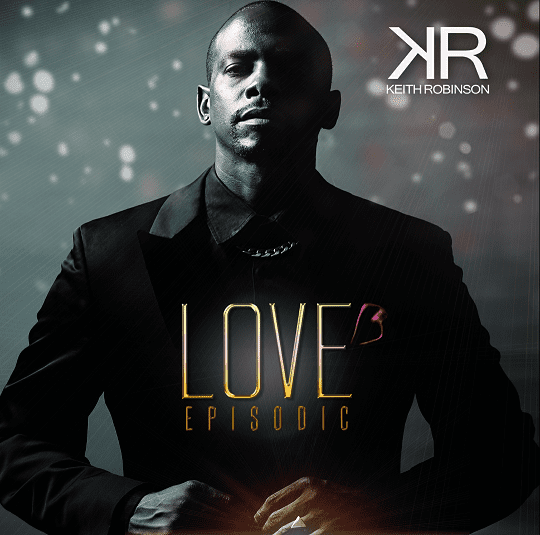 When did you know that being a musician was your calling?
I guess I really felt a calling in music late in high school after my basketball career was winding down. I had always loved music but never realized I could really do it until then.
Describe three other occupations you've held.
Grocery bag boy, airport cargo loader and museum security guard.
What inspires you to perform?
My music inspires me to perform. Whenever I'm writing I'm always thinking about how it would translate live. Other great performances I have witnessed have also moved me to do the same thing .
What instruments, if any, do you play?
I am more of a lyric and melody guy, but I play keys enough to tap my melodies.
How would you describe you brand of music?
Millennium soul
When you are on stage what do you want to convey about your style?
I guess I want convey my truth. That whatever swag or style they gather from my presentation to just know it's organic and not contrived.
Name three musicians who have influenced your approach to being a musician.
Stevie Wonder, Donny Hathaway and Sting.
Describe your creative process from concept to complete song.
The concept usually begins with a feeling from something I'm actually going thru or someone around me is. I usually hear a catch phrase or title thru conversation or just by mere brainstorm. And lastly I hear a beat or Melody that inspires me to create an actual song.
How do you select your creative music partners to fashion your musical voice?
Me selecting partners to highlight my voice is usually organic not something I really think about too much. As a writer, if a producer has music that inspires me we're off to the races.
What advice would you give anyone preparing to enter the music business about publishing and management?
Publishing is how you eat so hold onto your publishing as long as you possibly can or at least until it's valuable enough to get a sizable payout.
Management is tricky so make someone earn the job based on performance. Don't be quick to sign with a manager until they have proven themselves.
If you were going to sing for any famous person as a celebration of what they have done for humanity who would it be?
Oprah Winfrey.
What are the effects to society that you would like the results of listening to your music to be?
I would like for people to be moved to see the value in real love, the lessons of relationship, and the power of real music.
If you could go outside the USA to write and produce music what country would you choose and why?
I think I would choose Australia, Ibiza or Italy.
What do you like the most about being musician?
I like being able to create new songs out of nowhere that move the people in whatever way they are inspired.
What producers are you looking forward to working with soon?
Pharrell and Justice League.
Name three musicians you would like to record with that are hit makers.
Justin Timberlake, R. Kelly and Sting
If you could make a duet with someone who would it be and why?
Jazmine Sullivan. Her tone.
What musical awards have you aspired to receive and it happened?
Oscar … almost happened with Patience from Dream Girls soundtrack). Grammy … has happened in my mind many times. Not yet in real life.
What musical achievements have you yet to obtain?
Grammy, Soul Train and APA.
Finish the sentence:
When I hit the stage I feel… I am exactly where I'm supposed to be.
When the crowd is responding to my music I know… I was dialed into the universe on this song.
I appreciate my fans because… They're are organically honest and supportive
Music is my calling… And will do everything in my power to answer that call.
My method of studying music is… Listening and paying attention as music and music related life as possible.
When you find my music I want you to… Listen and absorb it in every way.
Name your favorite two books.
The Four Agreements and Purpose Awakening