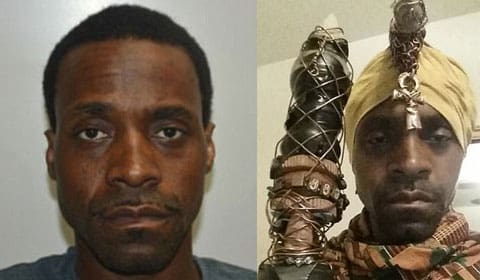 In the second incident of a random shooting in America, the streets of Fresno, California, were gripped in fear by a man who called himself "Black Jesus." Kori Ali Muhammad, whose birth name is Cory Taylor, 39, was armed with a .357 Magnum as he shouted "Allahu Akhbar" (God is great) and started shooting White people.
It was a little after 10:30 a.m. PST on Tuesday when Muhammad walked onto a street allegedly looking for White victims. Police and witnesses said that in less than two minutes he fired 16 shots and gunned down and killed three White men. During his rampage, he encountered a Hispanic woman with two children and allegedly spared them because they were not White.
Fresno Police Chief Jerry Dyer called the acts unprovoked and "solely based on race." They are investigating the incident as a hate crime. He went on to say "These individuals who were chosen today did not do anything to deserve what they got. These were unprovoked attacks by an individual that was intent on carrying out homicides today. He did that."
According to police, Muhammad was arrested without incident and stated "I did it. I shot them." A weapon, speed loader and additional ammo were found on his person. In social media posts, Muhammad identifies himself as a rapper with the various names that include 'Black Jesus' and 'B-God Mac Sun' and is selling an album on Amazon titled 'True Story Kori'.  On one music video titled "U Gone Need Me: Tru Story Kori" in which he discusses racism and the "liberation of his people," he says: "… on a mission for the liberation of my people. … Hollow points make a white devil body spin … Kill a racist devil dead, cut off they head, put a bullet in they head, and get that bread."
Muhammad was also wanted in connection with the death of security guard Carl Williams, 25, who was shot outside his job at a Motel 6 in Fresno last Thursday.
Muhammad posted to Facebook before his shooting rampage: "MY KILL RATE INCREASES TREMENDOUSLY ON THE OTHER SIDE ASÈ ALLAH U AKBAR."
Muhammad has been arrested before and suffers from "auditory hallucinations and had at least two prior mental health hospitalizations," according to court records. He also reportedly suffers from cocaine addiction. His grandmother, Glenestene Taylor, told the media that he usually does not single out any particular race for derogatory remarks. "He would say something derogatory about anybody, didn't matter about the color. If he didn't like what they did, he didn't like what they did no matter the color," she said.