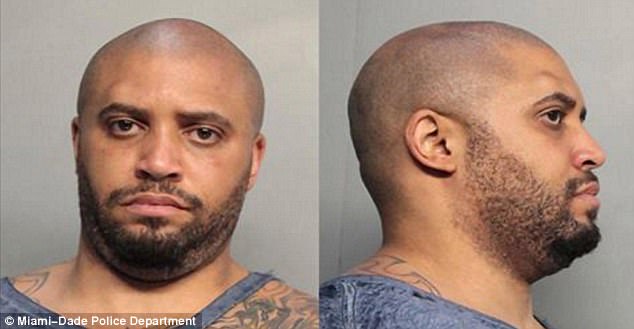 Richard Marcos Taylor, the man who portrayed Suge Knight in the blockbuster motion picture Straight Outta Compton, was arrested in Miami for allegedly beating up a security guard.Richard Marcos Taylor, 40, was charged with misdemeanor battery and is being held at a Miami-Dade jail.
The fracas started Sunday night when a uniformed security officer at the Marenas Beach Resort, 18683 Collins Ave, asked Taylor to take his foot off a table in the lobby, police said.
Taylor, who also goes by the name R. Marcos Taylor, refused and told the guard "to leave him alone," according to an arrest report obtained the Miami Herald. The guard walked to the front desk to ask staffers to call police.
Five minutes later, as the guard waited at the front desk, Taylor walked over and shoved the guard to the floor, the report said. "A full physical fight ensued," the report said.
When police officers arrived, they saw the six-foot-three, 265-pound actor "pick the victim up and slam him to the ground." Taylor was immediately taken into custody.
Taylor also played Suge Knight in Michel'le's movie, Surviving Compton, on the Lifetime channel. Apparently, Taylor has problems getting out of character.
Taylor's fighting prowess may have emanated from his love of karate since he was a child, as pointed out in his IMDB bio:
 At five years old, all Marcos wanted to become was Superman. When he realized that couldn't happen, he decided taking Karate lessons was the next best thing. Marcos went on to earn a black belt in Karate, but along the way he began developing a love for various martial art forms. In addition to Karate, Marcos began intensive training in: Taekwondo, Muay Thai, Capoeira, and Hapkido, and has more than twenty years of training in these forms. Marcus holds the rank of Kru in Muay Thai. Marcos also trains in several other martial art forms including: Kung Fu, Boxing, Judo, Ninjitsu, Gracie Jui Jitsu, etc.