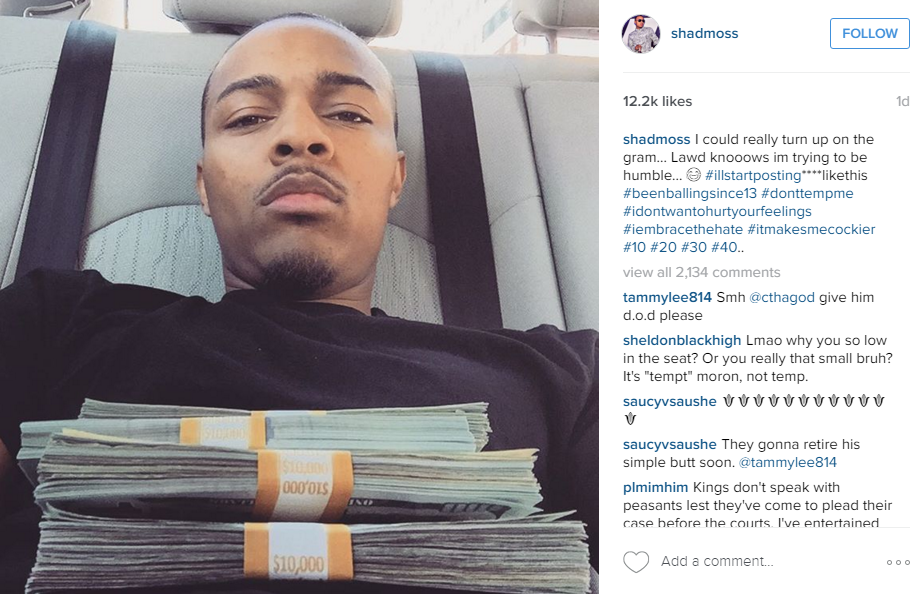 Bow Wow has made a career out of being corny, his many detractors say, as a man who has not had a hit record since the Bill Clinton administration and who spends the balance of his days of faking a life of luxury.
The latest episode of Bow Wow perpetrating a fraud, of course, was when a fellow passenger saw the rapper on a commercial flight, riding coach, while he posting on Instagram that he was flying a private jet to New York for the premiere of his career-saving reality show, "Growing Up Hip Hop."
Black Twitter and others got a good laugh at Bow Wow's expense — again — but those smiles were wiped away when an alleged Instagram star by the name of Tim Sykes began torching and belittling Shad Moss mercilessly and told the rapper in a very condescending way that he'd teach him how to live that luxurious lifestyle that Bow Wow keeps faking.
This is what Sykes said:
Hey @shadmoss here's another lesson for you, when you actually fly on a #privatejet you can take a picture in front of it too, that way you don't have to lie in interviews on how you did it on purpose to promote a TV show … unless you're going to claim you stole my cash photo over a year ago for the show too! And you shouldn't have lied again (you have a real nasty habit with that don't you little man?) by saying the money wasn't mine because I ONLY post photos of MY money, you forget that I'm not a broke ass musician like those you hang around with, I don't drink #hennessy or #sizzurp because I use my brain to make money as #knowledgeispower and the #stockmarket is what more people should respect, not failed musicians pretending to still be relevant … hit me up if you want to learn, I've taught people dumber than you before, and as your thank you to me when I turn your financial situation around we can make a followup to your movie "Like Mike", but we'll call it "Like Tim"! #proudteacher #iloveteaching #bowwowchallenge #thegoodlife#bowwow #jewjetting #liljewjew
That's when Blacks began circling the wagons around Bow Wow and allegedly poking holes in Mr. Sykes — and doing something most could not have imagined a week ago: defending Bow Wow and feeling sorry for him.
Take a look at a sampling:
@steenfox It's family, WE can make fun of Shad. I don't know no Tim Sykes. He can get outta here

— Nubyjas Wilborn (@nwilborn19) May 15, 2017

 
ow wow corny but this whole post is condescending and a bit racist https://t.co/mhMpS9FdWW

— gkb 031 (@JRonMelrose) May 15, 2017

Idk how to feel about Bow Wow, but this Tim dude can have several seats https://t.co/y4fVVfmyIN

— Zetus ? (@misswonDAY) May 15, 2017