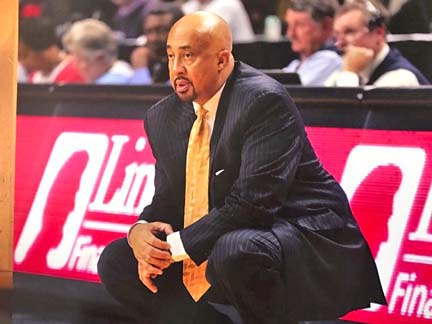 North Carolina A&T Men's Basketball Coach Cy Alexander sent ripples through the basketball world when he resigned from his post as the Division 1 head coach citing in a statement to press, "I have decided to step away from actively coaching to pursue other interest within athletics. I look forward to pursuing those interest here at North Carolina A&T State University … I have a strong love for broadcasting, and I think being able to sharpen my skills on the Aggie basketball broadcasts will assist me in pursuing broadcasting as my next career. My decision to step down was a difficult one, but the last three years of my life have been tumultuous with the passing of my wife and mother. Therefore, I believe this decision was in the best interest of me and my family."
He went on to thank all the young men "I've coached here at North Carolina A&T State University for their commitment to the program as well as their respective families who entrusted those young men to my care," he continued. "Secondly, I want to thank Chancellor Harold L. Martin and Athletics Director Earl Hilton for the opportunity they gave me to become the head coach at North Carolina A&T, and the opportunity they are giving me to pursue my second career. I also want to say thank you to my coaches, managers and every person who has been involved with North Carolina A&T men's basketball during my tenure."
His record was sterling. Alexander stepped away with a career record of 386-386 over 26 seasons of coaching. He was 43-80 in four seasons as the Aggies head man. Over the first 22 games of 2015-16, the Aggies are 5-17 overall and 2-6 in the MEAC. In Alexander's first season as head coach, N.C. A&T won the 2013 MEAC tournament title and made its first NCAA Men's Basketball Tournament appearance in 18 years. The Aggies went on to beat Liberty 73-72 in the first round of games in Dayton, Ohio to secure the school's first-ever NCAA tournament win. Eventual national champion Louisville defeated the Aggies in the second round to end N.C. A&T's season at 20-17. It was the Aggies' first 20-win season in 25 years.
Alexander also made coaching stops at Tennessee State (2003-09) and South Carolina State (1987-03). As S.C. State head coach, he won five MEAC tournament titles. His career also includes six 20-win seasons and 31 MEAC tournament wins, second all-time behind former Coppin State coach Ron "Fang" Mitchell. His six MEAC titles are second to only former N.C. A&T head coach Don Corbett, who had seven.
Here, Alexander discusses his new book Beyond the Backboard: My Unique HBCU Experience In the Shadows of Big Time Basketball. 
Why did you write this book?
I wrote it because I thought my story was unique, my coaching career was unique related to coaching on the HBCU level. I thought my story needed to be told. I've had a behind-the-scenes look at the ins and outs of big-time college basketball. Through my association with Nike, my interaction and position on important Boards and Committees of the NCAA and NABC (National Association of Basketball Coaches) and by my on-court experience and success navigating the rigors of Div. I basketball, my story should resonate with anyone striving for success against obstacles in any walk of life
What's the story behind the title?
In titling the book "Beyond the Backboard," we are trying to take the reader beyond the on-court activity that you see to the 'game behind the game.' HBCUs occupy a special place in the Division I universe. They fight special battles both on and off the court in recruiting, funding their programs, exposure and on-court success.
What do you hope readers will glean from reading your book?
My goal for my readers is to give them from my experience a vision of success and what it takes to be successful in any endeavor. The bottom line is to be totally organized, totally focused, willing to work hard and sacrifice to reach their goals. They can become whatever they want to become if they put the work in.
How long did it take you to write this book?
We started in March of 2016 and finished in November 2016.
What was your regimen to complete this book?
I would write everyday for around four hours on my experiences on a year-by-year and season-by-season basis and then meet at least once each week for two to four hours with my co-author Carl Lut Williams. He would edit and massage the script for clarity and readability and then we would review it each week.
How did you arrive at this career choice? Was it a deliberate decision or a gradual and natural evolution?
It was more like a natural evolution. I played high school basketball at Winston-Salem, NC's Parkland High School and received a scholarship to play at Catawba College in Salisbury, NC. After completing my degree in sociology, I was accepted to the Howard University School of Law. However, an opening on the Howard University basketball staff as its only assistant led me to apply for the job. Fortunately, I was hired by then Howard head coach A. B. Williamson, thus starting my 39-year coaching career.
What separates you from others in your field? What is unique to the experience that you create?
One of the things that separates me is that I'm the only coach in the history of the Mid Eastern Athletic Conference to win championships at two different schools – South Carolina State University and North Carolina A&T State University – and take both those programs to the NCAA Tournament. I've made six NCAA Tournament appearances: five at S.C. State and one at NC A&T. My six MEAC Tournament championships places second in all-time titles and I achieved it in 20 years. The leader, with seven titles, coached in the league for 29 years. Before going to SC State in 1987, the Bulldogs had never won an MEAC title. Under my leadership, we won five titles in 16 years and finished either first or second in ten consecutive years. Additionally, I was the only HBCU head coach on the prestigious NCAA Academic Enhancement Group, led by then late NCAA President Myles Brand and chaired by UCLA Athletics Director Dan Guerrero. There were only seven head coaches in this 30-member group that included college presidents, athletic directors and conference commissioners.
For those considering entering this arena, what skill sets do you recommend mastering? What traits are most conducive to success?
The number one skill to master is the art of being able to communicate honestly to your young men and your staff. Secondly, having a supreme knowledge of the ins and outs of the game of basketball is paramount. I believed in three things: To work hard, work smart and be organized. I had a saying that I lived and worked by that was 'Discipline is an orderly process by which you set out to reach your goal."
How do you stay at the leading edge of your craft?
In basketball, by always seeking to learn from every person you come in contact with. Whether it be the Xs and 0s of game preparation, execution, game management, recruiting, etc., always be ready to learn new things and sharpen those that you know.
Do you think that there are any widely held misconceptions about what you do? If so, what are they and how do you work to dispel them?
The misconception is that everybody thinks they can coach. Especially the fans. There's more to being a coach than Xs and 0s. There are a plethora of skills you need to be successful. But you've got to have leadership skills and everybody doesn't have those. Additionally, as an HBCU head coach, there is the misperception that we are less organized, talented or prepared. The fact is HBCU coaches are some of the most skilled and talented and often do and accomplish more than coaches with much greater resources.
How do you map out your goals? How do you measure your success?
Every year when I was coaching, we would, as a coaching staff, set goals we wanted to accomplish. Because coaching is such a bottom-line kind of business, you could accomplish certain goals, but the ultimate goal is to win more than you lose. For example, you can graduate your players, run a clean program, win community service awards and build players from boys to young men and still not accomplish the ultimate goal of having a winning and championship program. That's what makes coaching so difficult. You can accomplish secondary goals but may not be seen as a success without reaching that ultimate goal.
Who do you consider to be your peers in your field? Who do you see/use as examples for you to emulate?
Basketball coaching peers include all the Div. I coaches in the country that were on the sidelines between 1976 and 2016. They include the likes of Dean Smith (North Carolina), Mike Krzyzewski (Duke), Larry Brown (UCLA), Roy Williams (Kansas and North Carolina), Rick Pitino (Louisville), Kelvin Sampson (Oklahoma), etc. My examples include John Thompson (Georgetown), Leonard Hamilton (Oklahoma State, Miami and Florida State) and Orlando "Tubby" Smith (Kentucky, SMU, Minnesota, Memphis).
Name two of your top role models: one from your industry and one from outside of it.
Former President Barack Obama and Leonard Hamilton, the world's greatest college basketball recruiter.
Name three books, works, performances or exhibits that changed how you view life and/or yourself.
1) The Bible
2) Obama's The Audacity of Hope
3) March on Washington
4) Desiderata
Why do you consider continued learning important?
It's a never-ending process. You learn every day. I learn from every person I come in contact with. Many times you learn what not to do.
What affirmations do you repeat to yourself that contribute to your success?
"I can do all things through Christ who strengthens me."
What role does technology play in your day-to-day life? How do you utilize it?
I'm still trying to figure out this iPhone and iPad. But they are at the center of everything I do now.
What software, app or other technological innovation has made the biggest difference in your life and/or career?
The aforementioned Apple products.
Please define your personal brand.
I always wanted to be respected as a person of high integrity. I've always wanted to make my parents and my family proud of any endeavor that I was involved in. I do have a fear of failure. That drives me as much as anything.
What is your favorite vacation destination and why?
Sausalito, California, the most beautiful and peaceful place I've ever been. I was able to go there because of my association with Nike.
If you could change one thing about the world, what would it be?
I would eliminate poverty and racism.
If you could change one thing about yourself, what would it be?
For 40 years while coaching, I never learned how to relax. Even when I was not coaching, I put too much pressure on myself.
What does it take to be iconic? In your estimation, who has achieved that status?
Unparalleled success. From a sporting perspective, Michael Jordan achieved it. From a political perspective, President Obama achieved it. And from a religious perspective, Dr. Martin Luther King, Jr. achieved it.