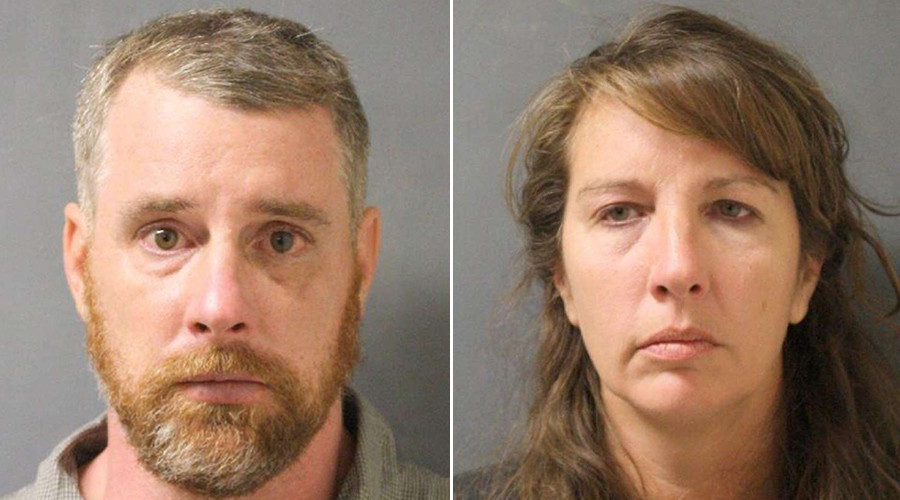 A Texas sheriff's deputy and her husband were indicted for first-degree murder for the choking death of a 24-year-old man outside a restaurant near Houston.
Harris County Deputy Chauna Thompson and husband Terry Thompson were charged in the death of John Hernandez after they turned themselves in on Thursday and were subsequently released on $100,000 bail on Friday.
Both face life in prison for Hernandez's death.
According to reports, Hernandez was with his wife and children at Denny's and had been drinking when he went outside to urinate near his car. That is when Terry Thompson, who had his own children with him, confronted Hernandez, and the argument that followed escalated into a fight that ended when Thompson put Hernandez in a chokehold and was lying on top of him as bystanders begged Thompson to release Hernandez.
"The man was turning purple," Denny's worker Melissa Trammell told the Houston Chronicle. "We begged him to get off the man and he wouldn't."
She added that Thompson "was just going to hold him down, whatever. When I see the man turning purple, there was no letup. And [Thompson] looked me in the face and told me he's not getting off him."
Chauna Thompson, who was off-duty at the time, arrived in a separate car and called the police. She is being charged as an accessory to murder.
Cellphone video shows part of the confrontation between Hernandez and Thompson. Hernandez is seen face down on the ground, kicking and struggling to get Thompson off him. Thompson had his arm locked around Hernandez's neck and used his chest to pin the younger man to the ground.
Chauna Thompson is seen helping her husband by pinning Hernandez's arm. On her knees, she yells at Hernandez to "stay the f— down."
After the indictment was announced, over 100 people show up in downtown Houston to rally for Hernandez, chanting "Justice for John Hernandez," "Brown lives matter" and "No estan solos," which is Spanish for "you are not alone," the Chronicle reported.