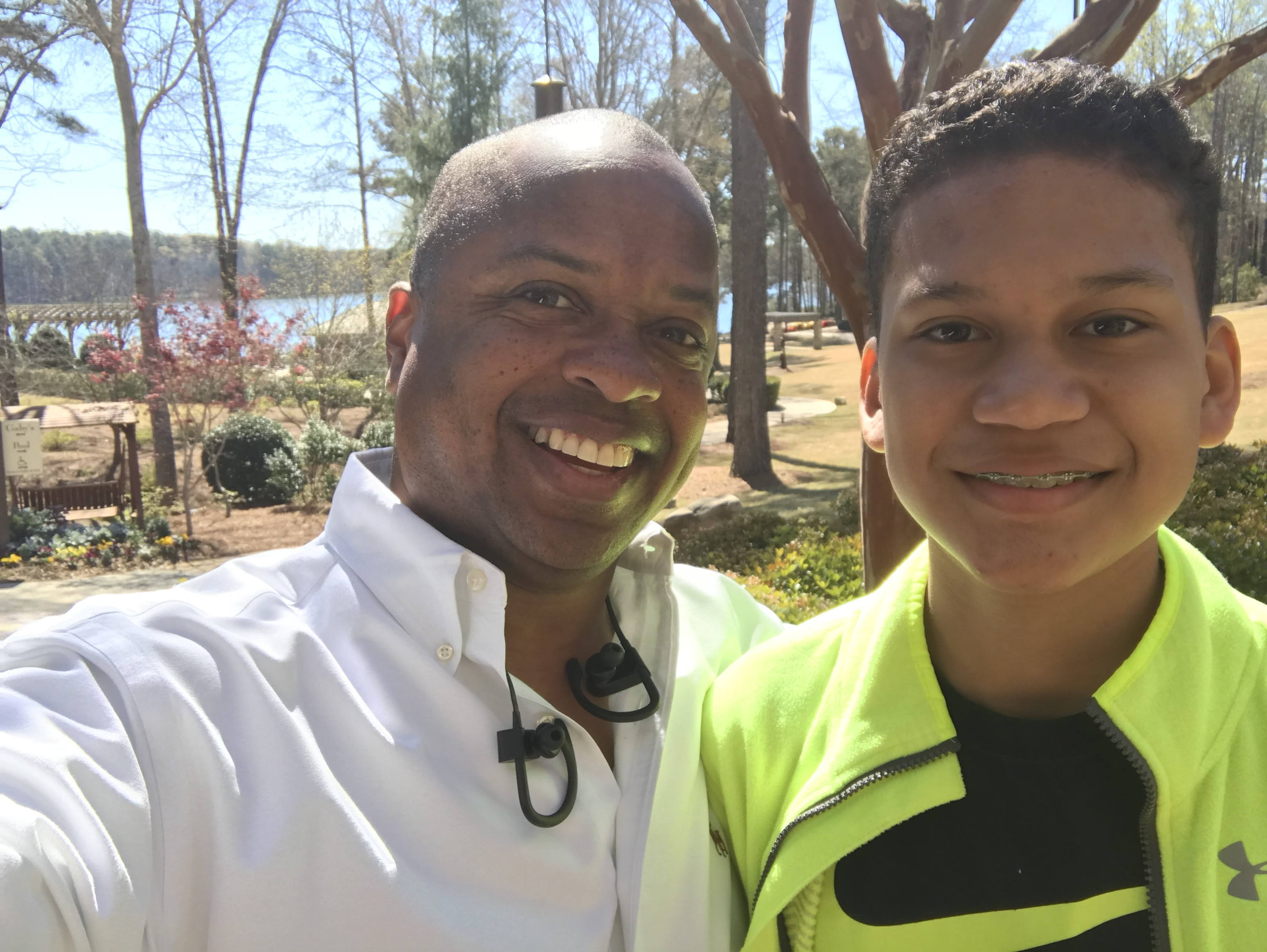 Tony Brevard, chairman of Bank Nucleus, on life and fatherhood
Tony Brevard has undoubtedly become an industry veteran in Atlanta's banking sector. Having more than 25 ears of experience in the banking industry, he currently serves as the principal of Bank Nucleus, a company designed to serve as the "outsource source for banks." In this interview, Brevard answers some questions for rolling out about life, fatherhood, and striking the all-important balance between career and family time.
What has fatherhood given to you?
Fatherhood has shown me that my ability to give of myself to someone else cannot be measured by the actual size of my heart and my spirit.  I never knew I could love someone so much until I had my children, Brittany and Will, in my world.
How do you communicate your emotions with you children?
Brittany is grown — living in Michigan with her husband and children, so we spend lots of time to text each other. We are very articulate with our feelings via text LOL. Will is much quieter than Brittany. But, we make it a point to say "I love you to the moon and back" to each other daily. I send a motivational text to them every morning during the week. It's our way of saying that we are thinking about each other.
How has your wife supported you as a father?
Angelia is one of the strongest, smartest, kindest spirits on this planet. She is also one of the greatest mothers I have ever seen.  We always discuss decisions on rearing our children in private before presenting a unified front.  She is, without a doubt, very much and Battle card and making me feel that I'm being a good father and protector of my family.
What have been the most important moments that have helped you to grow as a father?
There are too many to name.  I would have to say that coaching my son in various sports activities from age 4 to the present — he's 14 now — has been very impactful. It's interesting to see the lessons that transfer between fathers and sons when sports are used as the teaching mechanism.  I also show him the realities that come with being black in America.  It may just be watching an incident on the news, or it might just be me telling him something about my childhood in South Carolina for comparison. Ultimately, it's fun to see the cord that has developed within him. I'm excited to see who he is becoming. I didn't meet my daughter until she was 20 years old. I relationship, however, is very strong. Because she was already an adult, I would have to say that she has helped me to grow as a listener. More importantly, I am a listener to a woman [laughs]. She is extremely bright and articulate. So my lessons from her come in our lengthy conversations when she is waxing philosophically. But when she calls me or text me to tell me that she appreciates my advice on something meaningful, those moments are burned into my brain for the rest of time. Those revelations are very special to me.
If you were coaching young fathers, what three things would you suggest to do for and with their children?
1) Spend as much time as you can with them when they're young. Those are the moments where they learned the most about what about us look like.  So be careful, because they're always watching. What they see is what they will be.
2) Keep very open lines of communication. You want your child to be able to tell you literally anything. You don't want a teenager or an adult on your hands who has issues that you can't assist with because you never really got to know them as they grew up. Those open lines of communication might be the difference between your child being healthy and successful versus being unhealthy and homeless.
3) Let them be who they are supposed to be. Whatever you do, you don't want to push your unfinished hopes or dreams off on your children. What do you think is important or fulfilling might be the total opposite of what they believe. And that's OK. Unless their dreams are illegal, they should be allowed to foster them. That's not your call.
Finish these sentences:
Being a father has allowed me to …
Become a much better man than I would have been without my children in my life.
You give your children the best of what you have and what you did not get because …
They deserve every opportunity I had as a child and then some.
I work to communicate with my children as a father because …
I want to have them feel they have full access to my 49 years of experience in order to avoid the mistakes I made at their ages.
The best three moments I remember about special things my child has done or said …
Seeing my daughter become a graduate of the University Michigan shortly after meeting her for the very first time. I am extremely proud of her.
Seeing my son for the very first time when he was born in Oklahoma City – priceless.
Various times watching my son excel in the swimming pool.  He's gifted. I just hope that he realizes it because it came so easily for him that he sometimes takes it for granted.
I am present in my child's life because …
My father has always been such a phenomenal role model and presence in my life. If I can be half the man that my father Eells, I consider myself to be uber-successful in that capacity.
Being a father/-coach and guiding my children means …
That a little bit of me will rub off on them and their children (and generations to come).  Hopefully, people will look at them and say "you [are] just like your daddy" — and they will smile with pride because I left a positive legacy.
The most important thing that I learned about being a father is …
There is no perfect way to be a father. Lastly, always strive to be "Daddy," not just a father. Anybody can be a father, but it takes someone special to be Daddy.