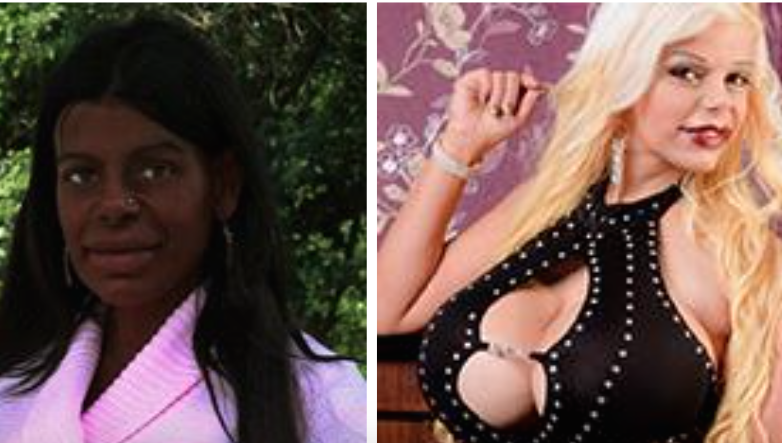 Martina Big has spent thousands of dollars on surgeries in an attempt to become a Black woman. The model, who is originally from Germany, continues to highlight her racial transformation on social media.
"I have great news. I had done the next step in my transformation to a black woman. Yesterday I was with an African hairdresser and got a hair extension with curly, African hair. To become more and more a black woman, that is such a wonderful feeling. I'm so happy. Next, I'll have consultations for the butt enlargement and for the African facial features," Martina Big wrote on her Facebook page.
Martina Big likely considers herself to be transracial. After Rachel Dolezal was outed for lying about her race, she claimed that she was transracial by comparing it to being transgender. However, similar to Dolezal, Martina Big's exploration into Black culture is flawed due to her gross embrace of Black stereotypes.
Martina Big's perception of Black women includes big lips, big breasts, a big butt, and other "African facial features." She's only interested in fetishizing Black bodies without taking the time to fully understand what it means to exist as a dark-skinned person in this world.
In 2015, Dolezal made headlines after a reporter discovered that she was passing as Black and claimed that a Black man was her father. It was eventually discovered that Dolezal was a White woman who was raised in Lincoln County, Montana. She enrolled at Howard University and became a branch president of the NAACP in Spokane, Washington. But she encountered backlash due to her numerous lies and failure to recognize her participation in "Blackface."
Martina Big is the latest example of how White privilege allows her to try on the skin and stereotypical body shapes of Black women as if they were accessories.