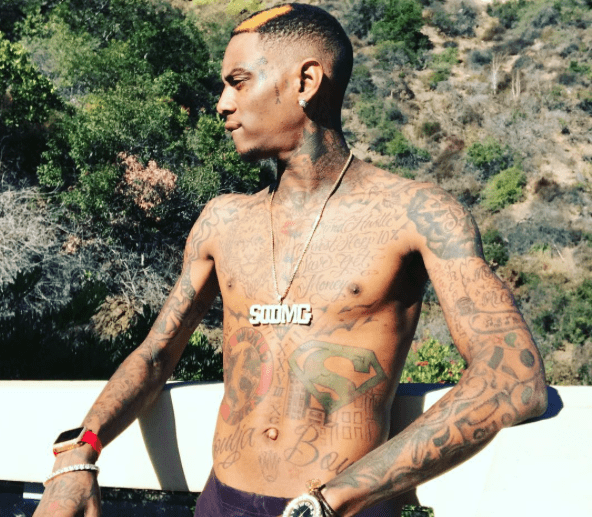 The saga of Soulja Boy vs. Chris Brown could finally by coming to an end. After a fueding with Brown for the first days of the New Yea, Soulja Boy is calling for a truce.
The beef started on Jan. 2 after Karrueche posted a photo on Instagram which featured her wearing a bikini and sitting on a wall in Jamaica. Soulja Boy responded to the picture and placed several "heart eyes" emojis under the pic.
Moments later, Soulja Boy created an Instagram post claiming that Chris Brown called him and threatened him for liking Karrueche's photo.
"Chris Brown you a b—, n—-," Soulja Boy said. "You think you're hard because you beat Rihanna. Dude that sh— to me! He called me FaceTime talking about, 'Why you liking Karrueche picture on Instagram?' When I see you, I'm going to beat your a—. Karrueche don't want you. Stop snorting so much coke!"
Brown responded by posting a screen shot of Soulja Boy attempting to call him on FaceTime. Brown went on Instagram and challenged Soulja Boy to a boxing match with all proceeds going to charity. Soulja Boy responded by claiming that Brown snorts coke around his daughter.
Karrueche shared her thoughts and said there were bigger issues to worry about in the world. Brown lashed out at Karrueche for giving her opinion and said that she was only famous because they dated.
Soulja Boy ventured into an allged Bloods neighborhood attempted to use Instagram Live to prove his streed cred. However, he was pushed by a resident of the neighborhood in initally appeared to be a cell phone robbery. Another video showed Soulja Boy prepared to fight before his bodygaurd stepped in between the two.
And finally, the two agreed to a boxing match with proceeds going to chairty.
But on the morning of Jan. 4, Soulja Boy released a mea culpa via social media. He revealed that his mother is in the hospital and he was stressed out due to the issue. He also apologized to Brown, Quavo, Lil Yatchi and others who has beefed with during the past few months.
Check out the video below.
PSA ???????? pic.twitter.com/vvKp0cVHDI

— Soulja Boy (@souljaboy) January 4, 2017