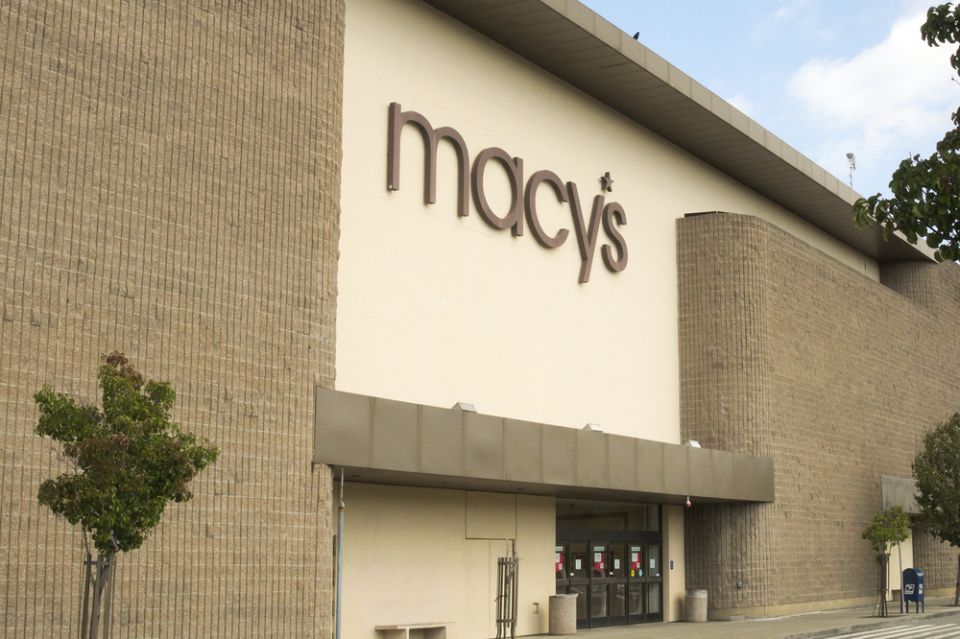 Macy's posted disappointing holiday sales on Wednesday, Jan. 4, 2017, and released the locations of 68 of the 100 stores. Its shares plunged 8.7 percent to $32.70 in after-hours trading.
"We continue to experience declining traffic in our stores where the majority of our business is still transacted," Terry Lundgren, Macy's CEO said in a press statement. In regard to the store closings, he added, "We are closing locations that are unproductive or are no longer robust shopping destinations due to changes in the local retail shopping landscape. These are never easy decisions."
The press release outlines a series of actions to streamline its store portfolio, intensify cost efficiency efforts and execute its real estate strategy. These actions bolster the company's strategy to further invest in omnichannel capabilities, improve customer experience and create shareholder value. The actions include:
The closure of 68 stores and the reorganization of the field structure that supports the remaining stores, reinforcing the strategy of fewer stores with better customer experience. These store closures are part of the approximately 100 closings announced in August 2016.
The significant restructuring of the Macy's, Inc. operations to focus resources on strategic priorities, improve organizational agility and reduce expense.
The sale of properties consistent with the previously announced real estate strategy.
Here are 68 of 100 stores that will close and the number of employees who will be affected, nearly 6,200 positions.
Macy's already completed 2016 closings:
•Laurel Plaza, North Hollywood, CA (475,000 square feet; opened in 1995; 105 associates);
•Ala Moana Jewel Gallery, Honolulu, HI (2,000 square feet; opened in 1986; 9 associates);
•Valley Fair, West Valley City, UT (106,000 square feet; opened in 1970; 53 associates);
Macy's already announced year-end 2016 closings:
Final clearance sales at the following Macy's stores closing in early 2017 will begin on Monday, January 9, and run for approximately eight to 12 weeks (with the exception of Lancaster Mall*, where final clearance sales are already in progress):
•Greenwood, Bowling Green, KY (124,000 square feet; opened in 1980; 63 associates);
•Carolina Place, Pineville, NC (151,000 square feet; opened in 1993; 69 associates);
•Douglaston, Douglaston, NY (158,000 square feet; opened in 1981; 144 associates);
•Downtown Portland, Portland, OR (246,000 square feet; opened in 2007; 85 associates);
•*Lancaster Mall, Salem, OR (67,000 square feet; opened in 1980; 53 associates);
•Oakwood Mall, Eau Claire, WI (104,000 square feet; opened in 1991; 55 associates)
Macy's year-end closings
•Mission Valley Apparel, San Diego, CA (385,000 square feet; opened in 1961; 140 associates);
•Paseo Nuevo, Santa Barbara, CA (141,000 square feet; opened in 1990; 77 associates);
•Lakeland Square, Lakeland, FL (101,000 square feet; opened in 1995; 68 associates);
•Oviedo Marketplace, Oviedo, FL (195,000 square feet; opened in 2000; 83 associates);
•Sarasota Square, Sarasota, FL (143,000 square feet; opened in 1977; 86 associates);
•University Square, Tampa, FL (140,000 square feet; opened in 1974; 73 associates);
•CityPlace, West Palm Beach, FL (108,000 square feet; opened in 2000; 72 associates);
•Georgia Square, Athens, GA (121,000 square feet; opened in 1981; 69 associates);
•Nampa Gateway Center, Nampa, ID (104,000, square feet; opened in 2009; 57 associates);
•Alton Square, Alton, IL (180,000 square feet; opened in 1978; 54 associates);
•Stratford Square, Bloomingdale, IL (149,000 square feet; opened in 1981; 87 associates);
•Eastland, Bloomington, IL (154,000 square feet; opened in 1999; 55 associates);
•Jefferson, Louisville, KY (157,000 square feet; opened in 1979; 52 associates);
•Esplanade, Kenner, LA (188,000 square feet; opened in 2008; 101 associates);
•Bangor, Bangor, ME (143,000 square feet; opened in 1998; 65 associates);
•Westgate, Brockton, MA (144,000 square feet; opened in 2003; 79 associates);
•Silver City Galleria, Taunton, MA (152,000 square feet; opened in 1992; 82 associates);
•Lakeview Square Mall, Battle Creek, MI (102,000 square feet: opened 1983; 51 associates);
•Eastland Center, Harper Woods, MI (433,000 square feet; opened in 1957; 121 associates);
•Lansing, Lansing, MI (103,000 square feet; opened in 1979; 57 associates);
•Westland, Westland, MI (334,000 square feet; opened in 1965; 106 associates);
•Minneapolis Downtown, Minneapolis, MN (1,276,000 square feet; opened in 1902; 280 associates);
•Northgate, Durham, NC (187,000 square feet; opened in 1994; 72 associates);
•Columbia, Grand Forks, ND (99,000 square feet; opened in 1978; 53 associates);
•Moorestown, Moorestown, NJ (200,000 square feet; opened in 1999; 107 associates);
•Voorhees Town Center, Voorhees, NJ (224,000 square feet; opened in 1970; 77 associates);
•Preakness, Wayne, NJ (81,000 square feet; opened in 1963; 72 associates);
•Cottonwood, Albuquerque, NM (173,000 square feet; opened in 1996; 56 associates);
•Las Vegas Boulevard, Las Vegas, NV (178,000 square feet; opened in 1966; 84 associates);
•Great Northern, Clay, NY (88,000 square feet; opened in 1989; 55 associates);
•Oakdale Mall, Johnson City, NY (140,000 square feet; opened in 2000; 58 associates);
•The Marketplace, Rochester, NY (149,000 square feet; opened in 1982; 77 associates);
•Eastland, Columbus, OH (121,000 square feet; opened in 2006; 73 associates);
•Sandusky, Sandusky, OH (133,000 square feet; opened in 1979; 61 associates);
•Fort Steuben, Steubenville, OH (132,000 square feet; opened in 1974; 59 associates);
•Promenade, Tulsa, OK (180,000 square feet; opened in 1996; 58 associates);
•Neshaminy, Bensalem, PA (211,000 square feet; opened in 1968; 89 associates);
•Shenango Valley, Hermitage, PA (106,000 square feet; opened in 1976; 69 associates);
•Beaver Valley, Monaca, PA (203,000 square feet; opened in 1987; 78 associates);
•Lycoming, Muncy, PA (120,000 square feet; opened in 1995; 61 associates);
•Plymouth Meeting, Plymouth Meeting, PA (214,000 square feet; opened in 1966; 74 associates);
•Washington Crown Center, Washington, PA (148,000 square feet; opened in 1999; 67 associates);
•Parkdale, Beaumont, TX (171,000 square feet; opened in 2002; 67 associates);
•Southwest Center, Dallas, TX (148,000 square feet; opened in 1975; 68 associates);
•Sunland Park, El Paso, TX (105,000 square feet; opened in 2004; 71 associates);
•Greenspoint, Houston, TX (314,000 square feet; opened in 1976; 70 associates);
•West Oaks Mall, Houston, TX (244,000 square feet; opened in 1982; 135 associates);
•Pasadena Town Square, Pasadena, TX (209,000 square feet; opened in 1962; 78 associates);
•Collin Creek, Plano, TX (199,000 square feet; opened in 1980; 103 associates);
•Broadway Square, Tyler, TX (100,000 square feet; opened in 1981; 65 associates);
•Layton Hills, Layton, UT (162,000 square feet; opened in 1980; 72 associates);
•Cottonwood, Salt Lake City, UT (200,000 square feet; opened in 1962; 88 associates);
•Landmark, Alexandria, VA (201,000 square feet; opened in 1965; 119 associates);
•River Ridge, Lynchburg, VA (144,000 square feet; opened in 1980; 60 associates);
•Everett, Everett, WA (133,000 square feet; opened in 1977; 109 associates);
•Three Rivers, Kelso, WA (51,000 square feet; opened in 1987; 57 associates);
•Valley View, La Crosse, WI (101,000 square feet; opened in 1980; 57 associates)
Other 2017 closings
•Simi Valley Town Center (men's/home/kids), Simi Valley, CA (190,000 square feet; opened in 2006, 105 associates);
•Mall at Tuttle Crossing (furniture/home/kids/men's), Dublin, OH (227,000 square feet, opened in 2003, 52 associates)
Stores sold (or to be sold) and leased back
These stores have been or will be sold, and Macy's will continue to operate them on leases from the owners:
•Stonestown Galleria, San Francisco, CA (280,000 square feet: opened in 1952: 204 associates);
•Union Square Men's, San Francisco, CA (248,000 square feet: opened in 1974) 256 associates; as previously announced);
•Tyson's Galleria, McLean, VA (265,000 square feet; opened in 1988; 122 associates; as previously announced