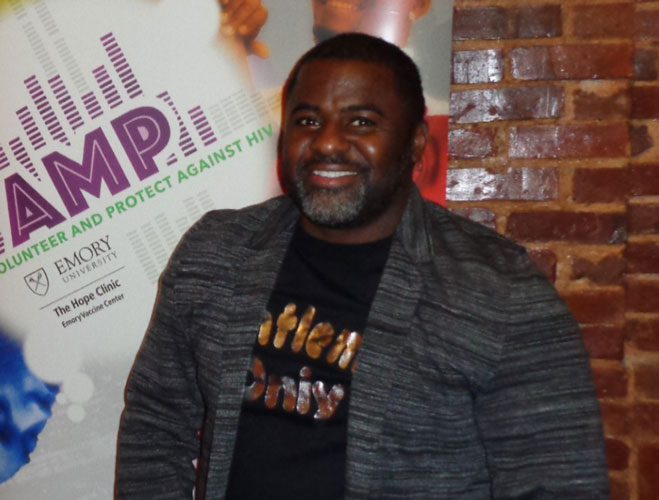 Atlanta is a city with one of the highest rates of new HIV infections in the country. According to the CDC, 1 in 51 Georgians will be diagnosed with HIV in their lifetime. A shocking revelation made worse by the statement from Dr. Carlos Del Rio from the Emory University Center for AIDS Research who stated, "Downtown Atlanta is as bad as Zimbabwe or Harare or Durban."
But there is an organization that is trying to combat this epidemic with free testing and services. Rameses Frederick is a program coordinator and community educator for prevention, vaccine and trials for Emory Hope Clinic. Frederick is a native of New York but has called Atlanta his home for the past 13 years. He has gone from an IT professional to working as a community leader and activist with the Atlanta HIV community. Rolling out spoke with Frederick about his work and the impact of the Emory Hope Clinic in Atlanta.
How long have you been a part of the Hope Clinic?
I have been involved in the Hope Clinic for about a year and a half now.
What got you involved with the Hope Clinic?
I wanted to make a difference. I wanted to help our community especially the number of Black men who are affected by this disease.
How receptive has the community been with the clinic and the work you do surrounding HIV prevention and awareness?
There is a large population of people who are engaged in the community. There is a treatment side, a behavioral side, and a prevention side. Our division specifically targets prevention. So any new ideas those researchers are doing and are ready for the public we take care of that. We tell the community what's out there to prevent young adults from contracting HIV.
How can people contact you if they want to get tested or receive more information?
They can go to gethipgetconnected.org, which gets you directly connected to resources in metro Atlanta. The links under the "Care" section will allow you to become personally connected with someone in our office. It's not just a list; this is a personal interaction that we provide via the website for our services.
What is a major issue that you are dealing with when it comes to education and prevention?
Based on the data, people have to build a relationship with their medical provider and most men are not. Men still go to the doctor just when we need it and we are going too late.
What is an example of your work?
Currently, we have the Antibody Medicated Prevention or AMP Study. There are researchers that have created an antibody in the lab that could possibly be used to prevent HIV. We also have another study that is an injectable form of HIV medication. Because people tend not to use their medication regularly the study is to see how long the medication will last in your system. The goal is for a monthly or every 3-month type of medication so a person who is HIV negative does not develop HIV.
How successful has the AMP project been?
This is an international study being conducted in Africa, South America and the United States. It has been successful and our office has enrolled 33 participants since the study started in April 2016. Because we do pre-study health screening not every person is eligible for participation because of other existing medical conditions they were unaware of such as high blood pressure. But we also are able to help those people by getting them connected to a medical provider for those conditions. So we are helping people in different ways. People are also compensated for their time and travel for participation in the studies.
How can people begin the process of being a volunteer for the study?
They can call 877-424-4673 or email [email protected].
Since you have been involved with Hope Clinic, has it been effective?
Yes. People are being educated and connected with resources. But it is still a battle because the target is also gay Black men. Many Black men do not become educated or involved because they do not want to be identified as part of the gay community. This is a part of the stigma of being identified as being Black and gay if a person is closeted.  A big issue when it comes to family and peers who may treat a person differently. But now we are seeing that Black men, especially in Atlanta, are becoming more comfortable and educated. Surprisingly for Atlanta to have such a high LGBTQ population there is no community center for this demographic. This is causing more people to become informed via the internet on HIV awareness. This is a problem. There are resources out there for people but there is no space for them to come in and feel comfortable. If I had the funding right now this would be something that I would build — non-clinical environments where a person [could] get education, treatment and condoms for protection. [There would be] a safe place where they could express themselves and talk about their personal issues.