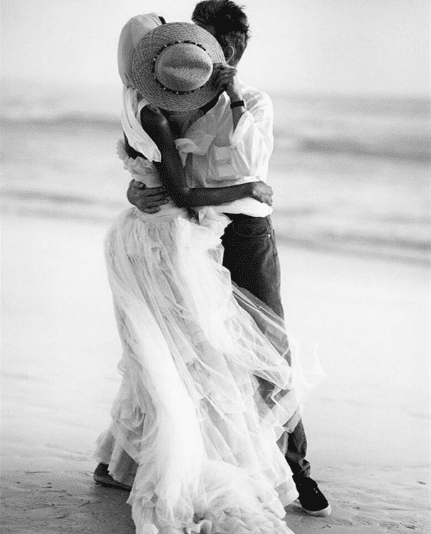 Nearly one year after the tragic passing of David Bowie, the iconic musician and visionary's wife, Iman, is doing her part to keep her beloved's legacy alive.
Over the weekend, the supermodel took to Instagram to reflect on the upcoming anniversary of her late love's death on Jan. 10, which also happens to fall just two days after the singer would have celebrated his 70th birthday.
"BowieForever," wrote Iman, alongside a simple, black and white photo featuring herself and Bowie in a gentle embrace with the ocean serving as their backdrop. Of course, this isn't the first time Iman has marked her devotion to her "forever love" since his passing.
On Feb. 6, 2016, she shared a simple message that read "Love & Gratitude," thanking fans for their outpouring of support in the wake of the British singer's death.
Meanwhile, prior to her husband's passing, the 61-year-old model opened up to Oprah Winfrey about what made their marriage work behind closed doors. "We both understand the difference between the person and the persona," she explained. "When we are home, we are just Iman and David. We're not anybody else."
The Somali beauty went on, "You have to be at the right time in your life that you're ready for an everlasting relationship, that it becomes a first priority in your life. If your career is important to you, don't get married and have children, because something will give. I know as women we want to be able to have it all, but we can't have it all at the same time…"
As previously reported, after a private 18-month battle with liver cancer, Bowie passed away last January at 69-years-old. However, according to a new documentary, the singer only discovered his cancer was terminal three months before he died, the Guardian reports. In the film titled David Bowie: The Last Five Years, which aired on BBC2 on Saturday night, Jan. 7, filmmakers reveal that Bowie discovered his treatment was to be stopped while he was filming the music video for his final single, "Lazarus."
As fans know far too well, the couple who tied the knot in 1992 shared a beautiful daughter, Alexandria Zahra Jones, whom they welcomed just eight years following their wedded bliss. Our thoughts and prayers continue to go out to Bowie's loved ones.