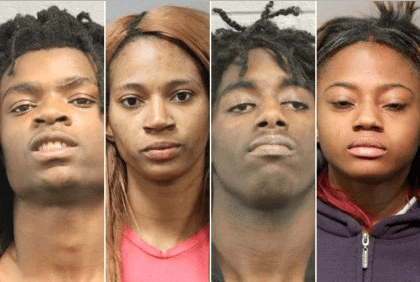 The Chicago four — Jordan Hill, 18; Tesfaye Cooper, 18; and sisters Brittany, 18, and Tanisha Covington, 24 —  tortured a severely disabled white 18-year-old who suffers from schizophrenia and attention deficit disorder (ADD).
The senseless beating was captured on cellphone video by one of the assailants and has since been viewed by millions. The graphic footage shows the suspects taunting the victim with profanities against White people and President-elect Donald Trump.
Cook County, Chicago circuit judge Maria Kuriakos Ciesil ordered them held without bail when they appeared before her in court on Friday, Jan. 6, 2017.
"Where was your sense of decency?" the judge asked.
A prosecutor revealed that one of the four suspects demanded $300 ransom from his mother if she wanted her son back.
Public defenders told the court Tanisha Covington is the mother of two children, ages 11 months and 2 years old. They say her sister, Brittany Covington, attends college and is involved with her church. Both are from Chicago.
Attorneys said Hill, of suburban Carpentersville, works for a staffing company assembling furniture and attends church with his grandmother. They say the fourth suspect Cooper, of Chicago, cares for his twin brother who uses a wheelchair and is a high school junior.
Hill knew the unidentified victim from attending a school together in Aurora, he's the one who demanded the money from the disabled teen's mom.
Their alleged actions included:
-Making him drink toilet water,
-Forcing him to kiss the floor,
-Stuffing a sock into his mouth,
-Taping his mouth shut,
-Binding his hands with a belt,
-Cutting his scalp until it bled.
It's believed the torture started in a stolen van and continued for at least six hours.
They are all charged with aggravated kidnapping, aggravated unlawful restraint, aggravated battery and two hate crimes — one because the young man is disabled and one because of his race.
Hill faces an additional charge of robbery and possession of a stolen vehicle.
Hill, Cooper and Brittany Covington also face charges of residential burglary.