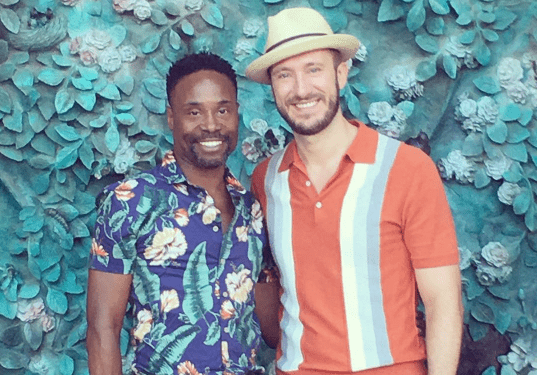 Congrats are in order for Broadway star Billy Porter and his longtime partner Adam Smith.
Draped in Thom Browne and Prada suits, the grooms jumped the broom on Saturday, Jan. 14, in an intimate ceremony consisting of 45 guests in Manhattan — marked with platinum Cartier bands — at a friend's Chelsea penthouse, People reports. Afterward, the happy couple and their guests reportedly popped bottles of champagne and enjoyed sweet treats from Empire Cakes.
"We're looking forward to understanding and learning how to share your life with somebody," Porter, 47, told People ahead of the wedding, on Friday, Jan. 13. "I'm really thrilled to figure out what that means — together, with my soul mate!"
The magical milestone comes just two weeks after the Tony-winning star got down on bended knee during a romantic dinner in London on Dec. 29. In other words, the pair whipped up their big day in less than one month.
"We were discussing, and Billy had actually brought up to me that it's important for us to get married [Barack] Obama is still President and before January 20," 35-year-old Smith said of their impromptu union. "So we sat down and figured out when we could make it work before the 20th."
"This is an extension of our activist side. It's still important to show the world what our love looks like; it's important for us to take that stand," Porter continued of the urgency to wed prior to Donald Trump's Inauguration. "I think about when I grew up and when I came out in the '80s: As a black gay man, there were no examples to validate my existence. So I vowed at that age to try to be that for the generations behind me if I had the chance."
In 2009, the newlyweds found love by way of mutual friends. After dating for one year, they split only to rekindle their flame in 2015. Meanwhile, the grooms shared their disbelief over the nuptials they never saw becoming a reality, coming from two conservative homes.
"We both grew up in households where who we are is labeled an 'abomination,'" Porter said. "The thought of marriage, there was no context for it — there was no dreaming about it because there was no context to dream; it was unspoken and very clear that the sanctity of marriage was not for us. So to see that come around, to see that tide turned, it still takes my breath away; I'm still trying to find the words to describe it. I didn't think I needed it. I lived with this idea that it just wasn't for us. So when we went to get our marriage license the other day, the act of that was so powerful in a way that crept up on the both of us, and it just grounded that moment.
"I finally found — we finally found — the thing that has been so elusive, and I'm so excited to share that."
Smith added, "To get to marry the person that you love more than anything is an extraordinary thing, and I finally realized what everyone else has been able to do, I now am able to do myself. And that's an incredible feeling."
Congrats to the couple on entering a new chapter in their life. Show them some love in the comment section below.