AJ Ban$ky is in a class of his own. After releasing independent tracks on Soundcloud ("Gift Shop," "Soliloqui," etc.) and gaining traction online with his collective, BurbLife, Bank$y is ready to take center stage.
With you being an Atlanta Native, did the sound of early Atlanta hip-hop influence your music in any capacity?
So, originally I'm from Palm Bay, Florida. It's about an hour south of Orlando on Florida's Space Coast. I like to think I have South Florida roots since I came up listening to a lot of Broward county and Dade county artists — DJ Chipman, Grind Mode, Bizzle, COA Legacy, Ice Berg, etc. I moved to Atlanta for school when I was 17. As far as early Atlanta hip-hop, I didn't bump any OutKast or Goodie Mob or anything like that, but I listened to a lot of T.I. when I was like 12 or 13 — King, T.I. vs. T.I.P, Paper Trail. I have a pretty good recollection of those albums. I listened to a little bit of Playaz Circle back then, too. I can't say it influenced my current sound, though.
You mentioned that you tend to go through writer's block for certain periods of time. What steps do you take in order to overcome that block in your creativity?
Honestly, time sorts a lot of it out for me. You have to be okay with the fact that you may have nothing to say at the moment. I think saying nothing is better than saying anything just for the sake up dropping a record. I never want to get to the point where I am forcing my music or riding waves to get recognition. Sometimes you have to regroup and just live life until you're inspired again. Find a muse, go on a date, eat some really good food, go play soccer (I'm pretty good at soccer), things like that. Or I'll listen to some of my favorite artists to get excited about music again.
Explain to me the origins behind the BurbLife collective. Is the collective specifically catered toward music or are there other aspects that are involved?
Okay haha, brace yourself. So, the BurbLife crew started as a group of friends/family from my hometown (Palm Bay). My brother came up with the original idea and we all just ran with it. There was like five or six of us. The philosophy of BurbLife is a play on the dated blue-collar, stereotypical American dream — a house in the suburbs with a white picket fence, the sort of proverbial "rags to riches" final destination. For us, BurbLife is the belief that you can achieve personal success (however you define it) regardless of the obstacles in front of you. Whether it's graduating high school, starting a business, getting married, or pursuing rap dreams. Whatever is the final destination for your story, you control the narrative. That's BurbLife.
Anyways, back then I used to write a lot of raps so I was one of the main people pushing the music. I had like 4 notebooks dedicated to rhymes, and we would all put together collab tapes and put 'em out on DatPiff. No mixing or mastering. Just a webcam mic, some pirated software and raw vocals. Back then it was less stressful, though. You didn't have to worry about PR or rollout plans or streaming stats. We just rapped (and sang) because we could.
While I was engrossed with the music, my brother would design logos and merchandise for what is now BurbLife, LLC. So, officially BurbLife is a t-shirt and apparel company based in Palm Bay, FL owned and operated by my brother, Austin. The "crew" aspect is mostly nostalgia from the early days. My homie Sha and I are still pursuing music independently and so BurbLife, LLC is our current apparel/merch sponsor. No matter how much my music career progresses though, BurbLife will always represent family to me.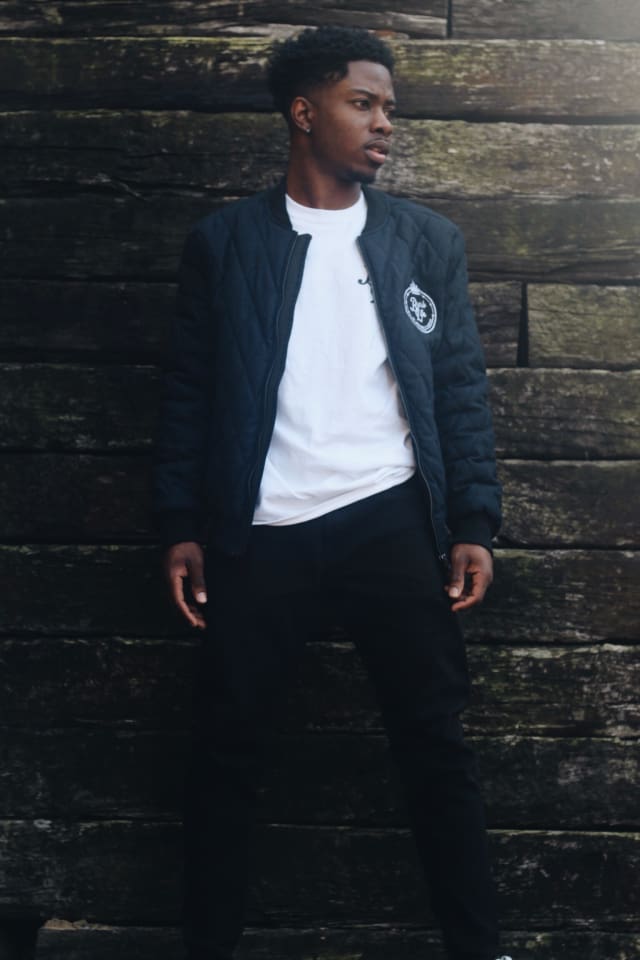 "6 Miles" is your latest single to drop. What were some of the things that inspired it? Is this a precursor to an upcoming project?
"6 Miles" is inspired by Chicago artist Joey Purp's track "Godbody" from his latest project iiiDrops. I just gotta go on record saying Joey Purp is one of the best out right now. But yeah, I wanted to attack the beat. I wanted the verses to sound very gritty, almost desperate, like you're on your last meal and you may just have to rob someone to get bus fare. But I also wanted to highlight some very real internal and external struggles regarding mental health, school, police brutality, and most importantly the desire to succeed with rap at all costs. It's like you've been walking down a certain path so long that it's too late to turn around and go back. You either make it to the end of the road or you die trying. I gotta give a shoutout to my homie Sakima as well. Originally, I had a different hook but I wasn't 100% sure of it so I sent it to him and he ended up producing a much better version. So his hook made the final cut. I have an EP in the works but the vibe will be much much different than that of this song.
What is your favorite rap verse?
That's tough. I listen to a lot of music man. I've been listening to a lot of Lucki recently though so I'll go with "Newer Me" by Lucki from the first Freewave EP. If you asked me in an hour, I'd have a different answer.
What are your top three classic albums?
Remember I was born in '94 so just bear with me. No order: Good Kid, M.A.A.D City, My Beautiful Dark Twisted Fantasy, and Tha Carter III is a must. I feel like everyone expects you to say a Jay Z or Nas album but I didn't really grow up on classic rap so that's not my experience.
What do you want people to remember the most about AJ Bank$y?
The "Bank$y" part of my name comes from the infamous street artist, Banksy from Bristol, England. My main goal is to really embody that spirit and produce art that sends a message, evokes thought, or generates controversy. I want to use my gifts and whatever platform I have to make people feel again, to inspire people. And I want to make great, timeless music.
Check out AJ Bank$y's new single "6 Miles" on Soundcloud.