Milwaukee County, Wisconsin, Sheriff David Clarke has been an adamant supporter of President Trump and has used his badge to espouse heated rhetoric against his enemies. Clarke has stated repeatedly that the death of Mike Brown, Eric Garner and other Blacks in the news since 2014 have not been the fault of the police but rather the victim. Clarke is the type of Black cop a Black person should fear; it seems he is willing to excuse and allow police to be judge, jury and executioner of anyone Black he deems has transgressed in the eyes of law enforcement. Apparently, this now also extends to people who look at him in a way he doesn't like.
On a recent flight from Dallas to Milwaukee, a fellow passenger, Dan Black, recognized the controversial sheriff sitting in first class. Black asked Clarke if he was indeed the famous sheriff, to which Clarke responded yes and Black walked away, shaking his head. Clarke then asked if Black had a problem and he responded no and walked away, still shaking his head. According to Black, "I intentionally did not say anything more to him because I did not want to make a scene or get in trouble as a Milwaukee man did in September when confronting Clarke on an airplane. I just moved on and took my seat."
But Sheriff Clarke apparently was upset and when the plane arrived in Milwaukee, he summoned his officers and a police dog to detain Black.  According to Black he was questioned rudely and escorted off of the airport property. Now Black has filed a complaint against Sheriff Clarke for what he perceived as an abuse of power calling the experience "deeply embarrassing and frightening." He wrote in a complaint against Clarke "There was absolutely no basis for this incident, and I believe I was the victim of the sheriff's abuse of power."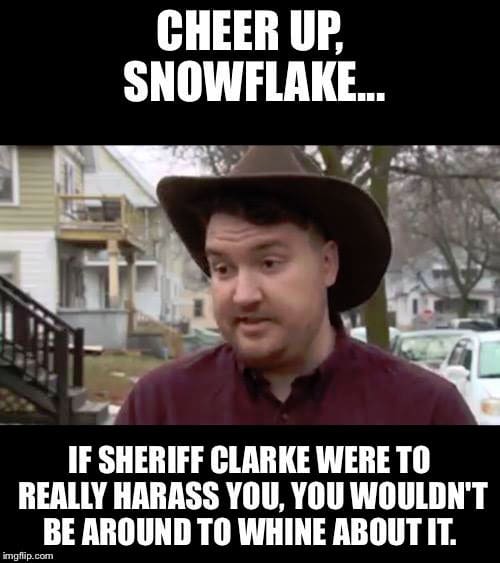 The sheriff's office also released a statement by Clarke that reads, "Next time he or anyone else pulls this stunt on a plane they may get knocked out. The Sheriff said he does not have to wait for some goof to assault him. He reserves the reasonable right to pre-empt a possible assault."
"Most cops, most deputies, most law enforcement officers don't pull stunts like this. I've already apologized to Dan Black on behalf of the county," said Milwaukee County Executive Chris Abele.