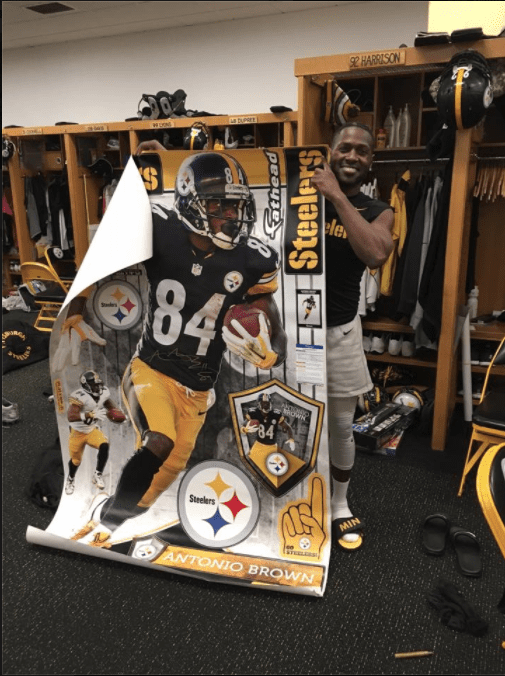 Five-time Pro Bowl player and Pittsburgh Steelers wide receiver Antonio Brown, 28, streamed a Facebook Live postgame locker room video last week after they beat the Kansas City Chiefs on Jan. 16. The 17-minute clip netted him a $10,000 fine by coach Mike Tomlin.
The video had more than one million views before removed from Brown's Facebook page. Reportedly, Brown has a high "high six-figures" marketing deal with the social network.
In the video, Brown talks to fans in the video, thanking them for their support while joking around with teammates, many of whom are changing out of their uniforms. The Steelers then have a team prayer, followed by Tomlin addressing his players telling them that they need to start preparing for the Patriots in the AFC championship game.
"We spotted those a——- a day and a half," Tomlin can be heard saying referring to the Patriots. "They played yesterday, our game got moved to tonight. We're going to touch down at 4 o'clock in the f—— morning. So be it. We'll be ready for their a–."
He also tells his team to "keep a low profile" on social media in the clip. Someone else is heard saying, "Keep cool on social media. This is about us, nobody else." Brown didn't pause or stop recording during this time.
The NFL is currently conducting their own investigation and may impose another fine. Brown, who was paid $10.25 million by the NFL, violated the League's social media policy of posting content before reporters had finished postgame interviews.
The Steelers lost 36-17 to the New England Patriots on Sunday, Jan. 22, 2017. The Patriots advanced to the Super Bowl and will play The Atlanta Falcons on Sunday, Feb. 5, 2017, in Houston.
It is common for sports stars to have deals with social media networks. Seattle Seahawks quarterback Russell Wilson has a $50 million deal to do Facebook Live videos.