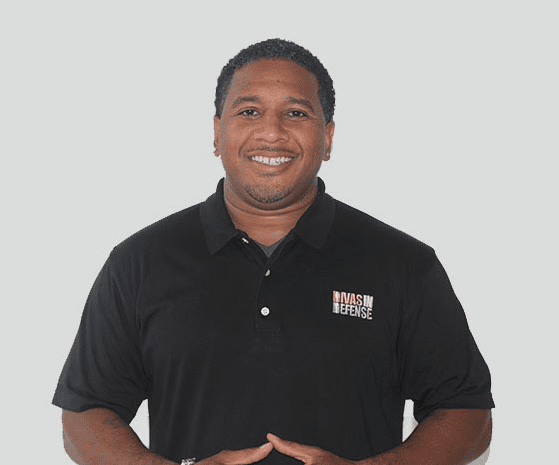 Cole Parker is a self-identified feminist. He possesses a strong passion for women's safety and wellness. With his brother, Christopher Britto, he formed a bi-coastal women's self-defense company, Divas in Defense, that offers hands-on protection training for women and girls. The classes are titled Fierce and Fabulous, Girls Can Fight Too, Punchin' Luncheon, Kicks & Flicks, On Her Own and more.
Read what he has to say.
What inspires you to show at work every day?
My inspiration comes, not only from my family to whom I owe my happiness; but the lives of the one woman whose life I can save or empower to love herself more each day.
How did you determine your career path?
I really do not have a road map to the successes I have achieved. The old adage of do something you love and success will come, speaks volume and resonates in my business. Divas In Defense was birthed to simply give back to the world and to prevent abuse against women, which I witnessed growing up. It wasn't my career path, but God's plan for my life.
Describe the future skill sets that are essential to future business leader and innovators.
I really cannot think of certain "skill sets" that are essential to success outside of do your best, be your best and treat others the best you can. There are things in life we can learn from educators, but so many more lessons are taught from experiences. The one message I instill in my children is to never be afraid! Never be afraid to fail; never be afraid to succeed, and never be afraid to push beyond the limits society attempts to imprison us in.
Define innovation methods you apply to your business and life.
My life consists of a blended family of five children, therefore the methods I apply are usually based on the needs that are presented. I am a limitless dreamer, whose faith is boundless and the God I serve is omnipotent. Therefore, if it makes sense, I am willing to attempt it. When starting my business, I thought I would teach a few women self-defense and be on my way. Almost seven years later, we have a multi-level company with over 60 certified instructors in 16 states and three countries. We've had the privilege of teaching women on a party bus to groups on the open seas of the Caribbean.
Names three books that changed how you saw life and you recommend to others.
I would say the three most impactful books in my life are the Bible, The Four Agreements and What To Expect When You're Expecting.
The Bible primarily because it fed my understanding of how limitless God really is. In addition, although things are invented daily and innovations are often made; I realized "life's problems" have been in existence for a long time and many have had it much worse than I.
The book, The Four Agreements, was a rational approach on the outlook on life. If you can sum up your success in four simple agreements, everything is attainable.
Lastly, What To Expect When Your Expecting was invaluable in my growth and maturity. My individual, life story is not in black and white and the script evolves and is altered daily. To simply put it, there are some things in life we can prepare as much as we want for; but the experience will enlighten us beyond measure. For instance, I am not saying college isn't an excellent platform to jumpstart your life, yet many businesses will begin by telling you to "forget everything you have learned."
Describe why lifelong learning is important to you.
If you are living and not learning, you are a fool in a human suit. Life is fueled by experiences and relationships. Some lessons you will learn on your own and others from those whom you surround yourself with. Miki Howard said it best, "experience is a good teacher." As long as I am blessed to breathe, I will inhale the life which surrounds me and the lessons which comes with it.
What are the three most important factors of being successful?
In order to be successful, there are simple things we can do. First of all, be open to the opportunities life can present itself. The most innovative thinkers are those who think without limits and imagine the impossible to be possible. Secondly, time is an irreplaceable commodity; be intelligent with your decisions as it applies to the time you have. Lastly, have people around you who challenge your thinking and decisions, it will allow you to have a broader perspective in all you do.
Technology plays what role in your daily life?
I am constantly on the go. Why? I know time is limited so I intend to utilize and maximize every moment. Because of this, I am very active so technology is key to my business. I am able to have calls routed from my desk to my cell, acquire leads, send proposals and file attachments, forward invoices, check-in clients and collect payments all from my cellular device. There are so many mobile applications for the modern day entrepreneur, it would be foolish not to utilize them.
What social media or digital tool has made the biggest difference in your life and why?
HootSuite. Let me tell you, in growing our following online and attracting new customers through the web, HootSuite was instrumental because it allowed me to schedule my posts instead of stopping throughout the day to do so. HootSuite integrated with Twitter, Facebook, Instagram and more, and allows you to post during the times which are most beneficial. In addition, Google Analytics assisted in me understanding times and days my audience were looking for me and I scheduled my posts accordingly.
If you could change one thing about the world, what would it be?
If I could change one thing, it would be the ability for everyone to think objectively. Even in times of this upcoming election and the Black Lives Matter movement, being open to having a conversation with someone whose opinion or point of view is different from yours is educational. Be open to learning and looking at life through different sets of eyes; your mind and heart do not have to follow.
If you could change one thing about yourself, what would it be?
Change myself? I am perfect! Just kidding, I would say the thing I could change is to accept certain things for being "good enough." I won't say I am a perfectionist; perfection is a never ending path to a non-existent destination. But, I do attempt to make everything better even when it is unnecessary.
Who or what motivates you and why?
I am constantly motivated by the successes of the underdogs. I love watching documentaries and interviews about the path of others to success. Pioneers, innovators and inventors are the true champions of life. It is to live a life which has a story that constantly needs to be told.
What are the dos and don'ts for young people in business?
Boy, oh boy, these damn Young People! To refrain from this turning into as essay, I will attempt to be brief. The Do's for young people in business are the same for old people. Be Open. Be Honest. Be On Time. The younger generation needs to remain fearless and continue to realize life has no limits. Yet, they need to focus on creating niches in an ever evolving world. Young people also need to utilize technology to forge relationships around the World.
My biggest don't for young people would be… Don't email me like you text me! Also, it is understood loyalty and dress code in Corporate America have been redefined; be careful not to burn bridges or let a relaxed environment nurture a relaxed work ethic.
How do you successfully grow from business failure?
As aforementioned, life experiences give the best lessons. Every successful person has failed! Failure is as definitive as perfection is unattainable. The best way to grow is to revisit what caused the failure, and decide to continue from the point of failure or revamp from an earlier point to get back on the track to success. To be honest, the most important rule is to identify what you deem as successful. It is impossible to win a game you don't know you are playing or without the rules.
Name three of your most successful role models and share why.
My three most successful role models are Walt Disney, Sean Combs and Beyonce; many will laugh at the latter. Walt Disney was almost unearthly in his thinking. "If you can believe, you can achieve." The power in those words are timeless; they identify the fact that only we can limit ourselves. The Disney brand is one of the World's most recognized consisting of a big circle, with two identical smaller circles at the top (the Mickey Mouse head – in case you were wondering).
Sean 'P. Diddy' Combs is a marketing genius who is willing to ask the most outrageous requests simply because he can. He once asked for the New Year's Eve Ball that drops in New York City on the countdown to a New Year to be his "Ciroc Blue." Really Diddy? You want the ball that represents America entering a New Year to be a liquor ball? Damn, if he didn't! Now, we all know his request wasn't granted; but the fearlessness to think, 'Why Not?' amazes me.
Lastly, this may be of a higher cost to me amongst my friends; but truth is truth… Beyonce! Now, I won't say I am a Member of the BeyHive or that I am a fan; but that girl's work ethic is unprecedented. I personally think there is no one in entertainment who works like Queen Bey!
Therefore, my recipe for business success is to imagine without bounds like Walt Disney; fearlessly market like Sean Combs and work beyond reason like Beyonce.