Source: Instagram – @Mcvayd12
Ondre "Swifty McVay" Moore of the former rap group, D12 is back and better than ever with a relatable sound for the millennial crowd. McVay attracted loyal hip-hop lovers in Detroit on Saturday, Jan. 28, at his performance-album release party for his upcoming album, Grey Blood. The Diesel Concert Lounge, located in metro Detroit, featured a crowd of fans anxious to vibe out to his new sound.  Performances from local Detroit artists led up to the unveiling of Grey Blood, forming a union between the raunchy millennial artists and the old-school lyricist. Oh So Radio owner Randi Rossario hosted the event with high energy that floated throughout the venue.
McVay started his performance with sounds from his new album which debuts Friday, Feb 3. He also gave the crowd some familiar verses from his days with D12. During its peak, D12 included Swifty McVay, Eminem, Proof, Bizarre, Bugz, Fuzz Scotta, Denaun Porter and Kuniva, who accompanied McVay to his release party. The group is no longer together, but they remain in contact with each other.
Check out what the hip-hop veteran shared with rolling out about his journey in 2017.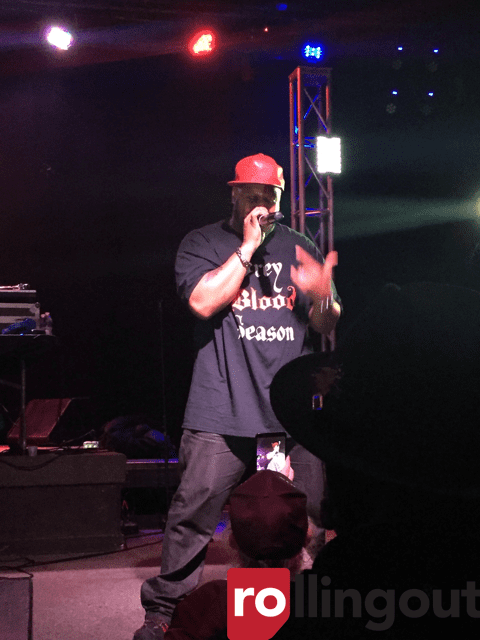 Photo credit: Kristina Mitchell for Steed Media 
Congrats on your album release — your comeback is highly anticipated. Tell us what inspired your album and the title Grey Blood.
Well, when you hear the word "gray" you think of the phrase "gray area" like when you hear someone say "Oh there's no gray area with that person … it's either black or white." With me, I'm in between. With my music that's exactly what it is. There's no black or white, I'm bringing a mixture and a variety of things to the table sort of like a gray area, and that's what brought me to this place and to the title Grey Blood.
Thank you for bringing your listening party home to the D. Tell us how your Detroit fans differ from fans elsewhere.
It's very important to have support from your own city because you want to do things worldwide and if the city is not behind you then nobody else will be behind you. So, it's very important that you leave your mark here around the people. For me, it's great that I have that support, especially after so long of not bringing out a D12 rap record.
I wrote the article on you and Slum Village getting together to host Christmas for toys. Tell us, how did it make you feel to be able to give back? What other community involvement are you a part of?
It made me feel great! Shout-out to Koffey Brown, T3's wife [from the group, Slum Village]; she called and had already put this in motion and had an idea for me and T3 to be a part of it. When she called and asked me I was like, "Hell yeah!" I love to watch people's faces light up, and love to see other people surprised; so that's how that came about.
Out of all the songs on this new project, which one are you the most passionate about and why?
I got a song on this project called "Dysfunctional Blessing," that's the one I'm the most passionate about. It's really a song that's telling a story about my life. Things that happened when I was a teenager, in one whole verse, talking about things I did as a teenager up to an adult and it explains how I made it in triumph — being that I was going through a lot of stuff. I came out and it made me stronger.
Your true fans understand your transgressions and all that you've been through. Tell us, what can the millennial crowd connect and relate to when they listen to Grey Blood?
I'm still staying true to my art. A lot of millennials are listening to songs that don't have a lot of lyrical content. The cadence is a little different than what I grew up off of. I'm giving millennials a chance to listen to the style that I was birthed from lyricism, metaphors, similes, wordplay — just a little something to grasp onto because there's a lot missing in the game.
What are you most excited about with this turnaround for your music?
That there's still a lane for lyricism. From millennials to older cats, they still want to hear good lyrics. It's not all about hearing good beats and a catchy hook, thanks to the rap battle leagues for keeping lyricism alive. There's still a lane for me to get in and be heard to express that type of style. It's millennials that still accept that and it keeps me going.
It's been awhile since you've been on the music scene after the misfortunes of D12. After all that happened, what were some life lessons you learned that shaped you into who you are today?
You just gotta really keep going. First of all, the machine — the industry, the record label, you can't beat the machine. All you can do is grow smart so the machine won't be able to get you. You gotta do your reading, do your research, think ahead, make smart investments … and make sure you have lawyers who look after you. And if you can, get the knowledge to read contracts yourself. You just have to be extra cautious.
Do you still have a relationship with Eminem and the other members from D12?
Yes, Em, he's a lab rat! I always go see him in the lab. He's always working even when he doesn't need to work. Me and the other members are cool, me and Kuniva, our kids always play together and do things together. Bizarre, he lives out of town, I don't talk to him as much, but when we do get together we never miss a beat. Me and Kon Artist [aka Denaun Porter] speak every now and then. So yea we're all cool, whenever we call each other, we're in full-fledged work model.
What is your relationship like with other Detroit artists? What advice would you give to any of them starting off in the industry signed or unsigned?
I'm cool with a lot of cats that came up with me in the rap game in Detroit in the D12 days and the early '90s, and there [are] the up-and-coming ones. One thing is they can always get at me and I can get at them if they have something going on. To the people that's coming up: keep your passion. When all else fails around you and if it doesn't happen as fast as you want to, you want to always keep your music as a comfort zone, something you can look forward to. Build your own fan base and platform before rushing your work to a label.
Where can our readers find you?
You can find me on Instagram @Mcvayd12, Facebook Mcvayd12 and you can find my music "Grey Blood" on iTunes, and my website swiftymcvayd12.com.
Photo gallery credit: Kristina for Steed Media (except where noted otherwise)