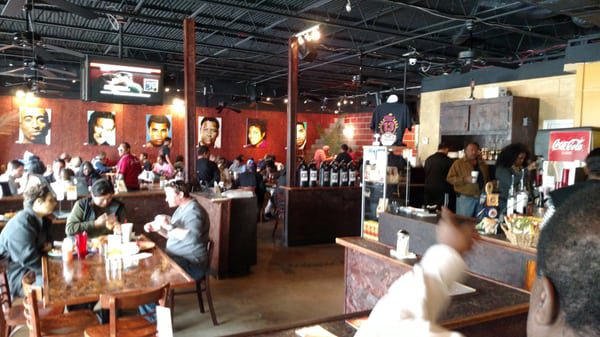 Thousands of football fans will arrive in Houston this weekend to party and cheer for either the Atlanta Falcons or New England Patriots. Houston stands as one of the top cities in the nation for Black-owned businesses.
We highlight several Black-owned restaurants to visit while in Houston during Super Bowl week.
Frenchy's Chicken
Started in 1969 by Percy Creuzot Jr., Frenchy's is noted as a historic Black-owned business in Houston. Beyoncé is a big fan of the establishment which offers fried chicken, Catfish Po Boy, and Creole gumbo.
The Breakfast Klub
Located in midtown Houston, The Breakfast Klub is one of the top Houston restaurants for breakfast and brunch. During Super Bowl weekend, The Breakfast Klub remain open until 3 a.m. Some of the top dishes include the Krawfish fettucini, grilled shrimp and garlik texas toast.
Hank's Ice Cream Parlor
Created by Hank Wiggins and his wife, Okemah, in 1985, Hank's Ice Cream Parlor was named the top ice cream parlor in Houston by the HoustonPress in 2009. Some of the popular flavors include Orange Chocolate Chip, Rum Raisin, and Grape Nut.
Mikki's Cafe
Mikki's Cafe is a family-owned business located on the southwest side of Houston. Some of the top soul food dishes include smothered bake chicken, Alfredo Tilapia, and chicken and shrimp fettuccini.
Cool Runnings Jamaican Bar & Grill
If you're in the mood for Jamaican cuisine, Cool Runnings Jamaican Bar & Grill will do the trick. Some of the noted dishes include coconut curry shrimp, Rasta pasta, and Ackee & Saltfish.