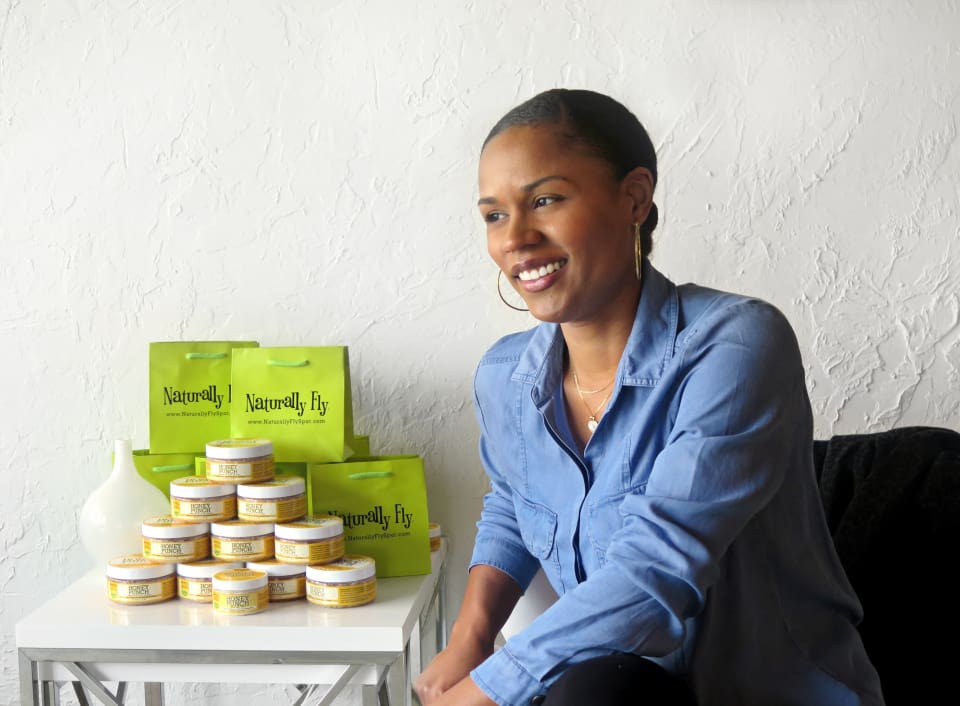 Naturally Fly is a natural skin care company co-founded by Denise Kinsler and Angela Walker that creates rich body butters and invigorating salt scrubs.
"We created a line of skin care products that were designed for taking care of you. We get so wrapped up in what we're doing that we forget that taking care of what's inside, being healthy and taking care of your skin [is important too]," says Kinsler during a recent interview.
Kinsler, who has been in the beauty industry for a number of years, has promotions, marketing and branding experience. Her business partner, Angela, had a really bad experience with eczema and was looking for a way to care for her skin. In 2014, they relaunched and rebranded their product and worked out a plan to take it to the masses.
Most popular products: Honey Punch, Midnight Mango and Fly Daddy.
What sets this line apart from others on the market?
Our care, ingredients and integrity of our products … we focus on making sure we include essential oils and their natural oils that make the skin glow. A lot of times customers buy products that are filled with water and other fillers.
We use jojoba, lavender and peppermint oils. We have a really strong essential oil mix and a strong natural oil mix. All of our body butters are shea butter-based. Our salt scrubs have Himalayan salt and a sea salt mix. Our ingredients really help the skin and give it a spa-like, luxurious feel.
Men have dry skin and there haven't been a lot of products on the market out there for them. Our product can be used by anyone. Interesting enough, men who buy our products have jobs that are more physical, like mechanics, whose hands get really dry, dirty, grimy and greasy. Our salt scrubs work really well to help them clean and soften their skin.
We list our ingredients on our website and encourage feedback from our customers.
Where can your products be purchased?
We're in boutiques in Atlanta and one in D.C. You can find a list of locations on our website naturallyflyspot.com under Find a Store. In 2017, we will move into beauty supply stores.
This summer we will be on the road introducing more people to the brand.
How has your career as a branding expert helped you in your entrepreneurial endeavor?
My strategy is being involved more in the tangible. With social media, we step away from that. I come from an era of getting out and talking to people, having them try the product, seeing what they like, seeing what they don't like. It really helps with Naturally Fly. I focus on getting the product out and talking to people at different networking events and doing different trade shows, here in Atlanta and up and down the East Coast. It has helped develop the brand, and to make sure our line is curate and answers some of the issues that men and women are having.