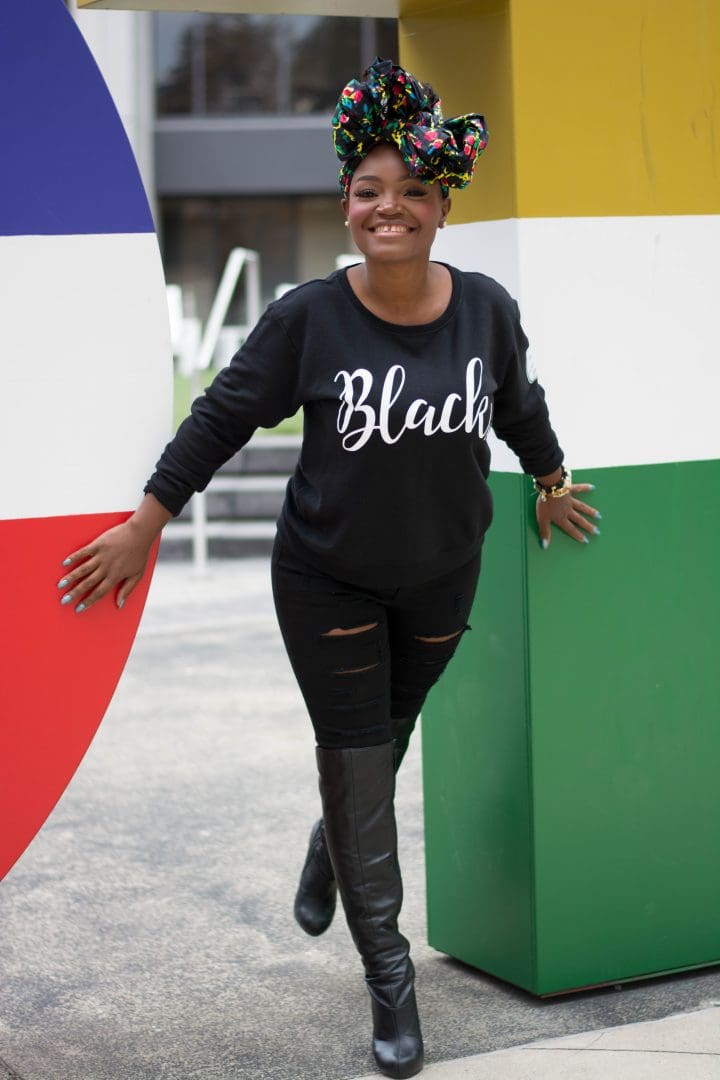 Would you believe that you could make $1K- $10K per month in passive income through blogging?
When I attended a blogging conference and realized that there were writers from all industries bringing in bucks from their blogs, I knew I needed the insider information. Luckily, I had a direct connect: lifestyle blogger Cindy Lafalaise was recently able to walk away from her 9-5 to blog full-time, something that so many entrepreneurs aspire to do. My goal for our conversation was simple: find out how to make big bucks from blogging.

What was your inspiration to start blogging?
My inspiration to start blogging was pretty much my love for fashion, I love playing dress up. I love being the well-dressed woman in the room and LOVE being in front of the camera. I was already taking photos of my daily outfits to share on social media so when I learned that I can actually create a blog to share my looks and connect with other bloggers from ALL over the world, I was all in. I did my homework and launched a blog. Of course my blog then looked nothing like it does now, I've come a LONG LONG way. I was literally begging my friends to take my photos, lol.
Have you always been a natural at writing?
Funny, I don't consider myself a writer, not a good one at least. I'm more of a visual person, so when it comes to my blog I've learned to tell a story using pretty photos. And I guess I've created my own writing style by keeping it short and sweet. I just imagine myself having everyday conversations with friends. I mean, If I'm good at anything; it's being myself. I make it work.
How long did you blog before monetizing your site?
I launched my blog back in 2012 and I did not start monetizing my blog until mid-2016. I've been through a lot of hardships with the blog and initially blogging was just a fun thing so I didn't really start focusing and putting in the required time and work until late 2015. The majority of my time is spent driving traffic to the blog, researching and reading blogs/articles on different ways to monetize.
What are some creative ways to monetize your blog without corporate sponsorships and advertisers?
You really just have to tap into your talents and ask yourself what else do I have to offer… But the two creative ways I've personally been able to monetize is by creating a well needed service. I created Blog 101 a coaching service to help my followers/readers who are struggling and looking for ways to grow their blogs or inspiring bloggers who are looking to start a blog but don't know where to start.  I also cover events. I love attending events and networking is a big part of blogging so I added a social event sections to the blog. I cover about two events per month, from networking to charity events. Some are paid and some are simply for exposure and or networking.
What advice can you offer to entrepreneurs who are intimidated by the thought of writing?
I would say just do it, find your own style. Don't focus too much on the actual writing. Be yourself, you are the storyteller. And you can find ways to blog without doing a lot of writing, so think visual and video content.
Share some of your blogging successes, how were you able to leave your 9-5 to blog full time?
Blogging is is definitely rewarding and of course a lot of fun and it's been a blessing to connect and work with a lot of the ladies I've been following and admire as well as some of my favorite brands!!! I was always the girl with multiple streams of income. When I decided I was going to blog full time the first thing I did was put a plan in place. I started working on my credit, started saving money and set very specific money and traffic goals for my blog. I left my job in September of last year and it was my best decision yet.
Any other words of advice for aspiring bloggers?
My advice to aspiring bloggers is always the same: blogging is a lot of fun but it's also a lot of work. You must be ready and willing to always be working. Your readers are coming to your blog for new blog posts, so producing consistent content is key to growing and running a successful blog.
There you have it! It's absolutely possible to make big bucks from your blog. For more great content and classes with Cindy, visit her online at Iam.Priiincesss.com