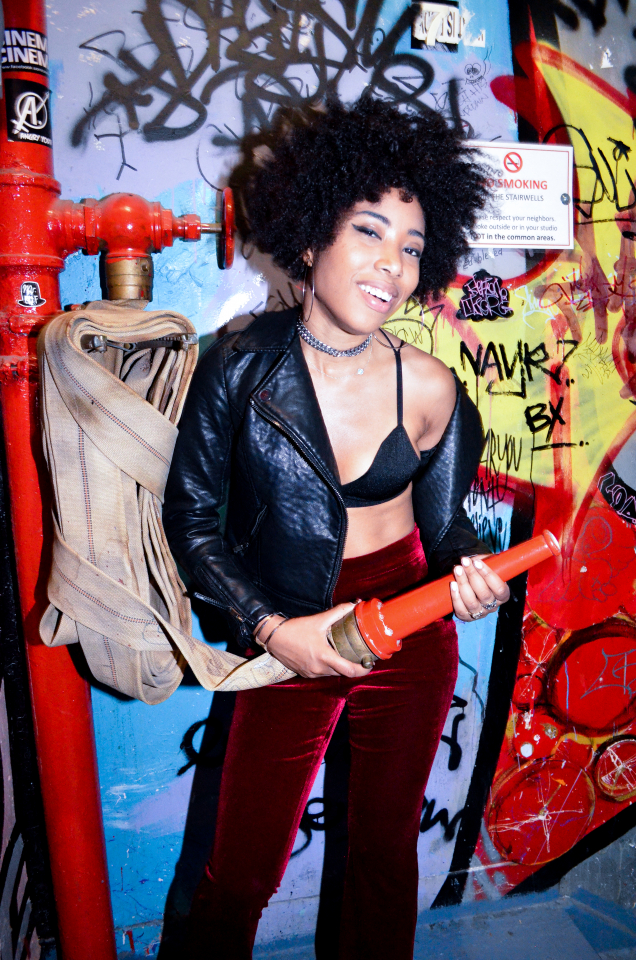 Quiana Parks is a DJ and visual artist based out of Harlem, New York, by way of Paterson, New Jersey. Besides being a natural haired woman in a male-dominated industry there is something else that sets her apart, she is a 10 year plus lymphoma survivor. After defeating cancer she founded a nonprofit organization, DJ For A Cure, where she partnered with Puma for the launch raising thousands for the cause. In 2015, she was recognized by Nylon Guys Magazine as one of the top 5 DJs in NYC. Parks' main clients include ASCAP, NIKE, ADIDAS, JCPenney, Oak +Fort, Tiffany & Co., American Express, MoMA, Essence, Volkswagen, Neiman Marcus and Verizon. Though she started dabbling in art shortly after being diagnosed with cancer, Parks is now pursuing her art on a professional level. Parks' "The Undone Project," a series of abstract paintings has recently launched.
How did you arrive at this career choice? Was it a deliberate decision or a gradual and natural evolution?
It was pretty organic; music has always been in my life. My dad is a DJ so I grew up watching him spin.
What separates you from others in your field? What is unique to the experience that you create?  
I could say a number of things, like the way I scratch and infuse different genres, or my sick cabbage patch dance. Sometimes I'll even paint while I'm deejaying. But I feel the thing that separates me the most is my energy.
For those considering entering this arena, what skill sets do you recommend mastering? What traits are most conducive to success?
I would say knowing your music for sure! Determination.
How do you stay at the leading edge of your craft?
I just continue to work hard and be myself, that has been my secret during the four years that I've been deejaying.
Do you think that there are any widely held misconceptions about what you do? If so, what are they and how do you work to dispel them?
Mmm, One thing … sometimes people think that all DJs do is party hard! DeejayJing as a career isn't always taken seriously but DJs work super hard. Well, at least the ones that I know. We work from the moment we wake up until we go to sleep at night or in our case the next morning lol
How do you map out your goals? How do you measure your success?
I see what I want and I figure out a plan to get it. Sometimes my plans work and sometimes they do not. Either way, I keep pushing. I'm successful because doing what I love to do has a provided food in my belly, a roof over my head, my Mommy is proud of me and I'm happy.
Who do you consider to be your peers in your field? Who do you see/use as examples for you to emulate?
Hmmm, when I think of my peers, I think of all the dope DJs in New York that I see and party with. Also, all the dope female DJs all around the world. I don't think I emulate any other DJ. I am me and they are who they are.
Name two of your top role models: one from your industry and one from outside of it.
That's easy DJ Kiss and Nina Simone
What affirmations do you repeat to yourself that contribute to your success?
"God is in charge."
What software, app or other technological innovation has made the biggest difference in your life and/or career?
Well, this year I've had about 6 or 7 iPhones (eek I know I'm such a clumsy girl) and the first app I've always downloaded has been Uber. Obviously, I'm not supporting them anymore, so now I'm Lyft all the way!! I'm hella afraid of NYC rats, so me and the train don't really get along.
Please define your personal brand.
It's fun, artsy, weird, vibrant and cool mixed with a hint of sexy lol
What is your favorite vacation destination and why?
Jamaica, I'm half Jamaican and for me, when I go there I feel like I'm fulfilled. It's incredible there, the people, the food, the land and of course the music!
If you could change one thing about the world, what would it be?
Trump.
If you could change one thing about yourself, what would it be?
Honestly? Not a damn thing!
What keeps you inspired?
Love, art, music and my loved ones. Sometimes new people mixed with drunk and dramatic nights.
What scripture(s) are you leaning on?
Jeremiah 29:11 and 1 Corinthians 9:24-27
How do you stay connected with fans?
DM, PM, Facebook messenger and when they come up to the DJ booth to say what's up! I love my fans. A lot of them are now my homies!
What's on your playlist?
Well, I just got back from Ghana and the music there is amazing! There's this song by Runtown called "Mad about U" … OMG it's dope! I've also been listening to Leikeli, Kaytranada, Maybel, and Caledon Fox (his videos are the best!). I'm super into Roy Ayers right now, I love hearing his music first thing in the morning.
Where did you vacation this summer?
I didn't. I literally worked all summer. I know, "What would Oprah say?"