Madam C.J. Walker
Civil rights activist, philanthropist, entrepreneur (1867–1919)
Madam C.J. Walker, nee Sarah Breedlove, was born on Dec. 23, 1867, near Delta, Louisiana. After suffering from a scalp ailment that resulted in her own hair loss, she invented a line of African American hair care products in 1905. She was the first self-made woman to become a millionaire in America.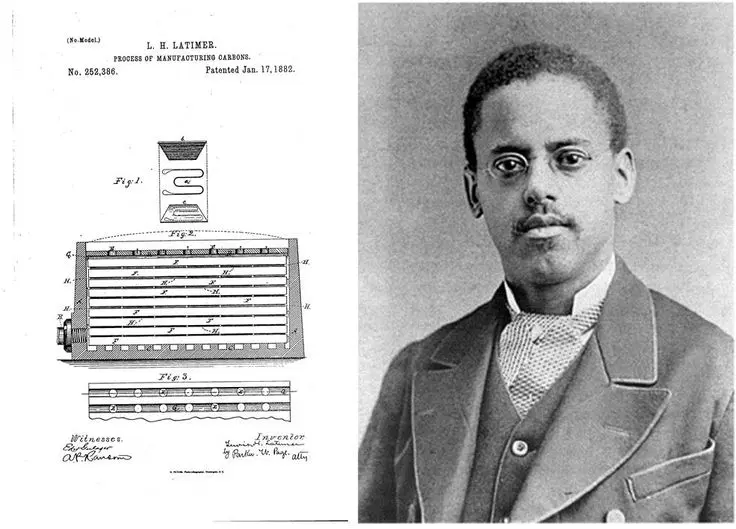 Lewis Howard Latimer
Engineer, draftsman (1848 – 1928)
Lewis Howard Latimer was born in Chelsea, Massachusetts. He was one of our greatest inventors of our time.
His inventions include: Water closets for railway cars (February 10, 1874); Electric lamp (with Nichols, Joseph V. September 13, 1881);
Process of Manufacturing Carbons (January 17, 1882); Supporter for electric lamps (with Tregoning, John, March 21, 1882); Apparatus for cooling and disinfecting (January 12, 1886); Locking rack for hats, coats, and umbrellas (March 24, 1896); and Lamp fixture (with Brown, Charles W., August 30, 1910).
Latimer is an inductee of the National Inventors Hall of Fame for his work on electric filament manufacturing techniques.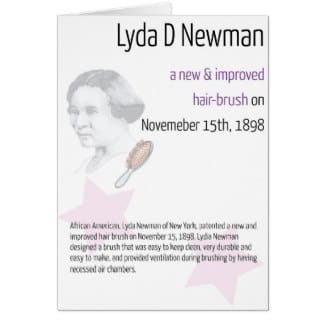 Lyda D. Newman
Civil rights activist, women's rights activist, vnventor (b. c. 1885)
Lyda D. Newman was born in Ohio circa 1885. The African American inventor and women's rights activist, was a hairdresser by trade. She received a patent for an improved model of hairbrush on November 15, 1898. The hairbrush design had evenly spaced rows of bristles, with open slots to guide debris away from the hair into a recessed compartment, and a back that could be opened at the touch of a button for cleaning out the compartment.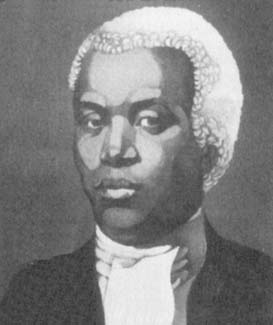 Benjamin Banneker
Author, scientist, mathematician, farmer, astronomer, publisher and urban planner (1731-1806)
Benjamin Banneker designed our nation's capital. a complete layout of the streets, parks, and major buildings. Washington, D.C. itself can be considered a monument as a result of the genius of Banneker. From 1792 to 1802, Banneker published an annual Farmer's Almanac, for which he did all the calculations himself.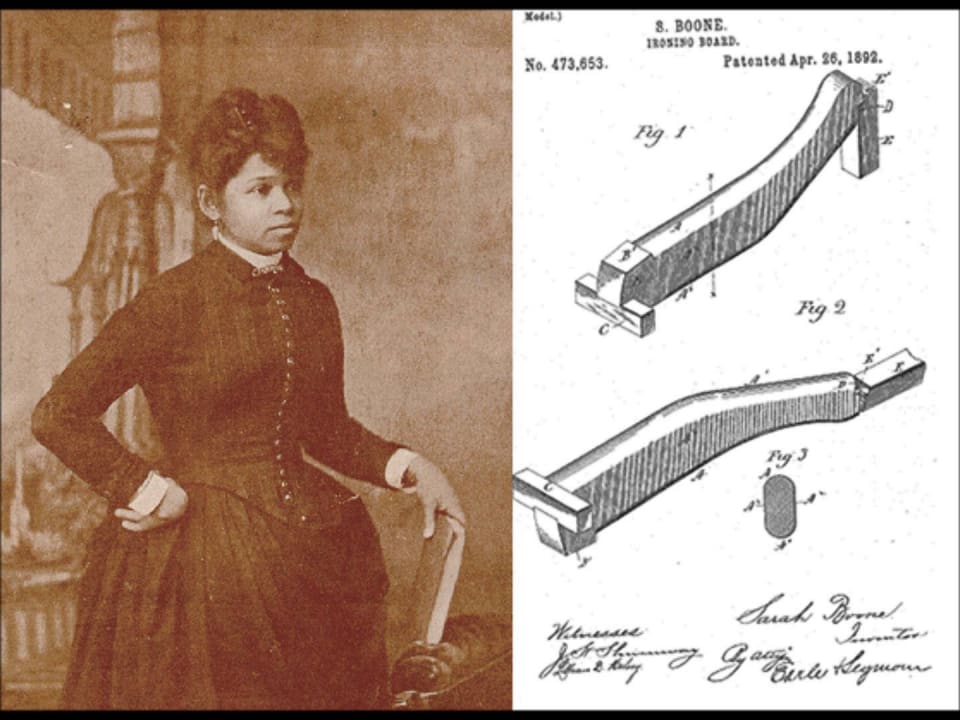 Sarah Boone
Inventor (c. 1870–1900)
Sarah Boone was born in Summit, Pike County, Mississippi. She made her name by inventing the ironing board. Boone was a rarity during her time, a female African-American inventor. In her patent application, she wrote that the purpose of her invention was "to produce a cheap, simple, convenient and highly effective device, particularly adapted to be used in ironing the sleeves and bodies of ladies' garments."
James Edward Maceo West
Acoustician (b. 1931)
James Edward Maceo West was born in Farmville, Prince Edward County, Virginia. He holds over 250 foreign and U.S. patents for the production and design of microphones and techniques for creating polymer foil electrets.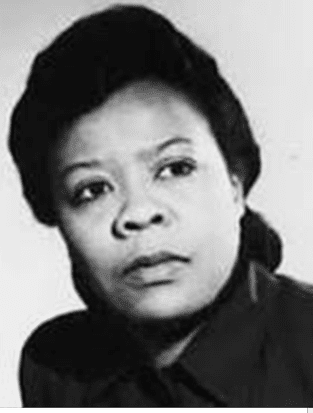 Marie Van Brittan Brown
Nurse (1922-1999)
Marie Van Brittan Brown was born on Octuber 30, 1922 in Jamaica, Queens, New York City. A nurse by trade, she invented the home security system in 1966, along with her husband Albert Brown. She created a home security system she could operate from her bedroom that showed camera images of the front door. Although this was not the first CCTV system, the patent was granted in 1969.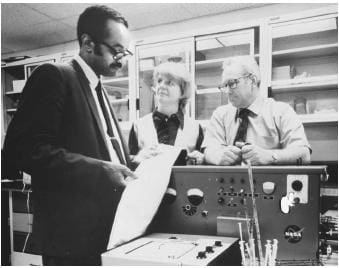 Emmett W. Chappelle
Biochemist, photobiologist, astrochemist (1925)
Emmett W. Chappelle was born in Phoenix, Arizona on Oct. 25, 1925. In 1977, Chappelle started researching and found a way to use laser-induced fluorescence to detect plant stress using satellite technology, which was important for farmers/crop specialists to read plant health, adjust planting, and improve food production.
Janet Emerson Bashen
American inventor, entrepreneur, and business consultant (b. 1957)
Janet Emerson Bashen is the first African American woman to hold a software patent. She invented LinkLine, a software that assists with Web-based EEO (Equal Employment Opportunity) investigations.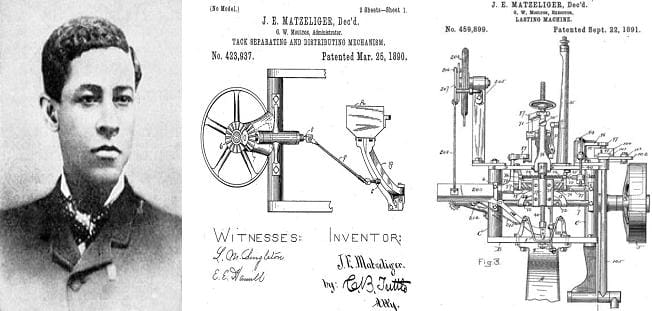 Jan Ernst Matzeliger
Sailor (1852 – 1889)
Jan Ernst Matzeliger was born in Dutch Guiana, the South American country now called Suriname. In 1883, Matzeliger successfully invented what many before him had attempted: an automated shoemaking machine that quickly attached the top of the shoe to the sole. This process is called "lasting."
Sarah Elisabeth Goode
Entrepreneur (1855-1905)
Sarah Elisabeth Goode, the Mother of Invention, was born a slave. She was the first African American woman to be granted a patent by the U.S. Patent and Trademark Office, for her invention of a folding cabinet bed in 1885.
George Robert Carruthers
Physicist, space scientist (b. 1939)
George Carruthers created inventions, such as the ultraviolet camera, or spectograph, which was used by NASA in the 1972 Apollo 16 flight, revealing the mysteries of space and the Earth's atmosphere.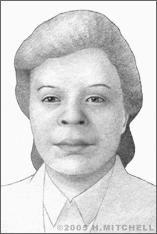 Bessie Virginia Blount Griffin
Physical therapist, inventor, and forensic scientist (1914-2009)
Bessie Virginia Blount Griffin was born in Hickory, Virginia. As a physical therapist, she worked with wounded WWII veterans. She invented a device that helped many feed themselves on their own.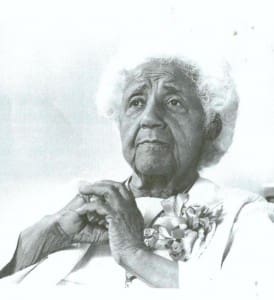 Marjorie Stewart Joyner
Beautician (1896-1944)
Marjorie Stewart Joyner was born in 1896 in the Blue Ridge Mountains of Virginia. She invented a permanent wave machine that added curl to straight hair and could be used to straighten curly hair. She soon became sought after for her skill at setting the Marcel wave, a flat, ribbony crimp — a hair style eventually made famous by jazz singer Josephine Baker.