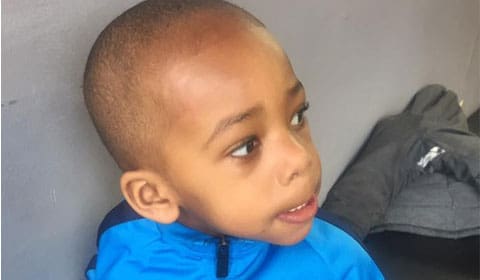 The Facebook Live feature has once again caught a scene of tragedy and violence that has claimed the life of a Chicago child on Tuesday. The victim, Lavontay White Jr., 2, was riding in a car with his aunt, Breunna Devonte, 20 and her boyfriend, 27, who, according to police, was a known gang member.
As the car turned down a narrow alleyway, it was ambushed in what police are calling a targeted shooting. An unidentified gunman exited another vehicle and fired into the car, hitting Lavontay in the head, his 4-months pregnant aunt in the stomach and her boyfriend in the head.  Lavontay's aunt was on Facebook Live singing along to a profanity-laced Chief Keef song with her boyfriend and captured the shooting on video.
Devonte runs from the car as the images go dark but audio can be heard of a frantic scene. She runs into a house and yells, "They shot him … Rikka [Sic], they shot his a–."
An older Black woman is heard in the background telling Devonte to calm down. The injured woman then is heard to state "I got a bullet in my stomach … I can't breathe."
When the older woman is telling her she's calling 911, Devonte is heard saying, "I can't go … I can't go to the hospital. I swear to God they will take me to Cicero. I can't go; they might take me to jail."
It does not appear that Devonte says anything about her nephew, only stating that they shot her boyfriend. Devonte was later transported to a hospital in fair condition but both she and her unborn child will survive. Lavontay White Jr. died a few hours later from his head injury.
The boyfriend, whose name has not yet been released, was pronounced dead at the scene. Police have stated they have promising leads in the case. This was the second shooting of a child in Chicago on that day. Earlier. an 11-year-old girl was hit by a stray bullet in the head and died.
The entire video can be seen on the next page. [WARNING: GRAPHIC LANGUAGE]