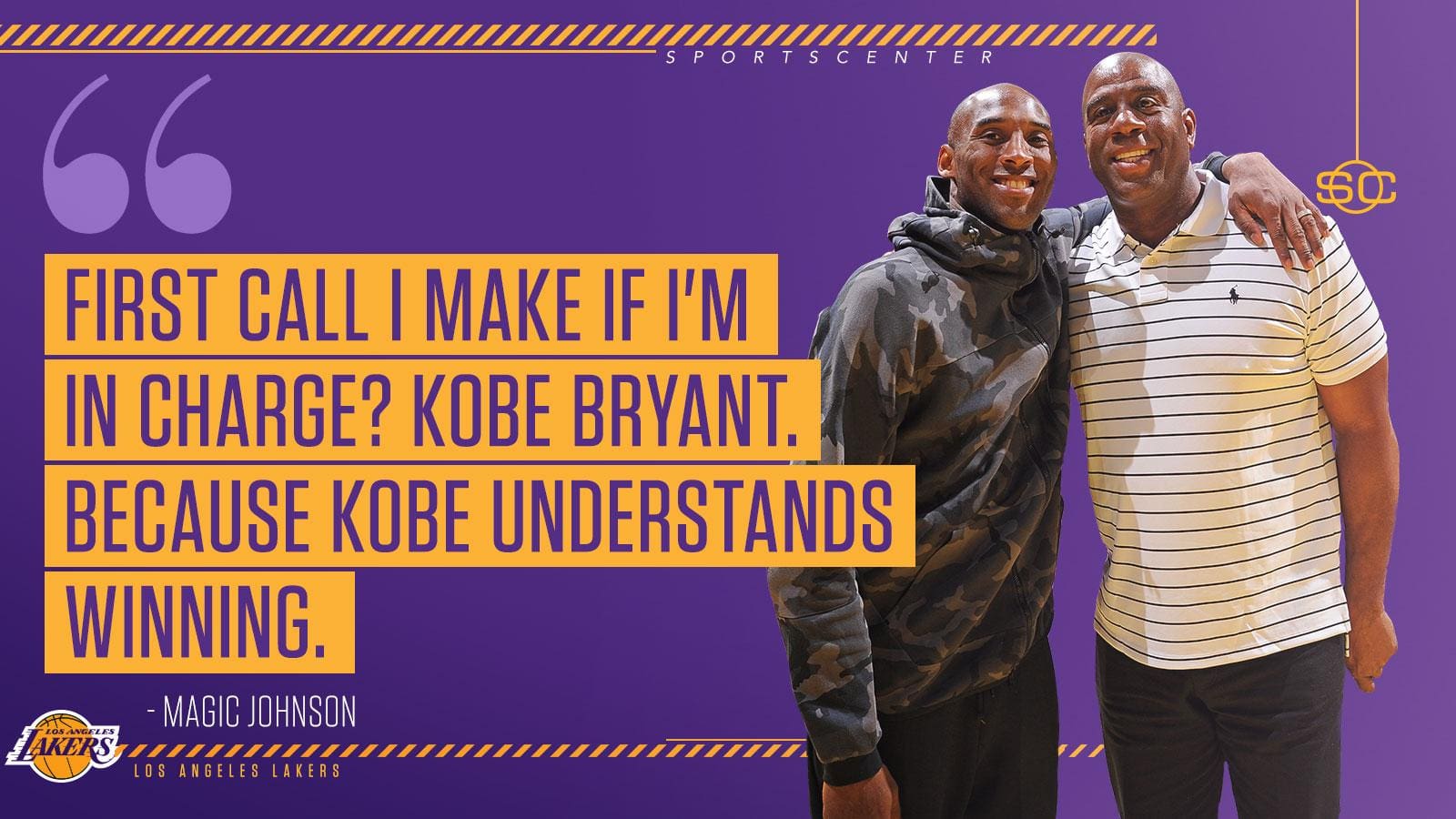 Magic Johnson is coming for the president of basketball operations position with the Lakers and he wants Kobe Bryant as his right-hand man. Recently, Johnson was named as a basketball and business advisor to the Lakers' co-owner and president Jeanie Buss and his first order of business should he be given the authority? Hire Kobe Bryant.
The four-time NBA champion recently told ESPN "First Take's" Stephen A.Smith: "First call I'll make if I'm in charge: Kobe Bryant. Because Kobe understands winning. He understands, also, these players, you know? And so I would call. 'What role you want, bro? If you got a day, just give me that day, I'll take that.' Whatever time he has, I want him to come and be a part of it."
Johnson has made it known that despite his current role as adviser, his interest lies in effectively steering the Lakers back on track to become a winning dynasty over the next 3-5 years. He can only manage that by running the Lakers' front office. There is no question that the NBA legend knows a thing or two about winning.
Before the 6-foot-7 NBA Hall of Famer cemented his place in NBA history, he led a young 1979 Michigan State Spartans basketball team to its first NCAA title. Some of Johnson's professional career highlights include three NBA MVP awards, three NBA Finals MVP awards, four NBA Championship rings and one U.S. Olympic gold medal just to name a few.
Combined with his business acumen and string of successful business ventures off the court (Johnson sold off 104 Starbucks franchises from his portfolio along with his 4.5 percent stake in the Lakers to gain a 2.3 percent stake in the Los Angeles Dodgers.) Johnson seems more than capable of taking a seat in Jerry Buss' executive chair. On the other hand, basketball I.Q. and wins on the court don't always translate to wins in the boardroom.  
Bryant has already expressed interest in working with the Lakers in a limited, behind the scenes role. Could this be a match made in heaven? Having Johnson and Bryant on the executive team will definitely generate interest among rookies, free agents and veterans looking to flock to L.A. to work with arguably the best point and shooting guard to ever play the game. Will it bring the caliber of talent, level of commitment, team chemistry, and resiliency necessary to make a run at a future NBA championship? Nothing is impossible … when you believe in Magic.