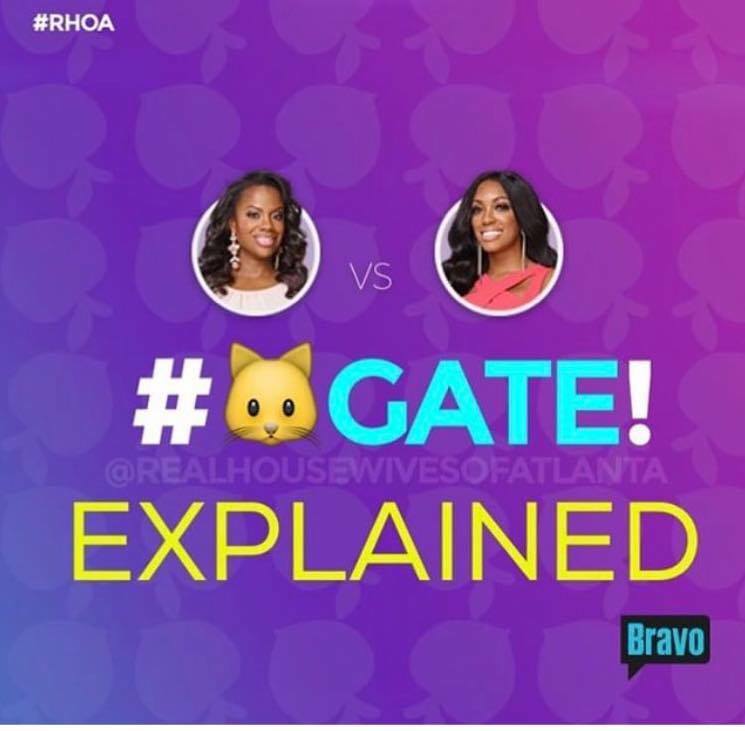 Sunday night's episode of the "Real Housewives of Atlanta" had the juiciest accusations being thrown between two cast members. Things came to a head on the last day of the camping trip when Marlo Hampton asked Kandi if she was a lesbian waiting to come out of the closet. After doing an Oscar-worthy performance of acting innocent, Porsha was finally called out as the culprit by Sheree. (BTW, Sheree has been taking down bodies in record numbers and delivering receipts this season.)
When Kandi realized Porsha was the one who outed her, she was livid and spilled the biggest cup of sweet tea of the night. Kandi claimed that she and Porsha had a romantic encounter in which Porsha offered to perform a sexual act on her. Not only did Kandi and Porsha kiss but obviously Todd was in the picture so it appears as if the three cast mates enjoyed each other, even if only for a quick moment.
This revelation changed the entire dynamic of the conversation and resulted in a sit down between Kandi and Porsha where the accusations shot back and forth across the table like a tennis ball at a Serena and Venus tennis match. This is what we were able to pull from the encounter:
Kandi accused Porsha of offering to perform oral sex on her.
Porsha accused Kandi of owning a sex dungeon.
Porsha accused Kandi of being in a seven-year relationship with a woman.
Kandi accused Porsha of being a video h– that was passed around, explaining how she met Kandi's ex and baby daddy, Block.
Porsha accused Kandi of sleeping with several R&B groups.
Kandi countered with the same accusation against Porsha but added rappers to the mix.
Kandi called Porsha an international h–
Porsha called Kandi and Todd's home a house of h–'s, suggesting the couple frequently has threesomes with single women.
Lastly, Porsha said that Todd cheats on Kandi under an alias of "Marvin" and he made advances toward a woman a few days ago.
Whew! In case you didn't get all of that, you may want to catch it when it repeats before next Sunday's new episode. There is still more tea to be spilled because Phaedra was in on the accusations against Kandi and that nugget hasn't been brought to the light as of yet. I trust Sheree is planning to unveil that juicy tidbit soon.
One thing is for sure, we've never seen a season like this on "RHOA." I'm not sure how much more titillating the storylines can get without the show having to move to a later time slot.