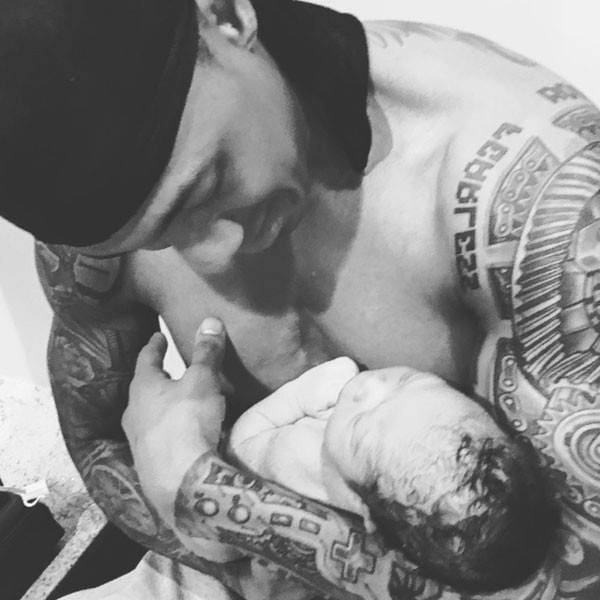 Congrats are in order for Nick Cannon and his lady love, Brittany Bell.
On Wednesday, Feb. 22, the former "America's Got Talent" host revealed he had welcomed another child, a son, Golden "Sagon" Cannon, with the former beauty queen. "Weeping may endure for a night, but Joy cometh in the morning! No matter how hard the world may hit you, God always reminds us of our purpose! #TrueHappiness Welcome to Earth Son! Golden "Sagon" Cannon 2/21/17 #Awakened," he captioned a black-and-white photo featuring himself and his newborn baby boy.
As previously reported in December, the 36-year-old chopped it up with Los Angeles' Power 106 hosts J Cruz and Krystal Bee, when he admitted that despite the rumors the pregnancy wasn't unplanned. "Never an 'oops baby.' I'm so calculated with my moves … I've always wanted five kids," he said, adding, "Just because my marriage was over didn't mean I couldn't continue my family."
As for how they met, Cannon revealed that he and Bell go way back. "I wanted to make sure it was someone who was solid, spiritual and had the same views," he revealed. "She's been in my life. Our families grew up in the same projects together in San Diego. So there's a lot of substance there."
He also made sure to note, "Mariah, Moroccan and Monroe will always be my family, but we always can have other aspects of our family."
Cannon also revealed how he broke the news of the new baby brother to his twins, Monroe and Moroccan: while watching Storks. "They're super excited," he shared. And rightly so. Baby Golden makes three children for Cannon who co-parents Roe and Rocco with his ex-wife, Mariah Carey.
Congrats to the new parents on a healthy baby boy. Show them some love in the comment section below.