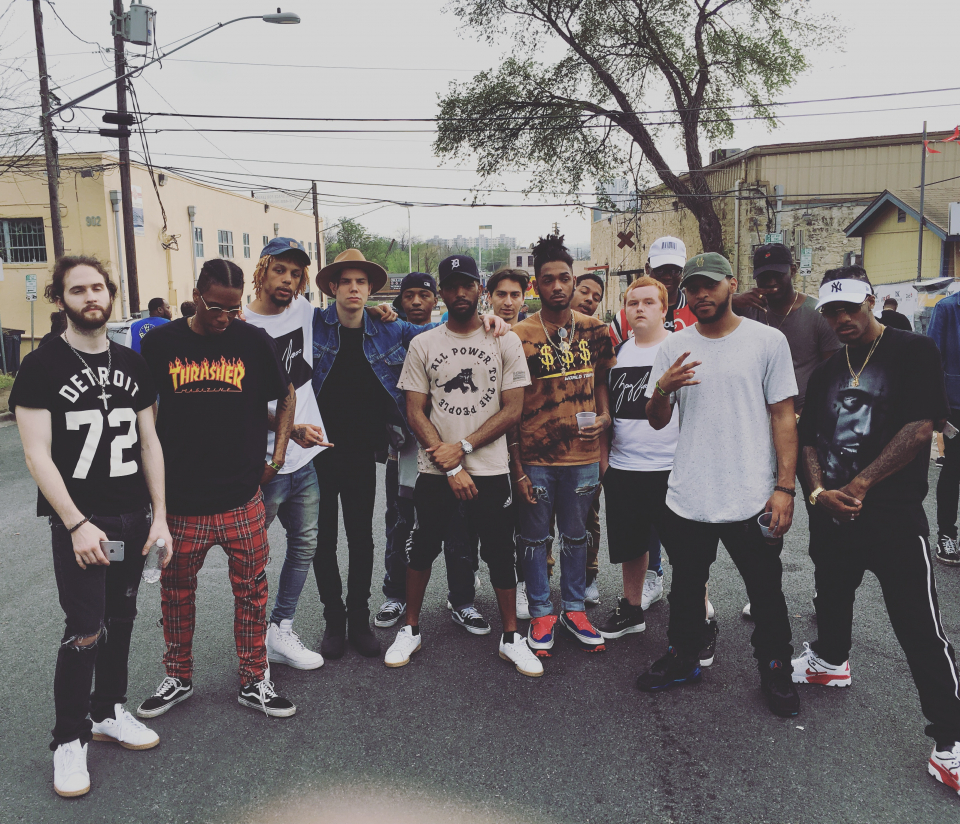 Joe Robinson is a hustler before anything else. After becoming a staple within the sneaker community by selling kicks for profit, he took that same blueprint and started APX Management. APX Management is home to Detroit artists such as; Earlly Mac, Supakaine, Prada Leary. All three lyricists have made their mark in Detroit and abroad by way of tours with Slum Village, appearances on Revolt TV, HotNewHipHop, Complex, more. They've also done extensive work with Big Sean, Key Wane and Chase N. Cashe.
Berry Gordy was the central figure in the development of one of the greatest record labels of all time, Motown Records. Being from Detroit, were you surrounded by entrepreneurs growing up?
Growing up, my dad wasn't around. He actually was in jail, so the male figure in my family was my uncle. My uncle was a hustler in every sense of the word and he held the whole family on his back. He owned a bar, he did his thing in the streets, and he owned homes, so he always knew how to bring the money home to his family and that inspired me at a young age. All of my cousins and relatives worked for themselves. One of my cousins gave me two New Era fitted caps when I was 11 years old, and I sold them both to some kid down the street. I made 20 dollars off them hats, which at 11 years old, that was like a million dollars to me. That's when I got my first taste of making money for [my]self.
In college, you made the jump from majoring in physics, to starting your management company, APX Management which houses artists like Earlly Mac, Supakaine and Prada Leary. When did you know it was time to leave your collegiate career behind for CEO endeavors?
I never really liked school. Being able to do [the] work and being smart was never a problem for me, but I just never liked the institution of education. … I just taught my son how to count to 10 at 2 years old. He didn't have to go to a school for that. I just don't like how school is set up, how we gotta pay so much money, and I just feel like people shouldn't have to pay to be educated.
When I got a little taste of music, I never knew s— about the music business when I was 18. I didn't know s— about management, or studios, but I knew I liked music and I was a hustler first. At this point, I was real big in the community of selling shoes. I had over 60-70 shoes in my college dorm room. So I'm already hustling hard, which hustling, in my opinion, is a universal principle. I don't give a f— what you do. Whether you got a radio show, a blog, or throwing parties, if you don't hustle, then you will be last. So I said I could try it, and I took my optimism all the way and gave it a shot.
At APX Management's core, it started out as just you and Earlly Mac. What did you see in Earl that gave you the idea of wanting to not only be his manager, but build an infrastructure around him and other artists?
It wasn't that I saw something in Earl. To be honest, Earl saw something in me. When I was 18, I was working at this clothing store in downtown Detroit called, Spectales. The owner, Zana Smith, said that she wanted to do an event at the store. At this time, I had never met Earl before, but I knew of his music because I heard him on Big Sean's Volume 1 mixtape. So I go next door to the Mediterranean spot and Earl was in there. Now I'm thinking to myself like, d—, we [were] just talking about doing some music, so I told him to come next door, we talked to Zana, we set it up and that was my first event that I ever did. I wasn't his manager at the time, but he knew I was into shoes, so he asked me to sell these Nike MF Doom SB Dunks. I sold those for 300 dollars and from there, he asked me to come to the studio. Big Sean was already at the studio, so he then asked if I could be his manager and that's how that ended up working out.
With Prada and Kaine, Earl rocked with them more in the beginning. I knew them, but it was Earl's idea to bring them along and when they came over, they were just some cool young guys. You have to be able to diversify. You can't have all of your eggs in one basket. So after that, we just stayed down, worked on their music until they was ready, and then once we put it out, they started growing and evolving from there.
Even though all of your artists are independent, how has the 360 deal changed the industry?
It's changed the industry in a lot of ways. A record company couldn't bank off you selling CDs no more because music is free now, so they had to figure out how to recoup the money that they invested in the artists. This is why record companies started collecting money from the music, shows, endorsements, all sorts of s—. Napster caused all of this because when Napster came out, the music industry had to develop a new strategy.
You've thrown events with 40 oz VAN, who's an architect at creating experiences, you've been part of SXSW for three years and you've even started directing for your artists. When you aren't handling business, what do you do in your spare time?
I hang out with my son, I'm at home, I'm with my lady, and that's really it. I'm with my son and my lady all time. I run, too. I ran 50 miles last year so I'm about to run 100 miles this year.
Where do you see APX Management in the next year and what areas do you feel you still have to work on?
Well, the first thing I have to work on is my patience. I pray for that every day. I pray I don't let this business frustrate me and I pray that I don't ever let this business get me beside myself. As far as the business goes, we're working with a lot of artists, man. We [are] working with IceMane, Bun Lee, GT, and Perrier Rosewood. We're about to start doing more things with Key Wane, and just continue to grow the business. In the next few years, I see APX Management in a higher tax bracket and helping more people provide for their families. We [are] just gonna keep going, man.