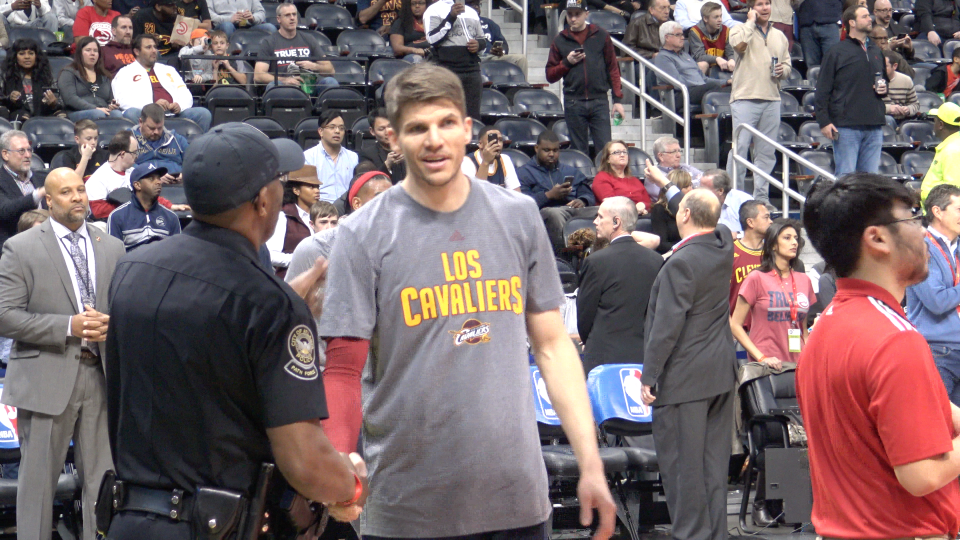 The story of the game between the Atlanta Hawks and Cleveland Cavaliers on March 3 is simple: the Hawks made a lot of shots, but the Cavaliers made even more. A historic amount of shots, to be exact. Cleveland's 25 threes were the most in any regular-season game in NBA history. Last season, the Cavailers set the NBA postseason record for most threes in a game against current Cavalier and former Hawk Kyle Korver.
"It's good being on the other side of that," Korver said with a grin when referring to Cleveland's newest three-point record. "I remember last year in the playoffs, that was brutal."
The Cavaliers began the game on a 20-9 run. With Cleveland leading 39-33 at the end of the first quarter, the Hawks honored Korver for his contributions to the Hawks from 2012-2016. The sharpshooting guard and 2015 All-Star received a standing ovation after the video tribute.
"Just the people and relationships," Korver said when describing what he misses most about Atlanta. "I miss Piedmont Park. We lived close to Piedmont Park, that's something our family did a lot."
The kind moment, however, did not stop the run by Cleveland. The Cavaliers passed the 50-point mark with over eight minutes to go in the first half. Cleveland finished with 77 points at halftime. LeBron James had 22 points, seven rebounds and five assists in the first 24 minutes of play. Kyrie Irving had 23 points in the first two quarters to accommodate James as well.
At the half, the Hawks immortalized the late Pete Maravich by retiring his No. 44 jersey.
"As long as the NBA will be around, 'Pistol' Pete Maravich will be around," Pete's son, Josh Maravich, said during the ceremony.
With 7:30 remaining in the third quarter, James sent a Hawks shot in the stands and the Atlanta crowd went berserk as he gazed into the sea of road Cavaliers fans. A promo for James' Starz network show "Survivor's Remorse" even played before the fourth quarter in the arena. He would finish the game with 38 points, 13 rebounds, and eight assists. His point guard, Kyrie Irving, finished the night with 43 points and nine assists.
The Cleveland lead was cut to nine with around four minutes to go in the fourth quarter and Phillips Arena suddenly went from an away game to a playoff match up for the Hawks in a matter of seconds.
The comeback wouldn't be enough though, as the Cavaliers came away with the win, 135-130.