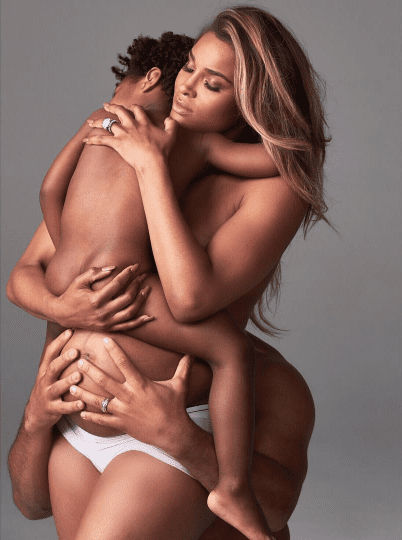 Ciara spills the beans on love, life, and expanding her family dynasty.
Earlier this week, the singer shared a series of images featuring herself topless, along with her husband footballer Russell Wilson and her son with rapper Future, Future Zahir Wilburn — also in their birthday suits. Though the expectant mom has since received a variety of backlash over the photos alone, inside the pages of her photo story with Harper's Bazaar, Ci Ci provided some interesting insight into her upbringing, as well as how it shaped her to cope with fame.
"Before, tough was kind of like, if something happened that was wrong, I'd just keep moving," Ciara admitted, revealing that her formative years as an army brat — born in Texas, and bouncing from Germany to Utah to Arizona, New York, and Nevada, a trailer home in Monterey California, and then Georgia — somewhat shaped her as a young teen. "It was a bit of a challenge," she added, "you would build friendships, then you'd have to say goodbye."
"I do think part of that made me kind of tough," she continued. "Emotionally tough. The truth of it is, it helped me with being able to accept cutting things off… Which I think is a good thing, maybe it could be a bad thing, because it can make you cold in that way."
Today, the 31-year-old revealed that vulnerability not toughness — something she learned following the birth of her first son — is her newfound strength. "Once you're able to really be truly truthful with yourself, it's life changing," said Ci Ci. "You have way more compassion than you imagine, you're sensitive to the right things."
To our surprise, the seasoned singer, actress, and model went on to admit that though she "signed my first label at 16-years-old," and "put out my first album at 19, and I sold, not just 3 to 4, but 5 million records." She didn't decide to follow her dream of becoming an entertainer until she realized she wasn't going to be the next Jackie Joyner Kersee. "I wasn't breaking records so I was like, 'This isn't realistic, it's not going be my job.'" she said of her short lived track and field career at Georgia's Riverdale High. An epiphany she can credit for her "13 years since my first album release."
As fans may know, Ciara has come a long way since her days walking down the halls of Riverdale High. Currently working on her highly anticipated seventh studio album with the late Prince's label, Warner Bros, the singer has found new love and has not one but two babies on board. You go Ci Ci.