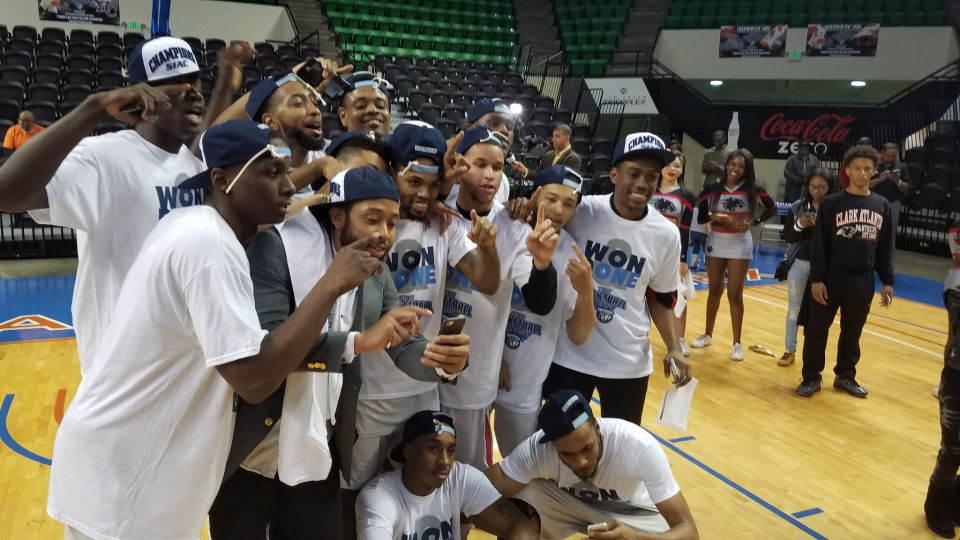 Coming off an intense semifinal victory over rival Morehouse Tigers, the Clark Atlanta University men's basketball team pulled off an impressive championship win against Fort Valley State on Saturday March 5. As the competitive battle came to a close, the Panthers earned a fifth SIAC title in their 16th finals appearance.
The game came down to the final seconds in regulation. Fort Valley State set the tone for the first half with a dunk that put the first pair of points on the board. At the 15-minute mark, FVSU led 4-3 over CAU, before the Wildcats went on a 6-0 run increasing their lead. Half way through the half, CAU still trailed by six points, as the score extended to 23-17. With two minutes left, the CAU Panthers took on their first lead of the game as the score grew to 28-27. At the intermission, the game was tied 29-29 following a jump shot made by the Wildcats.
The second half opened up with another 6-0 run made by FVSU before CAU converted on the next offensive possession. With 14 minutes left to play, CAU held the lead by two with the score at 40-38. The game was again tied at 40-40 before the score was tied a third time at 50 with nine minutes left to play. Clark Atlanta trailed by two with six minutes left before the score was yet tied again at 55-55. CAU would commit a foul that sent FVSU to the foul line where they went 1 for 2. With the Panthers trailing by two, they got a chance to sink a pair of foul shots that tied the game a final time at 60-60 with a minute and a half remaining on the clock. CAU led 64-62 as the buzzer sounded and the championship game came to a close.
CAU shot 20 for 49, which is just over 40% from the floor and 19 for 29, which is 65% from the free throw line. FVSU shot 24 for 63, which is 38% from the floor and 2 for 11, which is 18% from the free throw line. Tremendous efforts on both sides of the ball as the game came down to the final seconds of play. A hard fought battle led to Clark Atlanta University earning their 5th SIAC championship trophy and a victory over Fort Valley State.