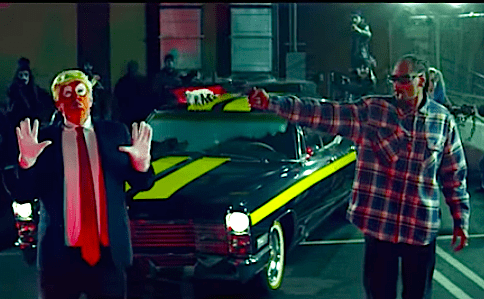 Republicans are furious over Snoop Dogg's latest video, "Lavender." In the music video, directed by Jesse Wellens and James DeFina, Snoop stars alongside Michael Rapaport. The video sheds light on police brutality and corruption.
The video also features Donald Trump's doppelgänger dressed as a clown. At one point in the video, Trump's doppelgänger threatens to deport all dogs. The video's controversial moment occurs when Snoop aims a gun at the fake version of Trump. Snoop pulls the trigger and the "Bang" flag protrudes from the fake gun.
Snoop revealed why he used art to attack Trump who has caused chaos in Washington and across the nation since he became president in January.
"It's a lot of clown s— going on that we could just sit and talk on the phone all day about, but it's a few issues that we really wanted to lock into [for the video] like police, the president and just life in general," Snoop told Billboard.
But while Snoop desired to make a powerful statement about Trump's polarizing time in office, several conservatives were upset over the video depiction.
Democrats have a conniption when a Obama mask is used as a rodeo clown, but hey, Snoop shooting Trump in a music video is totally edgy

— A (@AFitzpatrick_) March 13, 2017
I'm no fan of #Trump but this Snoop Dogg video where he shots a look-a-like named Ronald isn't ok. It's a threat and repulsive. #SnoopDogg

— ??‍⚖️ (@NewYork0176) March 13, 2017
@PrisonPlanet thought it was Snoop Lion now. Reggae didn't work out, when in doubt insult trump.

— Jason Scott (@PopUpPop) March 13, 2017
Snoop Dogg shoots a clown resembling Trump in a music video. Such a positive statement! I'm sure that will heal the growing racial divide.

— P D W (@PaulDaddyWatson) March 13, 2017
Snoop Dogg's video is problematic. Not the best way to express ones feelings for Trump

— Mike (@mediadiscounter) March 13, 2017