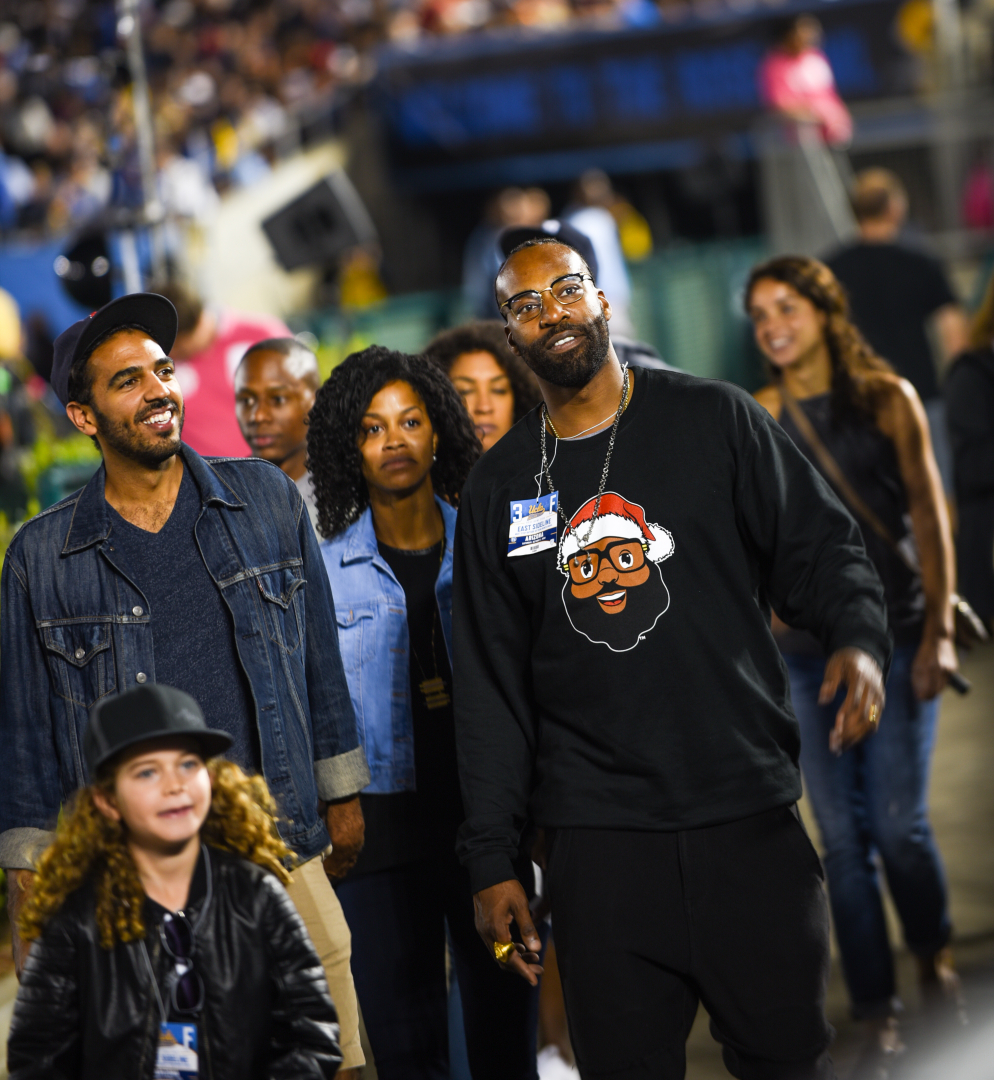 When you stroll through the mall during the Christmas season, you rarely see an African-American Santa Claus. In fact, you often get excited when running to a rare shade of brown in a jolly red suit. Growing up, NBA All-Star Baron Davis observed the important holiday figure, hoping he could find one that resembled him. Through regular conversations with others, he noticed that a common question among Black people is "Where are the Black Santas?"
Dominating the NBA courts for over twenty years, Baron created an answer to that question by founding the Black Santa Company. While injured during his basketball career, Baron searched for a way to unite people like he did with basketball. He soon stumbled upon the idea of creating a character that a diverse crowd could relate to in a fun way.
This is bigger than Christmas. The Black Santa Company aims to create and highlight African American heroes through merchandise, cartoons, coloring books and storytelling, year round. With the political divide growing every day, the Black Santa Company has become Baron's fight for justice and equality. He tells rolling out about the birth of Black Santa and how it's creating a space for cool and creative content.
The Black Santa Company is so empowering. What motivated you to start this?
2016 was a very rough year. While watching everything going on in society, I was really pushed to find where I could have a voice of impact. Everybody is protesting but starting the company was sort of like my own protest against inequality. I wanted to know where I could create solutions. The company has allowed me to highlight the black community in a positive way and create a unique way to make education awesome.
There are definitely strong educational elements to this idea. Could you tell us more about this cool coloring book you recently launched?
The coloring book was very fun and unique to create. We put so many characters in the book that you wouldn't normally see. My favorite pages to color have actually been Ernie Barnes [African American painter] and Emory Douglas [Black Panther Party].
How has the transition from the NBA to entrepreneurship been for you?
It's been fun but a learning and growing process. I believe that basketball definitely prepared me for how to work and build with a team. When you talk about branding, you can try to do everything but it's much more effective with a team. The culture has also helped me to always look at how I can contribute to society. This was first seen in basketball but translated into business.
What are some of the biggest lessons you have learned with the company?
Don't be afraid to test the market. Many times, we become too prepared that we won't step out and do the plan. I learned to stop developing as much and start pushing out the story and characters. I did a big test with friends, family and non-profit foundations. I also wanted to get an overall understanding on how everyone viewed the brand, not just African-Americans. We spent countless hours being proactive instead of reactive to overdevelop the brand and offer the best services.
What's your favorite item in the store right now?
I love our Dream collection. It shares the big message of never losing hope and giving up on who you are. One of our New Year's resolutions was to drive the inspiration. It was motivational to say that the first drop of the year was a piece of inspiration.
Where do you see the Black Santa Company going in the future?
I see it becoming a cool publishing and branding company. I want it to be an outlet for creatives, whether it's writing, artists and beyond.
From wrapping paper to events, Davis is bringing a unified cheer to the business world with no plans to stop now. Follow the company at @theblacksantacompany and watch their Youtube Channel for more videos.