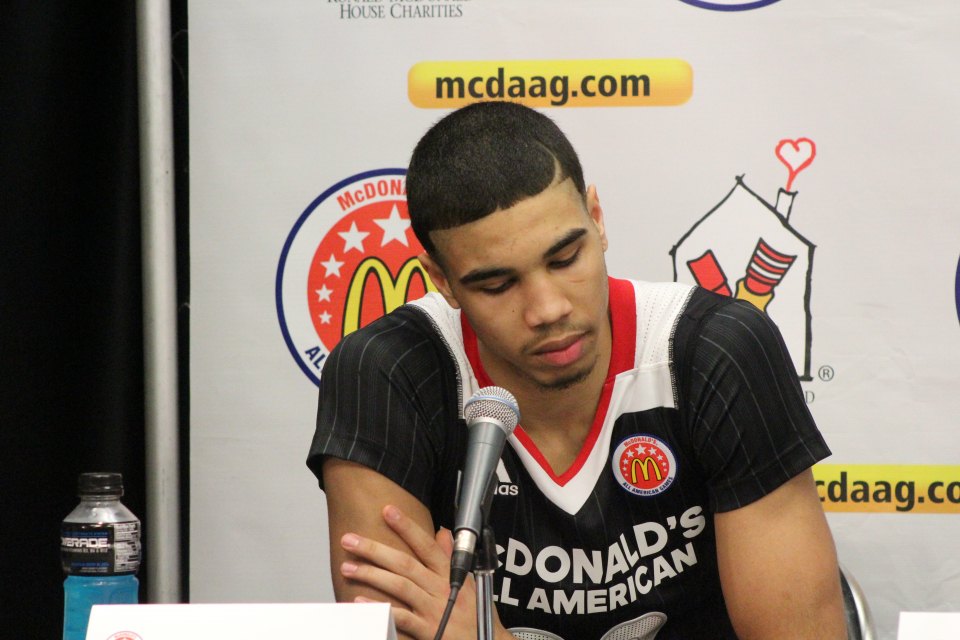 A week ago, I would not have thought the Duke Blue Devils could have won the 2017 NCAA Championship. The Blue Devils had just lost to UN 90-83 on March 4 and didn't even earn the double bye in the ACC Tournament. That has changed, and here are five reasons Jason Tatum will lead the Blue Devils to the NCAA Championship.
1.  ACC Tournament. Duke entered the tournament as the No. 5 seed and defeated Clemson on the first night, then proceeded to defeat three Top 25 teams, Louisville, North Carolina and Notre Dame, to take Coach K on a ride he has never experienced. "How cool is it for me, for these kids, to take me on a journey that at 70 I've never been on? Whether it's Olympics — I've been on a lot of good journeys, but this was such a good one. Thank you. I thank my guys for doing it."
2. Grayson Allen. Perhaps the most hated player in college basketball, Allen averaged 21.6 points a game during the 2015-2016 season, earning him the 2016-2017 preseason pick for player of the year for the ACC. Though he averaged 14.1 points per game this season, the junior is an excellent third option for a college team and will take over during stretches of the game.
3. Luke Kennard. The sophomore averaged 20.1 points per game this season and an even 20 points per game in the ACC Tournament, including a clutch 10-10 performance from the line against North Carolina. He will be special in the NCAA Tournament, as well.
4. Mike Krzyzewski. With five national championships, three gold medals with USA Basketball and over 1,000 career wins coach K is the most accomplished coach in college basketball. He inspires, makes great adjustments, and has the respect of every referee in the game, earning the ability to respectfully get points across. He will ensure maximum effort and efficiency for Duke.
5. Jayson Tatum. The freshman is the most talented player on Duke's roster, and should be the most talented on the court in every game the Blue Devils play in the tournament. Tatum shined in the ACC Tournament, averaging 22 points, including 25 against Louisville on a sizzling 9-15 performance. His season-high, 28, came on the road against Virginia, proving he can come up huge on the road.
The Duke Blue Devils are peaking at the right time and will finish the season cutting down the nets at University of Phoenix Stadium. Need more reasons Duke will win? Watch my interview with 2015 National Champion Marshall Plumlee.