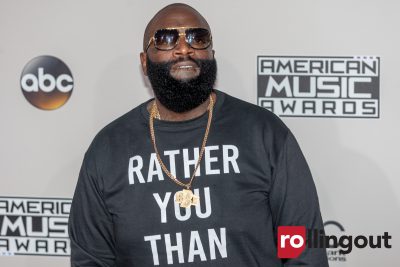 Rap's head honcho, Rick Ross has delivered his ninth album, Rather You Than Me. The album is the latest in Rozay's impeccable catalog that spans over 10 years. Ross has been consistent with top charting hits ["Hustlin," "Aston Martin Music," "B.M.F."], signed acts [Meek Mill, Wale, and Omarion], and business acumen [Wingstop, Belaire and Checkers]. He continues to not only excel in business, but also churn out quality, cruise-control music for the streets.
As you listen to Rather You Than Me, you'll notice the luxurious production that Justice L.E.A.G.U.E. has handled the bulk of for much of Rozay's career. Ross is rapping like a man who still has something to prove, even after all of the success that he's experienced over the years.
He sounds more confident than ever before, a seasoned space that greats such as Jay Z and Nas have made familiar. Album features include, Future, Young Jeezy, Nas, and even Chris Rock. Tracks to pay close attention to include, "Apple of my Eye," "Idols Become Rivals," "Dead Presidents," "I Think She Like Me," "Powers That Be," and "Lamborghini Doors."
Rather You Than Me is available on all streaming platforms.