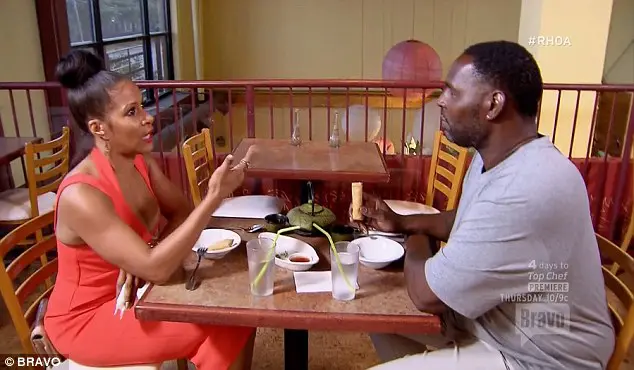 Sheree Whitfield has finally resolved her relationship woes with ex-husband Bob, after he resurfaced to rekindle their romance.
During last week's tearjerker episode, fans witnessed Whitfield burst into tears after the former NFLer appeared to admit to abusing her during their marriage. "Maybe I didn't choke you hard enough," he said.
https://www.instagram.com/p/BRWa_oED78H/
Now, in a teaser for this week's upcoming episode, it appears Whitfield has cut all ties with her ex, denying him access to her heart … once more.
"You left — and you didn't give a f— Bob," said Whitfield in a sneak peek shared via Instagram. As usual, Bob had little to say, leading Sheree to cut all ties with her ex. "I've been content with it for 10 years," she continued. "You haven't done anything in 10 years since we separated."
Following backlash over his subtle admission, Bob turned to StraightFromTheA, where he issued an "apology" for making light of a very hurtful situation.
https://www.instagram.com/p/BRwursPD3_U/?taken-by=realhousewivesatlanta
"My Dearest Woman,
I am wrong. I made trivial the abuse of HER in front of the world. I am no monster. I allowed truth, comedy and conjecture to convey an image of myself that I would never condone. I know how emotionally charged anger can inflict damage to someone you hold dear. My mockery is shameful and no longer funny.
One instance of psychological abuse may not condemn someone to death, yet it would be no instances that makes [sic] a man wholesome; by being thoughtful in words and actions; being responsible in procedure and measures; being a protector, provider and provisioner for his family; and to show proper restraint with committing actions that lack virtue.
I laugh because it feels better than crying. However, I must cry for forgiveness.
My humility now is true to the pride that I take of holding HER to the highest esteem as mother or as wife, as confidant or as [a] friend .
This ode is true …
Humble and Highest Regards,
Bob"
Will this man's ghostwriter please stand up?
"The Real Housewives of Atlanta" airs Sundays at 8 p.m. on Bravo. Will you be watching? Sound off in the comment section below.