SXSW is overwhelming, to say the least if you haven't thoroughly mapped out a game plan for attending events. Each night, multiple events are happening simultaneously and as you can imagine, the competition is pretty darn stiff among promoters for showcases. As for companies like YouTube, garnering a crowd is never an issue.
This past week the online hub put on a show with Lil' Yachty, Kodie Shane, and The Migos. The venue seemed to be the perfect location and size for the event until staff member saw a line of fans forming more than three hours before the show, which later became a line wrapped around three blocks. Perhaps, the YouTube team underestimated just how popular these artists are, especially The Migos. Just a few years ago, the group was "trappin out the bando" and now they have the No. 1 song in the country titled "Bad and Boujee." The rap trio even received praise recently at The Golden Globes from actor Donald Glover during his acceptance speech for the FX series "Atlanta."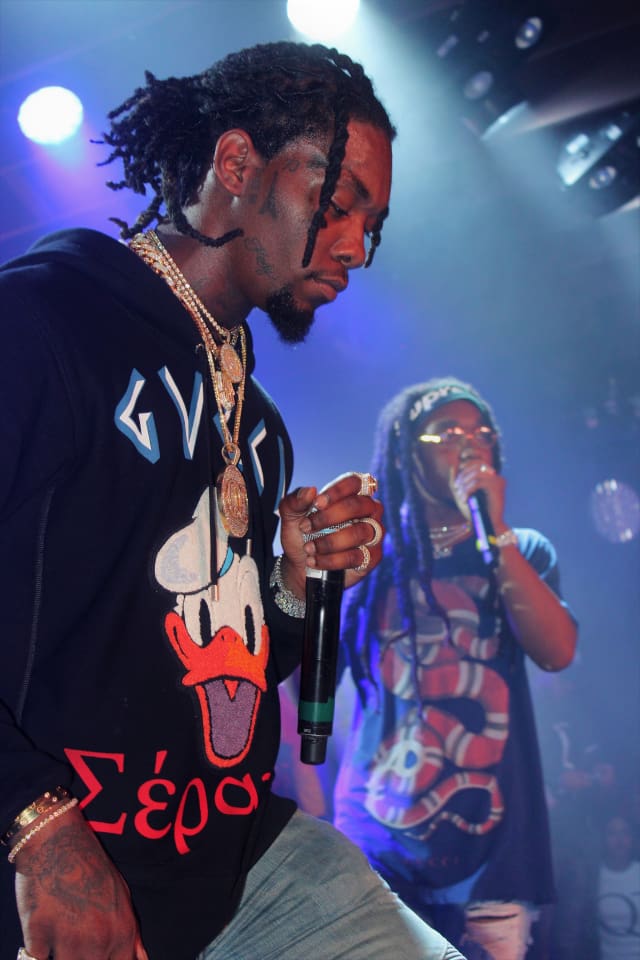 "I'd like to thank The Migos — not for being on the show, but for making 'Bad and Boujee.' I think that they're the Beatles of this generation and they don't get a lot of respect, I think, outside of Atlanta. Not that they don't get respect, but there's a generation, sort of like the YouTube generation that I kind of came up with. There's a generation of kids that are growing up on something that's completely separate from a whole group of people, said Glover.
As festivalgoers continued to wait in line, rolling out asked their thoughts on the group's rise to fame.
"I think this is well overdue. They have been putting out hits for years. They shifted the culture with that Atlanta sound. They have my respect." – Ciara Thomas (New York)
"I've been rocking with them since college. I hope they win a Grammy for "Bad and Boujee. That song is a classic!" – Johnathan Cookston (Las Vegas)
You can't [deny] their creativity. So many artists have jocked their style and that sucks, but look where they are now." – Dillan Ruckland (Ohio)
Aside from thousand-plus fans piling in to see the live show, The Migos proved their influence on the millennial generation is unprecedented and the future of their career can only go upward from here.
Check out photos from the epic night below.