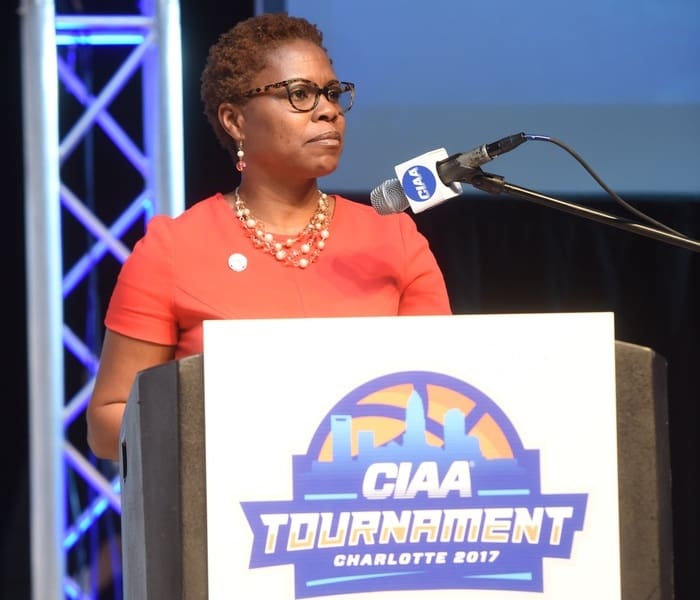 The Central Intercollegiate Athletic Association (CIAA), comprised of 12 historically black colleges and universities, is home to one of the nation's most popular basketball tournament weekends. Attracting over 200K people to the city during tournament week, the CIAA Tournament generates over $55M annually for the city of Charlotte, North Carolina. More importantly, tournament activities have garnered over $20M in scholarship support for its students over the past 13 years.
The success of this tournament is due in large part to the support of students, alumni, and community members, who show up year after year to support their alma mater and keep the tradition strong. Key figures like Commissioner Jacqie McWilliams and communications specialist Derek Ross (of the D2 Group) work hard to create an electric atmosphere that includes fun activities for the tournament goers, as well as opportunities to learn and give back. These activities include enlisting the support of brand partners, celebrities, students, and many others.
Rolling out caught up with Commissioner McWilliams, Derek Ross, and celebrities like "Empire" star Jussie Smollett and "Days of Our Lives" star Vanessa Williams to discuss the importance of supporting the tournament.
Jussie, what does attending events like the CIAA mean to you?
It means uplifting communities. What CIAA does is it allows us to have a way to celebrate the HBCUs in a way that maybe other tournaments don't. We have the ability and the platform with CIAA to celebrate HBCUs and these amazing athletes, dance squads, and cheerleaders. That's dope; it's beautiful.
Commissioner Jacqie, What makes CIAA stand out from other tournaments?
Really reaching out to the community. Seeing all of the young people here is what the CIAA is really about. We're about family. You could feel the energy all week of tradition and history. There are people who are participating in their 40th and 50th tournament. CIAA is truly for life. Anyone who's a part of it becomes embedded in the brand. The reason we are here is to support our institutions and students. When we invest in them, we are investing in their futures. It's about family and reaching out to the community.
Derek, tell us why you enjoy being a part of CIAA.
It gives the community an opportunity to experience the culture and family atmosphere that CIAA is truly about. We have families out here, cheerleaders, kids, the young and the old who commune together and have a really good time and that's the spirt of the CIAA.
Vanessa, why is it important to support healthy habits in our communities at events like this?
Our health is our freedom. Its apart of our freedom and our self-empowerment. That's a big part of why we're here and to support our HBCUs.
Check out photos from the CIAA Tournament. (Photo credit: Duane Jones)