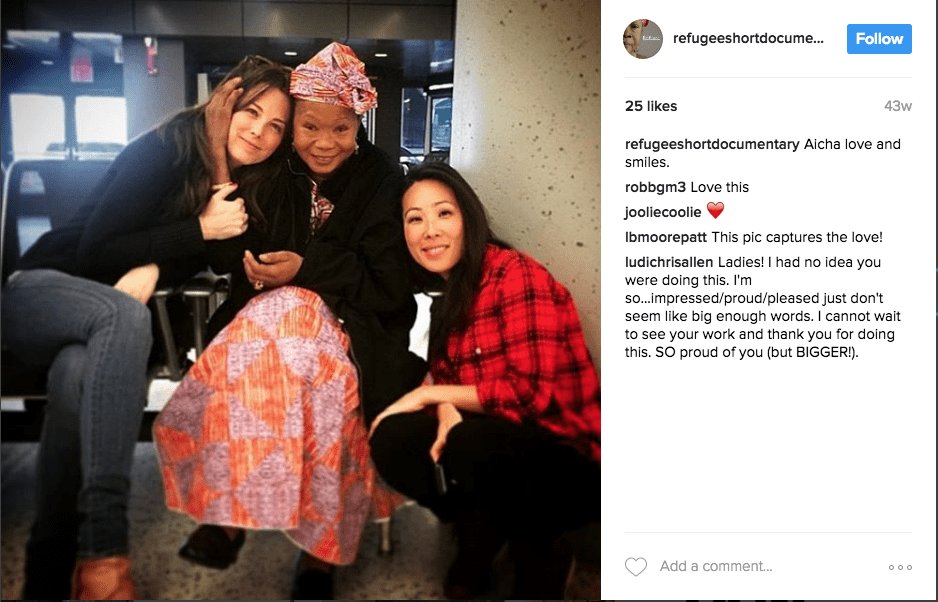 Advertising professionals turned filmmakers Emily Moore and Joyce Chen were so intrigued with a friend's nonprofit, Hello Vuelo, which crowdsources money and airline mile donations to help reunite low-income families living in different countries, they captured it on film in their short documentary, Refugee. Today, they are the recipients of the 2017 Santa Barbara International Film Festival's "Best Short Documentary."
Aicha Diop, a West African refugee, left her homeland and her five children in 2003 to come to the U.S. seeking asylum and to provide a better future for her family. While living in New York City, she met Moore and Chen through Hello Veulo and agreed to an on-camera interview.
"When we originally heard about the work that Hello Vuelo was doing, we wondered if they filmed any of these incredible reunions they were helping to make happen. They weren't because it's a small nonprofit," Chen shares. "It prompted us to follow one of these stories and film the family reunion."
Moore adds, "This is a film that highlights the portrait of a woman who made her whole life's purpose to take care of her children, make sure they were educated and she loved them unconditionally. She spent her life trying to make their life better than her own life experience. It is a portrait of a woman who struggles and the subsequent separation from her children, the [huge] sacrifice that she has to make for them. It gives a human face to what is going on in the world with the refugee crisis. We wanted to give the audience a chance to experience what it might be like to come to this country as a refugee. We don't know each other's stories. We hear stories about how difficult it is to get here to the United States. But we don't hear a lot about what life is like once they settle in the US and what the experience is like to be separated from your children."
Having produced this film, how do the filmmakers feel about the current ban on refugees seeking asylum?
Chen shares, "Emily and I have talked about [the ban] a lot, especially since we have screened the film in different cities. What we've noticed is the political climate is very black and white when it comes to people's opinion on these travel bans and immigration's policy. We are hoping Refugee can sort of humanize the refugee experiences and the refugee situation through the lens of a mother and her love for her children."
Refugee screens at the 41st Annual Atlanta Film Festival on Saturday, April 1, 2017, 2:45 p.m. at 7 Stages Theatre (Main) located at 1105 Euclid Ave NE in Atlanta.