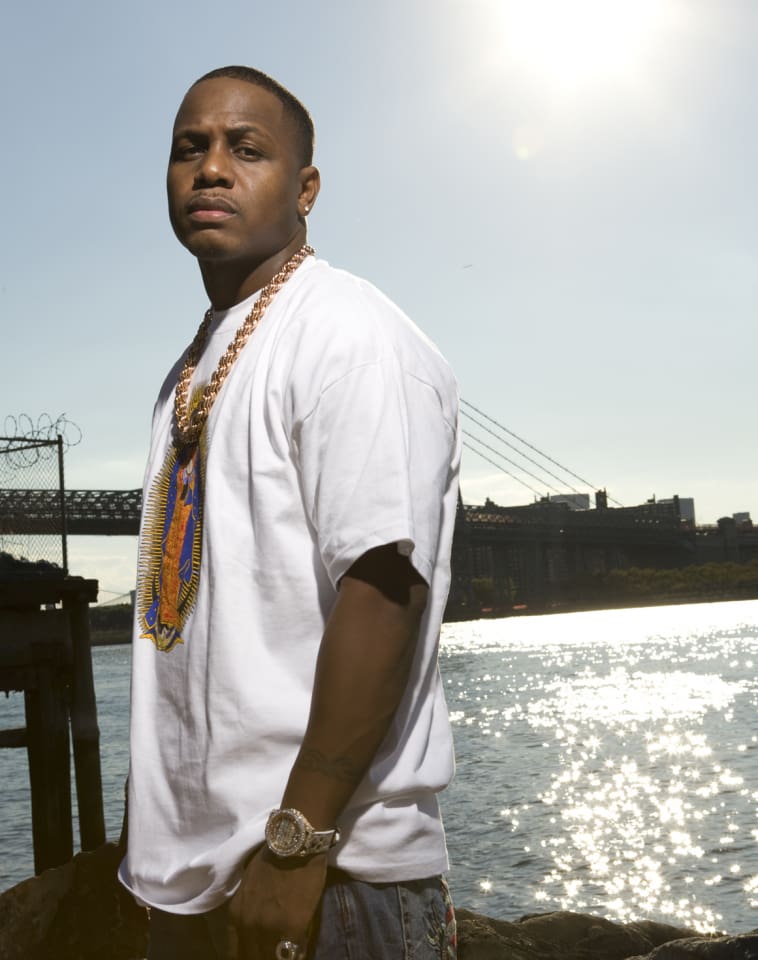 AZ has one of the most distinct and recognizable voices in hip-hop. His legendary verse on the song "Life's a B—h" on Nas's album Illmatic opened up a door for him that introduced him to the world. He has never looked back. We spoke to AZ about his life, his music, and the New York sound.
Talk about how it feels to have made such a powerful impact on hip-hop culture with one of the most thorough verses of our time.
When I was growing up in East New York and Brooklyn a lot was going on at the time. I looked at rap as a hobby. I was trying to get on. I would go visit Nas frequently at the studio when he was recording Illmatic. I was there for support. We were in the studio vibing one day while Nas was working on the last song and I was in my own little zone. Nas heard what I was saying and Nas was like "Yo, lay that down." I laid my verse down and I didn't know he was going to use it. Then he laid his verse and kept the song for the album. I was shocked because at that time he was the king lyrically and everybody loved him. I thought my voice couldn't fit on what he was doing. So when dropped the album and start playing the song and I was getting the love, I was shocked. I had no choice but to take the baton and run with it.
What is one thing people do not know about you that they would be surprised to learn?
Well, I am a family man. I love my kids. I love to read. I'm a humble guy. It's not much to it.
What are your feelings when it comes to the New York sound that so many say is missing? Do you feel as though anyone has picked up the torch?
The culture has become universal. It started out in East New York and traveled. Everybody has a story to tell. Now it's in the South and it's doing what it do. The torch had already been lit. It's good that everybody got a chance to touch it and express themselves and share the vision of where they come from and lay there law down. New York hip hop will always be here. It's just its own genre right now. There's always going to be someone who represents that New York sound, but sound constantly changes, vibrations constantly change. It is what it is. The game has definitely evolved.
After being in the industry for 20 years, what would you say has been the most impactful lesson you have learned?
The business is everything. When you are Young's it's all about the fame and notoriety. You want to be hood rich. You know we was happy with a car and a house and that's it. As time goes on you understand your value and you build your catalog and your fanbase. When you see others getting rich off it you realize that you need to learn the business. When I went from a major deal to independent I learned the business. I learned about owning my own publishing. When you are talented and you know the business it's like a monster. Then you can live off the fruits of your labor for real.
Nobody ever really gave me any direction about my publishing. It was a vibe. They always wanted my publishing. I was like hold on I'm going to keep my publishing and it was the greatest thing I ever did. The label would say they would give me ten percent of my publishing. I was doing all the writing. I was like nah, let me keep this.
What projects do you have on deck this year what are you working on?
Right now I'm wrapping up the album. I know it's been years in the making, but I just wanted to see what angle I was going to use to distribute it. So many things are changing, from digital to streaming. Record labels are folding. I didn't want to just jump in the water to get wet. I have to get my business priorities in order. I'll be releasing a song in April and I'm gearing up for the album in the summer. I have a book out now called Jewels, Gems and Treasures. It's memoir I put out last year. I'm also building up a roster of new artists to get out here and display their talents so they can get their love and just due. The name of the album is Do for Die 2.
I feel like I am blessed, destined and I was the right man for the job. I've been around so much and I've seen so much. I'm a product of my environment. I am a spokesman for my people. I was speaking for the minority and I was the right man for the job. I was destined to do this. I learned the game as I went on. Everything was a blessing all the way up to this point.
What advice would you give to the top to your 20-year-old self about life in the industry?
Stay focused and never give up. That's my motto now.
What can we expect to see when you touch down in Chicago?
I have never performed with a live band. I always had the desire to perform with a live band. To be able to do this in Chicago is a blessing and I'm looking forward to the turnout. I'll be performing a lot of classics and I'm excited about it.
Will there ever be another Firm album?
That's a good question. You know what if it is I'm here for it. I hope that there would be. I really could answer that right now but just know that I said I'm down for it if that question ever comes up when you speak to Foxy or Nas. Let 'em know AZ said he is with it.
You can catch MC Eiht, AZ and Freeway at Hip Hop Lives the Unplugged Experience at the Park West in Chicago on March 25