Andria Mayberry, the mother of rapper and actor Bryshere Gray, has penned her first book titled Before Empire: Raising Bryshere "Yazz The Greatest" Gray. In an exclusive interview with rolling out, Mayberry talks about life as a single mother, how she's pressed reset and is living her best life.
"I worked two jobs. I came from the projects and bought a home to provide a better life for my kids," she reveals. "When you live in the projects, you don't have light and gas bills. I lived off credit cards most of the time just so I could buy food. There were times when I couldn't pay the mortgage. I had so many credit cards that you couldn't even count. All of this was new for me."
Gray was a teenaged mother. Bryshere has a sister, Brianna, and they're the apples of her eye. Mayberry remembers waking up with her family at 5 a.m. daily to take her kids to her mother Alberta Furson's home so she could send them off to school and look out for them. She'd return every evening to retrieve her kids. It was a measure she took to ensure they stayed off the streets of Philadelphia.
Mayberry was a victim of domestic violence at the hands of Bryshere's father. At age 5 years old, Bryshere was diagnosed with ADHD, a brain disorder marked by an ongoing pattern of inattention and makes it difficult for them control impulsive behaviors. It was a tough bill for a single mom to pay. She leaned into God and relied on the Bible to see her through.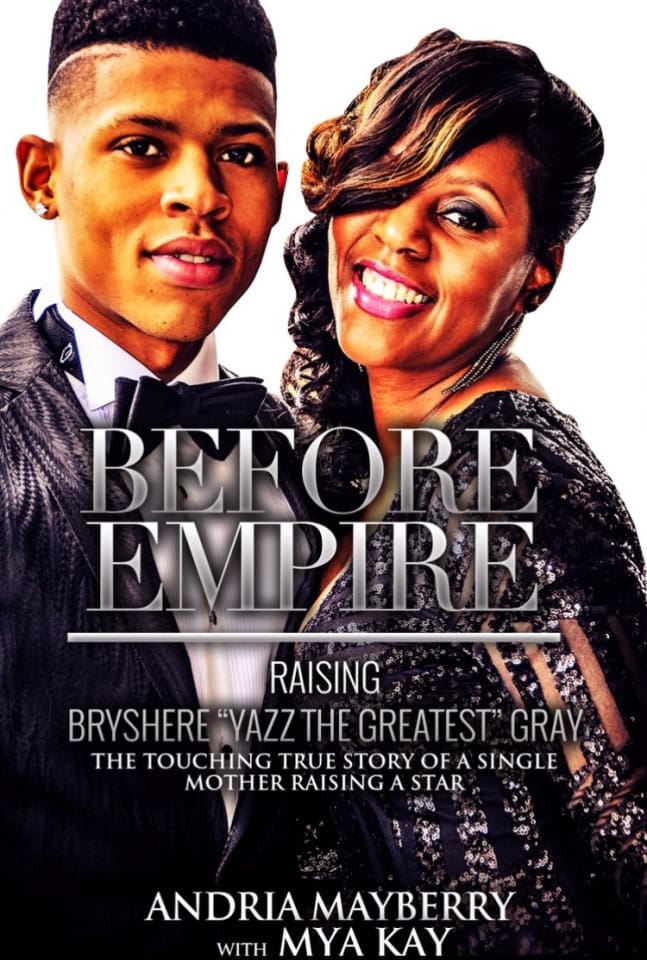 She works in the medical field and her job isn't a 9-to-5, but she maintained her faith and stayed devoted to God 24/7. "I work in the hospital and worked on the weekends, so I was unable to go to church on Sundays. I read my Bible at work on breaks," shares the celebrity mom.
Her go-to Scripture is Psalm 46:10, "'Be still and know that I am God.' I always refer back to that because I am always on the go. I had to get to a point to fully commit and trust in God, and know that he does come and will provide. I have to sit still and let God do what he does."
A symbol of strength and resilience, Mayberry has plans to go on a book tour to encourage other moms. "I want to educate and empower women, and inspire them. This is in my heart and soul. I have been there, I want women to know you are not alone. I am going around the world," she says.
On why she decided to open up and pen this book, exposing her dark nights of pain, depression and anxiety …
"I had a lot of parents who would ask how did I manage his ADHD. I will speak more about it. It's all about education. It's the only way you are going to be able to help your child. You can't show up to meetings blind. You need to know your rights and your child's rights. When they are diagnosed, they are covered under the law. They can't suspend your child [at school] for behavior that's a manifestation of their disorder. They can't control their behavior. That's why they become aggressive because they feel like no one is listening to them. I know that difference between disrespectful and their disorder. The kids are not always wrong. I too had to learn it. I had to educate myself on the medication. My son would eat me out of house and home. The medication suppressed his disorder. As a single parent who prepares a pot of spaghetti that you've budgeted would last for three days and it's all gone the first day, you are ready to discipline your child. You can't be mad," she enlightens.
It's the height of Bryshere's career in music and television, as well as Mayberry's career. With her children all grown up, she's taking advantage of good health and energy and is returning to school to further her career.
Fox's "Empire" returns tonight, March 22 at 9 p.m. EST.