'Kings of Compton' documentary tells untold story of N.W.A, Eazy-E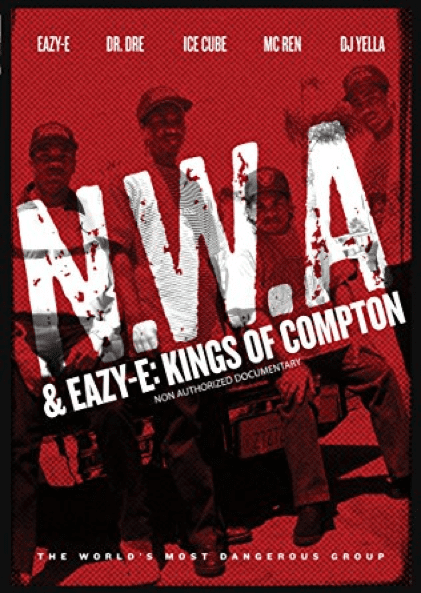 NWA & Eazy E: The Kings of Compton, offers an exclusive inside look at the controversial and influential West Coast rap group, N.W.A. This rap group pioneered rap and West Coast hip-hop in the late 1980s, and this exclusive documentary features interviews with the individuals who experienced it all.
Unlike Straight Outta Compton, directors Mike Corbera and Andre Relis focused more on the life and death of N.W.A's dynamic headliner, Eric "Eazy-E" Wright. He was the mastermind behind N.W.A's music, style and persona. He introduced the world to life in the streets of Compton, California, and created gangsta rap.
Kings of Compton also briefly documented the beginnings of the present-day successful actor, producer and rapper Ice Cube; the legendary music producer Dr. Dre, and their roles in N.W.A's rise and fall. Ice Cube was the young lyricist, Dr. Dre produced the music, and the late Eazy-E had the sound.
This film documents Eazy-E's life, with never before seen personal photos, and touching stories and interviews with some of his friends. The documentary is also broken up into chapters such as "Life in Compton," "NWA Begins," "Eric Wright" and "Eazy Gets Sick." We learn that he was not only a rapper, but a producer, an entrepreneur, a family man, and a philanthropist. During his rise to fame in the mid-'80s and early '90s, he paved the way and opened doors for gangsta rap in the music industry.
Instead of emphasizing on his criminal lifestyle, Corbera and Relis introduced the world to another side of Eazy-E that the media never portrayed and the fans didn't get to see. Interviewees would recall the charity work and how much he gave back to his community. In one scene, Radio DJ, Julio G describes Eazy as genuinely a nice guy as he remembers a heartwarming moment Eazy shared with his daughter.
In another segment, Tomika Woods-Wright, Eazy's widow says, "He wasn't a person you couldn't reach or couldn't get to. You'd see him at IHOP or you'd see him at the drive-thru at Taco Bell." Throughout the film, Eazy is described as "well respected" who had an "amazing sense of humor" and "having a big heart for such a small person."
This documentary also includes never before seen candid interviews from Eazy-E, Ice Cube, Dr. Dre, DJ Yella, MC REN, Suge Knight, Jerry Heller, Arabian Prince, Ice-T, Krayzie Bone, Tomica Woods-Wright, J.J Fad and many more. 
NWA & Eazy E: The Kings of Compton is the personal story of Eric Wright, and is well worth the purchase price. DVDs are available in stores at Best Buy and Wal-Mart.